Correction: A player's name which was misspelled has been corrected.
ENID, Okla. — Garber suffered their first loss of the season on Thursday, 52-29, in a runaway win for Perry in the first round of the Wheat Capital Tournament on Thursday at Chisholm High School.
The Maroons controlled the game from the start, jumping out to a 14-3 lead in the first five minutes. By the end of the first quarter, Garber trailed 18-5. The Wolverines, who have looked dominant this season on their way to an eight-game winning streak were unable to pull themselves out of the slump.
Perry took a 33-14 lead into halftime behind 12 points from junior Bryson Cash, with all of those points coming on 3-point attempts. The Maroons hit seven long-range shots before halftime, while holding the Wolverines to just one.
"I thought we lacked a little energy early," Garber head coach Fletcher Reed said. "It just kind of showed — they took advantage of it and put us in a hole that was too big to dig ourselves out of."
With a 20-point lead midway through the third quarter, the Maroons slowed the game down to bleed out the clock. The two teams combined for 12 points in the fourth quarter. Garber finished with just two 3-pointers in the game, while Perry knocked down eight.
Senior forward Tydonte Chester played in his second game back since missing a portion of the first half of the season due to injury. This limited his minutes throughout the game, but Reed said the injury isn't a concern moving forward.
"It's not necessarily a concern, he's just kind of getting back into shape from having to be off of it," Reed said. "It's just one of those things where we're working him into game shape, and we know he wants to be out there, we want him to be out there, but coming back from a tough injury like that where he wasn't able to be on it, we tried to get him a rotation to keep him fresh."
With the loss, Garber will move into the losers side of the bracket, with their best possible finish being fifth place. The road to get there won't be easy though, they'll be matched up against a Woodward team that has been ranked this season, with wins over 4A No. 14 Blanchard and 6A Enid under their belt.
"It's a short turnaround," Reed said about the team's expectations moving forward. "Try to go get two wins out of the consolation bracket. (We're) definitely not where want to be, we're upset we're not in the winner's bracket, but we dropped the ball tonight, now we've got to go take advantage of our next one."
Garber's second round game against Woodward will tip off at 11:30 a.m. on Friday at the Chisholm High School gym.
Here's a roundup of some of the other games from the Wheat Capital on Thursday:
Boys Bracket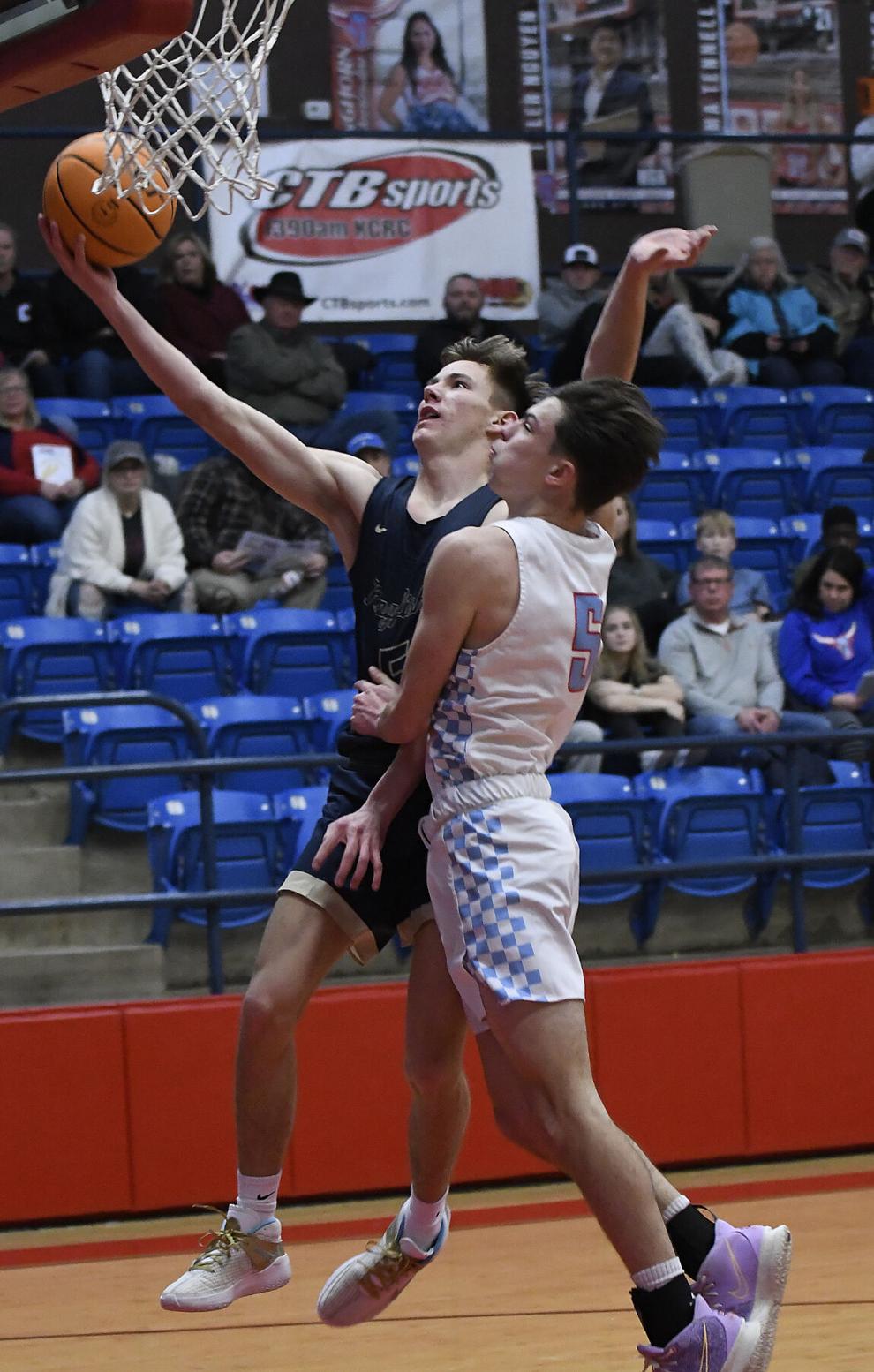 • KINGFISHER 63, CHISHOLM 32 — Kingfisher used a 25-point first quarter to run away with a 63-32 first round win over Chisholm on Tuesday.
Kingfisher's Maddox Mecklenburg and Cash Slezickey led the way with 14 and 13 points respectively. Bryce Patton led the Longhorns in scoring with 11 points and Web Bullard added eight.
With the win, Kingfisher will advance to face John Marshall on Friday at 5:30 p.m. The winner of that game advances to the championship game. Chisholm will face Jones at 2:30 p.m.
• JOHN MARSHALL 70, JONES 66 — Derrick Lawrence (21) and Elijah Goldsmith (18) combined for 39 points to lift John Marshall past Jones, 70-69.
Carson May had 29 points for the Longhorns but missed two free throws with 2.4 seconds left that would have tied the game. Jarquavies Wilson-Griffin hit two free throws to give the Bears the four-point margin.
• ALVA 49, WOODWARD 34 —Shane Feely scored 10 of his game-high 15 points in the second half to lift the Goldbugs over the Boomers, 49-34. Kyler Pence had 13 points for Alva, who broke an eight-game losing streak to the Boomers. Peyton Hughes had eight points in a losing cause.
Alva will face Perry on Friday at 8:30 p.m. Woodward will play Garber at 11:30 a.m.
Boys Box Scores
ALVA 49, WOODWARD 34
Woodward 8 11 10 5 — 34
Alva 12 11 15 11 — 49
Alva — Malone 2, Reed 5, Shelite 2, Feely 15, Penco 13, Hofen 8, Jones 2, Tucker 2
Woodward — Chavez 7, Hughes 8, Cheap 6, Moseley 6, Cano 7
JOHN MARSHALL 70, JONES 66
John Marshall 16 20 20 14 — 70
Jones 11 21 20 14 — 66
John Marshall — Lawrence 21, Goldsmith 18, Mitchell 11, McCloud 1, Abdulah 2, Romahn 7, Wilson-Griffin 8
Jones — Loud 16, Davis 2, Huckaby 9, Hildebrand 1, Rowlett 3, Creasey 2, May 29
KINGFISHER 63, CHISHOLM 32
Kingfisher 25 8 18 12 — 63
Chisholm 6 10 7 9 — 32
Kingfisher —M. Mecklenburg 14, Selizky 13, Davis 9, Kitchens 8, Ridenour 7, Friesen 5, B. Mecklenburg 4, Birdwell 3
Chisholm — Patton 11, Bullard 8, Epps 6, Harmon 3, Aman 2, Harves 2
PERRY 52, GARBER 29
Perry 18 15 13 6 — 52
Garber 5 9 9 6 — 29
Garber — S. Bishop 7, Bennett 2, Butcher 2, Nagel 9, Chester 4, Johnston 5;
Perry — Venard 2, Hall 12, hight 10, Garfield 10, Cash 16, Lansden 2;
Girls Bracket
• WOODWARD 57, ALVA 34 — Thessaly Pfeifer had 22 points while Faith O'Handley had 14 to lift the Woodward Lady Boomers over Alva, 57-34. Woodward blew the game open with a 15-5 third quarter spurt to go up 41-23. Jaycee Kelln had 11 points for the turnover-ridden Ladybugs.
Woodward will face Jones on Friday at 4 p.m. Alva will play John Marshall at 10 a.m.
• JONES 62, JOHN MARSHALL 25 — Jones raced out to a 17-0 lead to open the game and didn't look back. The Lady Longhorns had three in double figures — Zoe Tucker and Jaelen Maples with 12 and Sofi Woodson with 10. Cyriah Roberson had 15 points for the Lady Bears.
Girls Box Scores
WOODWARD 57, ALVA 34
Alva 11 7 5 11 — 34
Woodward 14 12 15 16 — 57
Alva — Gaddy 5, Kelln 11, Perez 4, Durkee 6, Foster 8
Woodward —Hagemeier 1, Porter 11, Pfeifer 22, Douglas-Fisher 4, Lewis 5, O'Handley 14
JONES 62, JOHN MARSHALL 25
John Marshall 5 6 2 12 — 25
Jones 28 6 14 14 — 62
John Marshall — Roberson 15, Lawson 10
Jones — Lewis 2, Johnson 6, Bain 4, Tucker 12, Brawdy 6, Berry 4, Cruz 6, Maples 12, Woodson 10
PERRY 58, CHISHOLM 28
Perry 21 18 10 9 — 58
Chisholm 6 4 15 3 — 28
Perry — Bivins 3, Hight 6, West 11, Allen 8, Mitchell 2, Ward 2, Shields 8, Dohman 6, Dale 12
Chisholm — Jeffries 1, Pennell 9, Watkins 8, Winter 8, Green 2
TULSA ROGERS 53, GARBER 40
Rogers 9 10 20 14 — 53
Garber 8 17 5 10 — 40
Rogers — Morrison 14, Overstreet 2, McQuarters 10, Matlock 6, Geist 2, Jones 3, Simmons 16
Barber — Light 13, Washington 5, Johnson 15, Gay 2, Howry 5