Friday's special board of directors meeting of the Oklahoma Secondary School Activities Association in Oklahoma City may well be remembered as a seminal moment for OSSAA.
Frequently viewed as a mere rubber stamp of whatever is presented to it by OSSAA's administrators, the board stepped up to the plate and delivered. Or maybe more correctly, toed the rubber and struck out what would have been one of the more onerous proposals ever presented to the board.
By a 7-6 vote, the board rejected a three-phase plan to restart prep sports that would have kept organized athletics sidelined until at least Aug. 1 and banned organized practices until the end of June.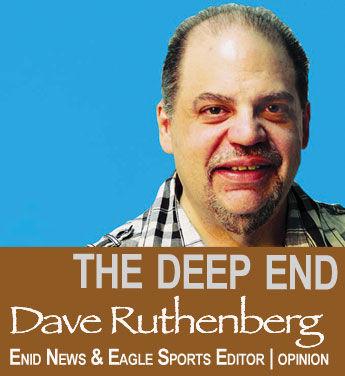 It had so many unrealistic mandates that it hardly seemed like something written by anyone with an understanding of athletics. Oh, wait, that's because it wasn't.
OSSAA touted the plan was developed by working "with state agencies, physicians and the CDC (Centers For Disease Control)." It seemed it hadn't bothered to consult with many, if any, coaches or athletic administrators. Instead, it was a plan developed in close conjunction with bureaucrats and a CDC that has repeatedly made missteps during the coronavirus pandemic that prompted all of this.
Earlier last week, OSSAA sent out their proposed plan to administrators. They were expecting to make it official on Tuesday, but the reaction was so intense it scheduled the special board meeting.
With a large Zoom online audience watching, seven members of the board stiffened their spines and delivered a victory not just for prep athletes, but for local school districts.
The rejection of the plan meant athletics would resume under the regular rules of OSSAA without the overreaching administrative organization imposing restrictions.
Locally the most immediate impact was it got OSSAA out of the way to allow summer baseball the opportunity to get started again. If the plan had passed, summer baseball, even though not technically a high school sport, would have been grounded as coaches who were also high school coaches would have been prohibited from engaging with any high school players in any organized practice or leagues.
It now appears likely we will see baseball returning sometime in early June around the area after school administrators meet to determine what limitations should still be in place as they are still very mindful of being safe.
This was also an abject lesson that you can't force a one-size-fits-all plan in these unusual times. It's not like changing the pass interference rule. No, this was something best left to local districts that understand their community's circumstances.
The outcome of Friday's board meeting was being closely watched across our area. "I was rooting them on," said Enid Plainsmen head coach Brad Gore on Friday. "It was good to see."
New Enid Majors coach Kris Webb, who has been anxiously waiting to make his debut, was ecstatic. He jokingly said Friday he hurt himself doing back flips after the vote. But he was also just as relieved the vote meant he didn't turn out to be fake news.
"I can tell you what, I was feeling like the biggest jackass in the world because we ran an article of me being the new coach in Enid," he said. We were feeling your pain there, coach.
Pioneer baseball coach Dave Riesen also felt a huge sense of relief.
He watched online with Pioneer High School football coach / athletic director Gus Overstreet and Brent Koontz, superintendent of Pioneer-Pleasant Vale schools. After the vote, they already began discussing common-sense rules to implement to keep everybody safe.
The vote salvaged a new 10-team summer baseball league for smaller schools including Pioneer, Garber, Kremlin-Hillsdale and Alva.
Riesen was as equally excited to see the kids finally get a chance to play as he was for another aspect that was expressed by everyone I spoke with. Namely, local control.
"I'm excited about that," he said Friday. "That was kind of my point ... my thought was in this situation, why couldn't it be a local school district decision? There's places that probably won't play this summer and rightfully so, but I think it should be in the hands of the community, and I'm glad they chose to give us that option."
One wonders if OSSAA even had any idea — or cared — that its proposed rules — intentionally or inadvertently — were going to shut down summer baseball in rural communities. It should. After all, their broad, inflexible interpretation of the dead period shut down summer baseball for several days last year. (Bad news? The dead period remains in place.)
Last week, an area coach shared with me the frustrating dichotomy of what OSSAA was proposing and how it didn't align with either the city of Enid's plan or Oklahoma Gov. Kevin Stitt's plan as he watched younger baseball players actively practicing and preparing for games but high school players were being prevented from doing just that under OSSAA's mandates. Enid had opened facilities for practices effective May 15.
It was an indication how out of touch OSSAA was on this issue, just as it has frequently been so many times in the past. But maybe we saw a new era dawning at OSSAA.
This time around, coaches and players could feel like OSSAA's board had their back instead of being a frequent adversary.
What a concept.