Monday afternoon at David Allen Memorial Ballpark seemed like a throwback.
So much has transpired across America since baseball was last played at the ballpark in March that it seemed like it was part of a long bygone era. It felt like 30 years had passed, not three months.
As I walked into the ballpark Monday it was more than the gentle breeze blowing in to home plate from center field that hit me, it was a realization of how much we have missed anything that has resembled normalcy. It was a reminder too that sports is not just a diversion, but something that is needed to provide balance and a sense of community and camaraderie.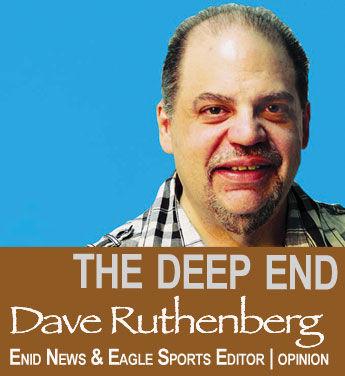 It was reassuring to walk in and see Nana manning the table just inside the entrance to the ballpark. You know everything is right again in the world when Nana greets you with a smile. By the way, Deb says hi too.
It was good to see former KGWA sports director Jay Hoberecht again.
On my way to the training center down the right field line to chat up the coaches I was stopped by a couple of fans who just wanted to talk about ... baseball. Imagine that.
Players were starting to trickle in for the Enid Majors, who were scheduled to play the second of three games in the opening day triple-header of the first day of the Oklahoma Shootout.
New Majors head coach Kris Webb was inside watching players take their swings. For Webb it had no doubt seemed like this day would never arrive.
"I'm just glad to be here so we can play some ball and enjoy the sunshine," he said. Webb, also the Vici High School baseball head coach, is no stranger to David Allen having been part of the Woodward Travelers program for years. He will have a chance to face the Travelers Thursday on the final day of the Oklahoma Shootout.
While the ballpark offered a sense of normalcy there were reminders that we are in odd times as the training facility area was being limited to six persons in light of the ongoing concerns over the coronavirus pandemic. After all, we know COVID-19 is just waiting to waylay that seventh person.
Plainsmen coaches Brad Gore and Dennom Sullivan were offering hitting advice to a Plainsman and their smiles said it all. The sense of relief to be able to be back playing again was clearly a tonic to all the consternation and uncertainty we have experienced.
"It's good to see baseball being played today," Gore said, echoing Webb's comments. He said the plan was to take it easy and ease the players back into it.
The crowd at David Allen for the early game, a 10-2 win by the OK Drillers 17 over the OK Mudcats, attracted a surprising number of fans, an indication perhaps of just how much we have missed sports and how ready everyone is to put much of this in the rearview mirror.
The park itself was in great shape as always, thanks in no small part to the efforts of grounds superintendent Scott Pendleton who said it was good to be able to see someone at the ballpark other than his John Deere.
The only noticeable difference in the appearance is in right-center where a recent storm took down part of the wall. In its place is a cyclone fence that was the backstop of the softball cage. Pendleton said that portion of the fence will likely not be replaced with something more permanent until the new video board goes into place.
The storm also took out the outfield clock, but this is baseball and as this frequently-frazzled-at-deadline editor is constantly reminded, baseball isn't guided by a clock. So, no big deal, right?
Northern Oklahoma College Enid baseball head coach Scott Mansfield — whose season was also cut short — was also there, no doubt to watch three of his Jets recruits, Enid's Willie Fleece, Edmond Deer Creek's Piercen McElyea and Tonkawa's Blake Scott, take the field for the Majors.
It all seemed so normal again. A reminder of how utterly deleterious this entire lockdown period has been to our national psyche. How much pent up rage maybe could have been avoided if life had been allowed to be lived.
We may never really know how much of a difference the lockdown made. We can only hope that in the long run it proves worthwhile.
What is certain is that what was happening Monday at David Allen was healthy. It was Americana. It was needed. It was good.