New Enid Plainsmen head football coach Rashaun Woods knows he has a big task in turning around the program. By now most people know the roll call of failures over the past several years, such as not having a winning record since 2010 and no playoff appearances since 2009. Woods believes though the solution to fixing the problems goes beyond the playing field.
From my early preseason discussions with Woods, it's clear accountability is going to be a major component of what he stresses. It's a word that has already come up several times and not just in relation to the players, but to himself and his coaches.
He's not bashful about it either, citing accountability as "the No. 1 reason Enid has struggled the last 10 years." He points to what he sees as past instances of kids getting a pass based on their ability.
"Win or lose, I am going to get ripped," Woods said recently during our preseason interview for the Enid News & Eagle's upcoming "Kickoff" prep football preview magazine. "But I want to get ripped on kids that make a mistake that give me an opportunity to help them correct it versus a kid that shows up on game days and just goes out there.
"Either way, it comes back on me, so I want to make sure the guys are being accountable and (are) given the opportunity to work with (them), regardless of how high he could jump or how fast he can run."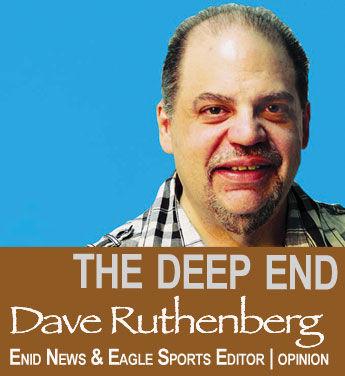 So far in the early going, Woods has made clear players who show up consistently are the ones he plans to go into battle with on the gridiron.
"If you go out and play a kid that doesn't show up during the summertime, what does that say about the importance of being here every day?" he asked, and then answered: "It doesn't say a whole lot. At that point you start to lose not just the kids that aren't committed 100 percent, but the kids that are giving you everything are wondering too. At that point it makes it extremely difficult."
This year's Plainsmen team will be underclassmen heavy, with possibly 10 or fewer seniors on the team, something Woods did not initially anticipate.
"I think about when I saw the kids play on tape and then when I got here and those kids I saw on tape that I was hoping to have, did not pan out," he said. "At that point, I knew I had my work cut out for me."
However, Woods appears to relish the opportunity to begin to rebuild the program around those seniors who are buying in, in addition to the underclassmen who will make up the majority of the team.
"This particular group of sophomores and juniors haven't been beat up on to the extent the seniors have," he said. "Through the JV games, they had some success last year and you can see that in the way they work. They're optimistic, they're playing hard.
It's a familiar situation for Woods, who went from taking an 0-10 team to a state championship at John Marshall High School, where he had only eight or so seniors on his first team and started four or five freshmen. "Those freshmen ended up being the change down the road," Woods said.
"The true turnaround could be three years down the road," he said.
Kingfisher head coach Jeff Myers, who coached against Woods, thinks Woods could be what Enid has been missing.
"I think he's going to bring a different type of a culture to it, honestly, that probably hadn't been there," Myers told News & Eagle sports reporter Cody Nagel. "Just because of his background."
That background includes being a record-setting wide receiver at Oklahoma State, a former NFL first-round draft pick and, importantly, experience relating to kids who may not have felt a connection to the Enid football program.
"I mean being a black coach, with Enid I think that's maybe been a little bit of a problem for Enid High," Myers said. "Maybe a lot of those type of kids haven't been coming out for football. I think he's a guy that's possibly going to be able to get some kids that maybe haven't played out because of that type of relationship and him coming from an inner-city school, and having played at OSU as well as in the league. There's going to be a lot of kids that are going to be drawn to that."
Some of that may already be the case as there are several players in the mix that have not previously been out for football.
Woods is pleased with the effort he is seeing from the players that have been showing up.
"I've got a good core of guys on offense and defense that will be coming back," he said. "The seniors I will have are great. I really feel like I've got the best of the bunch."
Woods likes the size of his offensive and defensive line. Senior lineman Kaleb Stanley was recently named to the Vype Top 100. Woods sees running back Trentavious Mitchell working harder that he ever has, the receiving corps is developing and quarterback play has improved since spring.
But Woods isn't just stressing accountability on the field.
At a football parents meeting this past week, he stated all players from Grades 7-12 will be required to wear a shirt and tie on game days and, while not restricting social media, has said he expects players — and coaches — to be respectful as they are representing the Plainsmen. It's indeed a two-way street as he indicated he will not tolerate coaches cussing out players.
Clearly, there's a lot on Woods' plate here in the early going and it won't ease up once the season starts, something not lost on Myers.
"He's fighting an uphill battle," Myers said. "You're still in 6A-1, you're playing against the big dogs. I see him bringing a completely different culture to Enid High than what has been there in the past."
We'll start to know a little more when Enid's season kicks off at Guthrie on Aug. 30.
As Woods noted, the turnaround may not be immediately noticeable. However, given his track record and what he is looking to bring to the program, there's reason for, at the very least, guarded optimism.