How good are the Enid Plainsmen? Well, they're good enough to be 2-0, and that's saying something, considering it is only the third time in the past 12 years that has happened. It is rare territory for a program that has struggled mightily over the past decade.
"No more talk of losing streaks," I said to Plainsmen head coach Rashaun Woods last week. "I don't necessarily talk about 'em unless you guys talk about 'em," he said. He makes a good point, over the years there has been way too much talk of losing, and worse, it has impacted support for the program in Enid itself.
It's something Woods is aware of, but chooses not to dwell on.
"My responsibility is to help turn around the program at Enid High," he said. "Although, it's just two wins, you've got to start somewhere. The sentiment from me is still the same. I'm excited to get the opportunity to coach here, to get the opportunity to coach these guys and possibly change the culture."
Certainly, winning goes a long way, and a chance to start the season 3-0 for the first time since 2008 should excite anybody following the team, and not just parents of current players.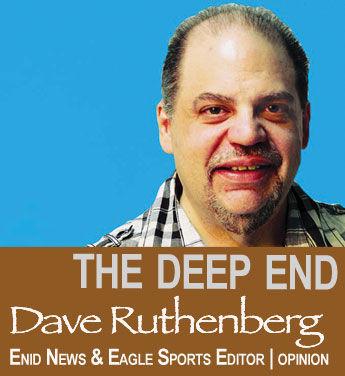 Scoff if you must at Enid's 63-0 win at Madill, but doing so would make you seem rather foolish. Enid did exactly what it had to do. Let's be honest, we have all heard the snide remarks around town about how Enid would have a hard time beating a certain Class 2A team in town (which is unfair to both squads). Well, the Plainsmen surely put that to rest with a complete beatdown of a Class 3A team that was a late replacement to start the season.
Enid then built upon that early momentum the following week.
Truthfully, the Plainsmen's 19-17 win over rival Ponca City on Sept. 4 likely should have been by a larger margin. The Plainsmen thoroughly outplayed the Wildcats but hurt themselves with 15 penalties, some of which admittedly seem to be the result of some home cooking by the officials. However, they overcame it.
Down 17-13 at halftime, Enid completely dominated the second half. We often hear cliches about making halftime adjustments, but in Enid's case at Ponca, it wasn't a cliche.
"We made an adjustment," Woods said. "They were taking advantage of our misalignment on defense and we were able to correct that. That made all the difference in the world."
The Plainsmen defense shut down Ponca in the second half and with the additional benefit of an efficient ground game, controlled the clock.
Tailback Johnny Villa rushed for two touchdowns and has rushed for over 100 yards in each of Enid's first two games. A productive running game is a nice asset to have.
"You can control the clock, the tempo of the game and almost in a sense, play keep-away even though we were down we were only a possession away. We had a lot of time. I think we ate the majority of the clock up in the second half." said Woods, who also is the team's offensive coordinator. "We run multiple formations, but it's about winning. So, we have the ability to put up a lot of points, but at the same time, we can try to go fast or just want to flat out control the game."
It's a luxury Enid didn't have last season.
The passing game has also shown improvement with Blake Priest at the helm, having shown the ability this year to distribute the ball to his receivers. In last week's win, five different players accounted for 13 receptions for 153 yards. Maddux Mayberry had three catches for 52 yards and Enid's other touchdown. Cam Mathis had four catches for 59 yards and Tyke Andrews four for 37 yards.
But, it's not just been the offense.
The defense now this season has limited opponents to 17 points over the course of two games and has seen the emergence of playmakers such as Alex Macias. Woods also praised the play of defensive tackle C.J. Adams and defensive end Donovan Rieman.
There is still plenty of room for improvement.
"We can't have that many penalties," Woods said. "A couple of unforced errors really hurt. We have to correct those and get better, but it's always better to make corrections after a win."
So, where do the Plainsmen stand at this early juncture? This week's game should tell us a little more.
After a week off, the Plainsmen play their third straight road game when they travel to face Class 5A Lawton MacArthur on Thursday, a team that has been on both ends of blowouts to start the season. The Highlanders opened with a 55-34 win over Class 5A rival Lawton Eisenhower but were dominated Saturday by Class 6A2 Lawton, 55-15.
After next week, of course, comes the real test as district play begins. But enjoy this 2-0 start with a reasonable shot at a 3-0 start.
Nobody is overstating the Plainsmen's prospects (although they did receive a vote in last week's Associated Press prep football poll). However, there is a genuine sense things are moving in the right direction.
"If we execute our game plan and do what we need to do, it's going to be tough for a lot of teams," Woods said.
The pieces just may be in place for a competitive season, something that hasn't been seen since Enid went 6-4 in 2010.