A couple of weeks ago in this space we pondered the important sports question: Are we there yet? With recent developments it appears we can safely state, with fingers crossed, that, in some regards, we are almost there.
The anticipation of the return of sports has some of us feeling like kids on Christmas Eve, except there is no sports Santa Claus. It's more like a joyless government overseer waiting to pull your privileges that we have to work to steer clear of offending. Or else.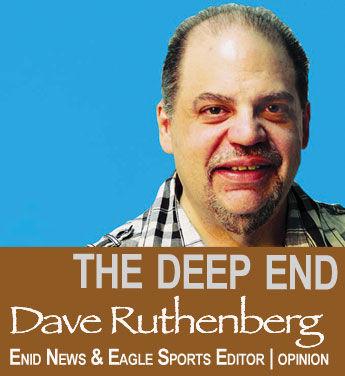 But enough of that. Let's look first at some of the positives happening.
• Even though it's a preposterously chilly afternoon in May while this is being written, May normally brings thoughts of baseball as a staple of spring and summer. As noted in Sunday's Enid News & Eagle, things are looking up for a return of baseball to David Allen Memorial Ballpark as soon as June 1.
Enid Plainsmen head coach Brad Gore has been working diligently on getting baseball booted back up and said on Tuesday the schedule for the season-opening "Enid Shootout" slated for June 1 (the first day of Phase 2 of the city of Enid's reopening plan) at David Allen is in place. Ten teams, including the Enid Plainsmen and Enid Majors, will be participating in the event. The Majors will be making their debut under new head coach Kris Webb.
We haven't had baseball at David Allen since early March when the coronavirus pandemic shut down high school and junior college baseball. It is uncertain what, if any limitations, will be placed on attendance at David Allen, but hopefully common sense will prevail over inordinate fears. After all, sunshine is the best disinfectant, right?
• The kids should also be back on the diamond shortly. Enid Joint Recreation Triad (EJRT) baseball recently posted its baseball season will commence June 1 and run through July 2. There will be a postseason double elimination tournament on July 11 and July 12.
• If everything holds according to plan, opening night at Enid Speedway promises to see some significant racing. Speedway co-promoter Kip Hughes said Tuesday he is anticipating over 100 entries for the June 6 opener.
The opener will feature the Sprint Series of Oklahoma's winged sprints in addition to modifieds, sport mods, pure stocks and the new hot shots, a new entry level class designed to, as Hughes previously explained, "get people out of the stands and into race cars."
The number of entries for the opener is anticipated to be in the triple digits due in part to 81 Speedway outside of Wichita, Kan., still being closed.
Racing on June 6 at Enid Speedway is slated for a 7 p.m. green flag start with gates opening at 5. Tickets for the opener are $15 for adults, $12 for seniors, military and kids ages 12-15, kids under 12 are free. Pit passes are $30.
• Shortly after the high school soccer season was abruptly canceled, the Enid Soccer Club, along with the Oklahoma Soccer Association, floated the idea of a special high school league for this summer as a one-off deal so high school seniors could still play some soccer and compete for a potential championship. It appears the effort is meeting with substantial success.
Enid Soccer Club said it has over 50 players signed up and will be fielding boys and girls varsity teams and a girls junior varsity team. It said it has drawn players from Enid, Alva and Woodward high schools and will compete under the banner of Northwest Oklahoma High. Around 45 teams have signed on statewide for the new high school division.
Locally, practices can resume on May 15.
• However, the news for our professional indoor football team, the Oklahoma Flying Aces, is not looking as promising as it did only a short time earlier, and skepticism is being expressed about the team having a season. There is a significant question as to whether all the teams in Champions Indoor Football will be available primarily due to potential social distancing requirements that may be in place still.
While Enid would likely have Stride Bank Center available, other markets are not as certain.
Omaha, the league's premier franchise, would be potentially limited to playing its games in front of 650 people based on the social distancing requirements, which would be untenable as the Beef have about twice that number in season ticket sales. Ralston Arena has a capacity of around 4,000.
• The national sports scene is equally unclear.
The NBA and NHL are in limbo and at this point it seems it may be best for them to scrap the season and gear up for next year as interest in hockey and basketball are going to be at low ebb with the warm weather and people anxious to get out and enjoy outdoor activities.
Major League Baseball is floating the idea of opening up around July 4, but without fans in the stands it seems downright un-American.
NASCAR and IndyCar are restarting shortly, but again initially at least, without fans in the stands, which would be as equally depressing of a sight as seeing our MLB stadiums devoid of fans.
Looking later into the summer and fall:
• The NFL appears to be fully intent on having a complete season.
It is anticipated college football will be able to do the same, but it may vary state-by-state. The California State University system announced Tuesday it was keeping its campuses closed through the fall semester. The CSU system includes Fresno State, San Diego State and San Jose State. No formal announcement has been made regarding their athletics.
• Friday night hopes: While nothing has been formalized, the general feeling is high school football should be returning.
While we continue to deal with so much uncertainty, it nonetheless is a positive sign some sports locally are beginning to offer us a potential sports Christmas in June. That is, unless the government grinch steps in.