I never was a fan of Kobe Bryant. Never really disliked him, either.
Well, I did detest the uniform he wore, but that likely goes for anybody who was a Detroit Pistons fan during their championship years of the late 1980s to 1990 or so.
If you were a Pistons fan, the Lakers represented one-third of what many Detroiters considered the NBA's axis of evil along with the Chicago Bulls and Boston Celtics. Of the three, the Lakers were probably the least detested, but still considered bad guys at the very least.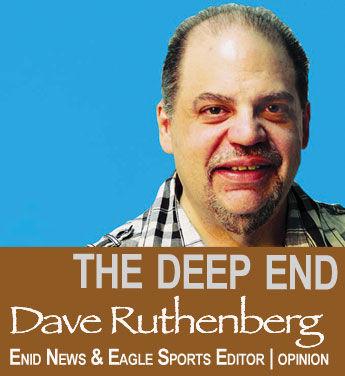 While the Bulls and Celtics eventually had their downfall, the Lakers seemed to ascend, and Bryant was a major reason for it. No doubt a great player, but still he was, you know, a Laker.
That all seemed ridiculously petty last Sunday, though, when news first broke that Bryant had died in a helicopter crash. Worse, rumors and some awful reporting led to some reports that Bryant's four daughters were also on the plane. Finally, when word came from actual reliable sources that Bryant's 13-year-old daughter Gianna was also killed, it made the news more gut-wrenching.
That night I had to work at the Enid News & Eagle. It was my job to put the sports pages together and to determine what photos needed to accompany the Bryant tragedy. It was a difficult task from an emotional perspective.
There I was scrolling through photo after photo of Bryant, smiling with Gianna. So many happy moments. Moments that captured their time together as father and daughter from her earliest days right up to what horribly became her final few days. The love was so obvious between them. And, my, how she looked up to him.
With each photo, the lump in my throat grew.
My eyes, despite my best efforts at concealing my emotion, betrayed me. I just kept imagining their final moments and the fact they both had so much life ahead of them. Certainly Bryant, at 41, had at least half of his life still ahead of him and Gianna, well, her entire life was still ahead of her.
Like I mentioned, I never gave Bryant much thought other than having to begrudgingly acknowledge he was one of the greats (Laker hate is hard to shake).
But something else much more powerful than his 81-point performance or his championships or MVP trophies struck me. Bryant was being a loving, responsible father. Not an absentee father. No, he was being the exact kind of man that many of us bemoan that current athletes fail to live up to being.
Every photo with Gianna made that clear. Tearfully so. Bryant was living up to his post-career responsibilities. Maybe it's sad that has to be celebrated. We all would like that to be the norm, not the exception.
Bryant and his wife, Vanessa, had four daughters and from all indications he was every bit the doting, proud papa for his girls.
Later that night the news worsened. Nine people lost their lives in that crash. We learned some of their identities then and the rest on Monday. So many families tragically torn apart in that crash. Some people began to resent that the other victims weren't being given as much recognition as Bryant, which is understandable. To a degree.
Bryant was a public figure whose life was an open book and easy for media to report on following his death. The others were not public figures, and it took responsible media time to find out more about them and report on them, which they did.
Kobe Bryant was an icon to many, and the public outpouring and grieving that accompanied his passing was both palpable and painful. It hasn't been disproportionate.
Some also have tried to put too much weight on the impact of Bryant's death, suggesting his death has brought our nation together. A nice notion, but a bit over the top as the continuing rancor in Washington, D.C., would attest.
Kobe Bryant's legacy was already cemented as a player. He was one of the greats. A legend. But a new legacy was emerging.
Indelibly now for many — despite its tragic origins — are those images of Kobe with Gianna. Those moments captured in time of a father's and daughter's undying, pure love that may serve as an example for others. Life is simply too fleeting to not be the kind of man your child can look up to.
Maybe in death, that is the lesson here. A truly lasting legacy.
Gianna had plenty of reasons to be proud of daddy.