A little more than a week ago, Luke Smith was one inning away from leading his team to the finals of the College World Series. The skinny kid with the glasses and, shall we say, unique haircut was no stranger to World Series baseball.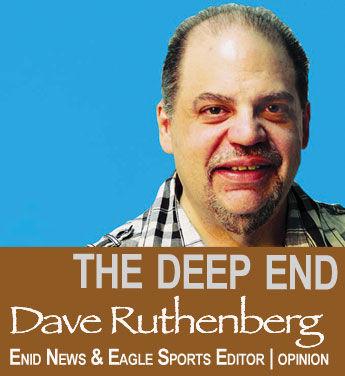 Prior to joining the Louisville Cardinals, Smith made back-to-back trips to the NJCAA Division II World Series in Enid with the Parkland College (Ill.) Cobras. While in Enid he made friends easily and particularly connected with one family. Smith has always been that way.
But on this particular day in Omaha, Neb., Smith, pitching a gem into the 8th inning with the Cards up 2-1, let loose a little pent-up emotion after striking out Vanderbilt's Julian Infante to end the inning. The ESPN cameras and microphones caught Smith clearly delivering a trio of f-you bombs at Infante.
ESPN's Randy Scott shared it on Twitter, slowing down the 10-second video so there could be no mistake what Smith said. "Pretty sure I just became a fan of any team this guy ever faces again," he tweeted. And Smith suddenly became an unwanted social media sensation as seemingly everybody weighed-in on his unfortunate expletive moment. "Garbage person" seemed to be the favorite pejorative delivered his way.
The next inning Vanderbilt came back to win the game and sent the Commodores to the World Series championship, which they eventually won, defeating Michigan.
Now, if we can all agree Smith shouldn't have said it, can we also get real for a moment? Anybody who has spent anytime in, near or around a baseball dugout knows what frequently goes on with players directing choice comments at their opponents. Smith's comments weren't the end of the world and certainly were not unusual.
An ounce of common sense would tell somebody that Smith, out of the blue, didn't just decide to start yelling expletives at somebody he struck out. You don't have to read between the lines too far to figure that out.
"He knows he made a mistake," Louisville head coach Dan McDonnell said. "He knows he crossed the line. He pitches with an edge. He plays with an edge. He's used to getting picked on. He's got a different look to him. He's skinny, he's got the glasses and he's used to hearing a lot of chatter. And he uses that to fuel himself. But, as we talked about, there's obviously a point where you cross the line and he knows he crossed the line."
Pretty much you can figure out that Smith was getting it all night long and finally fired back, albeit in the wrong way if not at least the wrong time.
But does that make Smith a "garbage person" or a young man caught up in the moment? Afterward he apologized.
People so quick to condemn Smith of course no nothing of him. They don't know, for instance, the story about his asking his cousin, who has Asperger's Syndrome, to be his prom date.
"Addison has a form of autism called Asperger's syndrome, which makes it difficult for her to interact with others and often awkward in social situations," Smith told the The News-Gazette newspaper in 2015. "Addison realizes she is different but prays for a society that accepts her for the person she is. She has a huge and very kind heart that many people overlook because of her autism.
"On a recent Saturday, Addison came to town to go shopping with my mom. When they were finished, they came back to my house, where I was waiting with a poster that read, 'I'd be BEARY happy if I could go to Homecoming with you?' and a large teddy bear in my hands. The smile on her face when she read it was priceless."
They also know nothing of the positive impression and connection Smith made with the Hoopingarner family during his time in Enid with the Parkland Cobras. The story was shared on the Louisville fan site, Cardinal Sports Zone earlier in June.
"In 2017, our oldest boys little league team hosted the Parkland Cobras during the JUCO World Series in Enid, Oklahoma," Tanna Shaw-Hoopingarner wrote. "Right away, our youngest, Blake, became Luke's number one fan. I don't think Blake left his side for an entire week. Since then, we have kept in touch. In fact, that same summer, Luke went out of his way to meet us when we were visiting family in Illinois. We kept in touch throughout the year and we were able to make it to the JUCO regionals in 2018 in Bloomington when the Parkland Cobras won and locked in another visit to our hometown in Enid, OK."
The Hoopingarner family continued to follow Smith when he became a Cardinal, including making the trip to Louisville for the regionals.
"It was a trip that will be remembered for the rest of our lives," she continued. "All 3 boys (age 12, 11, 8) have claimed Luke as their own. He's is such a great leader and role model. His great sportsmanship along with his focus and drive to excel have been so much fun to watch. ... whenever the boys are around Luke he makes them feel like the most important person there. Luke has a way of doing that with everyone. He's a remarkable young man, one we are privileged to be able to foster a lifelong friendship with."
Sounds like the kind of young man we would all be proud to know. Yes, even the best have a momentary lapse in judgment. Those so quick to condemn him would likely not fare very well either if placed under the social media microscope.
"As far has any backlash, Luke will be fine," Parkland baseball coach Goebel told The News-Gazette. "He is an amazing person and teammate, and with that comes plenty of support. I know I am proud of the man he is and what he has been able to accomplish."
"He got labeled a villain, but he's thrived on that his whole career," Smith's father, Tim Smith, told The News-Gazette. "He's holding up great. He's very strong mentally, and he's learned a valuable lesson."
It may have been a garbage moment, but Smith has shown himself to hardly be a "garbage person."
In addition to the Hoopingarner clan, you can now add at least one more person who will be pulling for him.