The announcement Friday the annual Oklahoma State Fair was being canceled due to the coronavirus was another blow to the psyche of lockdown-weary folks in our state. It was yet another bleak reminder of what we have been enduring over the past several months. I know it was a disappointment to many who take their families to the annual affair and to those planning on entries.
Now, I am not going to lie and say that I was planning to be there, because, well, it's not my thing. But it seems that in these times where lockdowns, or the lack of outdoor activities, may potentially have had a deleterious impact on our nation's mental well-being, it was another sad reminder of what a drag 2020 has been.
Sports has been particularly hard hit of course. Sure, the NBA is going to restart, but how engaged are you as a Thunder fan going to be when games are played in a surreal Disney campus with no fans? Same with baseball being played in ballparks with no fans.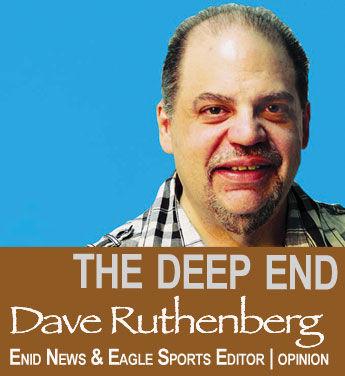 People following major sports teams have really had little to smile about. However, outside of the major cities something has been happening and life has been getting back to normal. People are participating in events. Maybe that's why we aren't running around looking to destroy landmarks. I mean those unfortunate city folks have to amuse themselves somehow I guess, right?
While there is still some trepidation, Enid and Northwest Oklahoma have been busily going about living life again, and that includes on the playing fields.
Golf leagues restarted in earnest last month. Since then we have seen more sports activities resuming and the mood has been lightening and outlooks becoming a little more optimistic.
Can that all be credited to sports coming back? Well, why not? It's a lot better than hunkering down at home and torturing oneself with images of riots and chaos.
Which is preferred? Watching monuments being destroyed by unruly mobs or breathing some fresh air (even if it is through a mask if you so choose) and cheering on your favorite performers?
We have been able to do just that in Enid. Earlier this month, Enid Speedway opened its season with a turnout in excess of 3,000 fans and was expecting another large turnout Saturday night.
Baseball has returned to David Allen Memorial Ballpark and both the Plainsmen and Majors have been racking up wins. July will see two more Connie Mack tournaments at David Allen.
The Enid Soccer Club stepped up after the prep soccer season was canceled and offered those athletes a chance to hit the pitch.
And there is football. Ah yes, football, our sports lifeblood. It's back too as passing leagues are firing up and players are getting ready for the season.
Yes, things are looking up, and to help put a smile on your face as you read your Sunday sports section, we have some photos today that we are happy to share of sports (and life) returning to normal in our area and to chase away any remnants of those lockdown blues.
It's a much needed elixir to these otherwise dreary times we have been experiencing, wouldn't you agree?