And just like that, nobody in Oklahoma cared any longer about the College Football Playoff.
It was that sudden. Before most folks had settled in last Saturday, LSU had brutally exposed the Sooners once again as national championship contending fraudsters. While Crimson and Cream haters may have enjoyed it, it was likely tough to watch for anybody hoping the Big 12 would deliver some form of much-needed comeuppance to the uppity SEC. Instead, the SEC delivered another dose of Big 12 humiliation.
The final score of 63-28 didn't really do justice to the level of domination in the game, which LSU led 49-14 at halftime. Jalen Hurts couldn't deliver the national title like he did at Alabama, and the OU defense looked like the same old Sooner sieve, not the hotly hyped Alex Grinch brand of new-and-improved.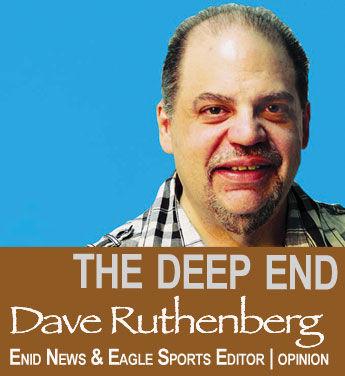 In truth, it was uglier than watching andoullie sausage being made.
How bad was it? Shortly after the loss, Brock Vandagriff, the top-ranked quarterback from the 2021 recruiting class, decommitted from OU. OK, he technically expressed second thoughts about attending school so far from his Georgia home (in the heart of SEC country), but the timing was as inauspicious as the Sooners' performance at the Peach Bowl in Georgia.
Now, I did try to warn people about OU's impending one-and-done disaster, but my advice did not set well with Sooner faithful on social media. I was amused, though, with one friend's response. I didn't know there was a middle finger emoji for Facebook.
But let's not pile on to the Sooners too much.
The fact is the Big 12 laid an egg during this past bowl season. Not a golden egg, either, but a rather stench-filled rotten egg.
While there were a couple of near-misses and one solitary win, the Big 12's performance overall should result in probationary Power 5 status.
It didn't start particularly well with Oklahoma State falling 24-21 to Texas A&M in the Texas Bowl. With a weapon like Chuba Hubbard, OSU should have been able to overcome the loss of quarterback Spencer Sanders, but proved remarkably inept, blowing a 14-0 lead. It was also another blow suffered by the Big 12 against the SEC. What's worse was this one came against a Big 12 refugee that limped into a bowl game with a 4-4 conference record, finishing barely out of the SEC West basement.
From there it got worse for the Big 12.
Iowa State came into the Camping World Bowl looking for a signature win against the Fighting Irish. Instead, Notre Dame left its mark, routing the Cyclones 33-9.
Kansas State's 20-17 loss to Navy in the Liberty Bowl was nothing to be too ashamed about. Both programs were coming in on rebound seasons after miserable 2108 seasons and the Midshipmen did need a trick play on fourth down to continue its drive that resulted in a game-winning field goal. Still, for a conference that imagines itself among the elite, a loss to a G5 school was yet another dagger.
The only bright spot was Texas completely dominating Utah 38-10 in the Alamo Bowl. However, Utah may have been more overrated than Oklahoma.
The Utes, by virtue of playing in another conference that should be placed on P5 probation, the Pac-12, padded their record and ranking by feasting on its conference mates. That is until Oregon exposed Utah in the Pac-12 title game, 37-15. The Alamo Bowl was pretty much the equivalent of a pillow fight between P5 weak sisters.
Bowl season then ended as it began for the Big 12 when Georgia defeated Baylor 26-12 in the Sugar Bowl in a game the Dawgs led 19-0 at halftime. Not only did it make the SEC 3-0 over the Big 12, it guaranteed the Big 12 would finish last among all 10 FBS conferences and independents in the bowl standings with a 1-5 record. Keep in mind this was a Baylor team the Sooners had to rally to beat twice, including defeating the Bears in overtime in the Big 12 championship game.
The average margin of defeat in the Big 12's bowl losses was 15.4 points.
Big 12 fans can only hope this year's results were a fluke, but the level of separation between the Big 12 and the top conferences has been something that has been developing over recent years and fans would be justly concerned.
Consider this as well. This bowl season, both the Mid-American Conference and the American Athletic Conference, through Friday, had won three times as many bowl games over a six-game span than the Big 12.
More bad news?
Those clamoring for a stronger conference shouldn't get their hopes up. The MAC and AAC have made it known they aren't interested in expansion.