Spring seems like a blur and summer didn't appear to hold much promise in the wake of COVID shutdowns. But a bright light, a glimmer of hope, appeared and it emanated from baseball diamonds across Northwest Oklahoma.
A little dramatic or overstated? Maybe, but one cannot deny the positive impact summer baseball made on communities across our area. The seasons got a bit of a late start — around June 1— but coaches, players and fans made the most of it.
At David Allen Memorial Ballpark we saw what we once thought would not happen this year as all three Connie Mack tournaments went off with nary a hitch. It also showed how much we may have taken them for granted.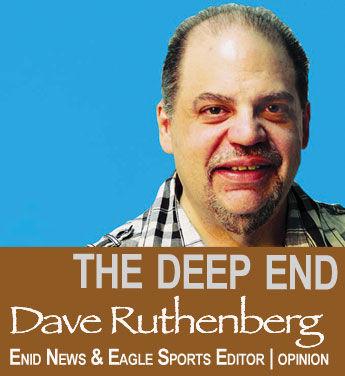 The Enid Majors took home a championship in the Connie Mack South Plains Regional for the first-time ever and qualified for next week's Connie Mack Classic.
The Enid Plainsmen more than acquitted themselves admirably, frequently going toe-to-toe with older competition in the Connie Mack tournaments.
There was no denying the smiles not just on the faces of the players and coaches but also the fans who seemed grateful to just be able to be out and enjoying the games. Enjoying life again.
It wasn't only the Enid baseball teams though.
Running concurrently with Enid's summer teams' seasons was the summer league put together by the Northwest Oklahoma Baseball Coaches Association, spearheaded by coaches Scott Baugh at Alva and Dave Riesen at Pioneer. Their eight-team league played 10 games and culminated with a championship tournament July 9-12 at Northwestern Oklahoma State.
Other teams were from Garber, Hennessey, Kremlin, Newkirk, Perry and Tonkawa.
Pioneer's summer season didn't just include the summer league as Riesen said between the varsity and junior varsity teams at Pioneer High School, the Mustangs played 50 games.
"I really felt, along with Coach Baugh, that having a league and having something to play for would make the summer so much more important to the kids," Riesen said. "It actually made things seem a little bit normal, at least for a six-week period."
Alva defeated Pioneer for the summer league crown.
"We had a big crowd for the championship game," Riesen said. "We told our kids that we were treating this like our state tournament."
The umpires may have felt the intensity too.
"I told one of the umpires it was fun to even be able to get after you guys a little bit," Riesen said. "It mattered enough that we got after them a little bit. It was a really good experience and I think it was a big success."
Riesen said the graduating seniors were all given an opportunity to play so that they were able to play in their senior season. They also announced a postseason All-Star team.
"I had not had this much enjoyment coaching a summer season since I coached American Legion ball, and that's going on 20 years ago now," Riesen said. "It was fun. The kids were hooked up."
While the baseball was front and center, something else wasn't.
"There was no talk about anything ... the kids were just playing and we were just coaching and strategizing and not worried about COVID or the other stuff that was going on," Riesen said. "It was a nice distraction."
The only downside? Summer baseball is coming to a close.
"It just seems like the summer went by so stinking fast," said Enid Plainsmen head coach Brad Gore. "It seems like it does every summer, but this one especially went by fast. I am just so grateful that we were able to get outdoors and play baseball. Anytime you can do that, it's a good thing."
That indeed was a common sentiment among the coaches I spoke with: A sense of gratitude that our area was able to play some baseball and enjoy the summer.
"Our goals were to come in and be thankful and blessed that we've been able to play baseball," said Enid Majors head coach Kris Webb. "I think that's something we've taken for granted a little bit while the majority of the country is still on lockdown."
After what we have experienced over these past few months, it's not likely many of us will take it for granted anytime soon. Thank you baseball.