There was an actual sense of things returning to a degree of normalcy across our local sports landscape this past weekend.
Thanks to a measure of sheer determination and some sensibility being restored in this era of COVID-induced restrictions, prep basketball returned in nearly full force with numerous tournaments being played. There was a time not long ago that doubt surrounded the possibility of hoops tournaments even being played.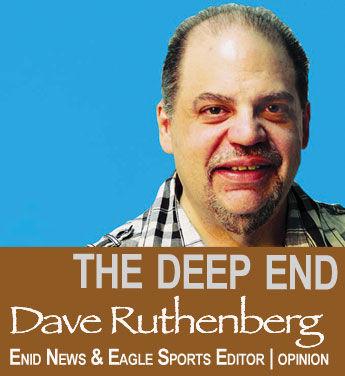 Not that it was completely back to normal as Gov. Kevin Stitt's rather arbitrary limitations on attendance removed a lot of the atmosphere that greets the arrival of highly anticipated tournaments such as the Wheat Capital Tournament at Chisholm, in addition to many other tourneys.
Still, that didn't reduce the intensity or competitiveness of the tournaments. At least that was our interpretation here as we fielded all of the calls providing us with the results.
By the way, thank you to everyone who helped us get the results out from their games. COVID and a down economy has impacted us as well but thankfully with the assistance of the coaches and others working the tournaments, we were able to get the results, including the all-important contributions from the players.
Many of the tournaments not only had reduced attendance, but also found themselves operating at reduced manpower.
That dedication to ensuring our area prep athletes were not deprived of a great tournament experience was likely paramount in motivation. So much in terms of what makes for a memorable high school athletic experience has been altered or lost as a result of the response to COVID-19 that it was important to ensure these tournaments would be played.
Congratulations to all that were involved.
Speaking of congratulations, I wanted to also take a moment and congratulate our area schools that came home with championships.
Boys champs:
Kingfisher: Wheat Capital Tournament
Covington-Douglas: Medford Tournament
Waukomis: Okeene Tournament
Girls champs:
Drummond: Medford Tournament
Cherokee: Cherokee Invitational
• A budding juggernaut? Yes, that was the Class A Garber girls nearly pulling off the upset early in the Wheat Capital Tournament. The Lady Wolverines held a 14-point lead going into the fourth quarter last week against No. 1 seed, Class 4A Kingfisher.
The Lady Wolverines though couldn't hold off the Lady Jackets, falling on a put-back in overtime, but showed they were indeed the real deal by securing third place with a win over host, Class 3A Chisholm on Saturday.
Garber head coach Jamie Davis, last year's Enid News & Eagle Northwest Oklahoma girls coach of the year, appears to have another squad poised to make a run at a state tournament berth.
Next up: Tournaments crank up again Jan. 21-23 as the Skeltur Conference and Cherokee Strip tournaments hit town. The Skeltur's return to the Stride Bank Center and Cherokee's Strip's return to the Chisholm Trail Expo Center are just two more indications of the resilience of sports in the face of unprecedented times and just the elixir — and at least a temporary distraction — needed at this time.
NOC Enid: It's not just prep hoops that are back in full swing, but Northern Oklahoma College Enid will see its delayed seasons finally tip-off within the next two weeks.
It will also mark the debut of new coaches as both Jets head coach Chris Gerber and Lady Jets head coach Kelli Jennings will finally get to sit in the head coach's chair on the NOC Enid sidelines. The Jets' first game is Jan. 22 at home against On Point Academy. The Lady Jets tip off Jan. 27 at home against Mid-American Christian JV.
Let's hope we can continue to keep writing more about sports and less about COVID. It's rather refreshing, isn't it?
Ruthenberg is sports editor for the Enid News & Eagle. Contact him at daver@enidnews.com