ENID, Okla. — Over the last 27 years, Richard Davis has made numerous stops in his football coaching career and plans on making Enid his final one.
"We've made no secret that we wanted to get our children back around family," Davis said. "I've said that from the word 'go.' I meant it."
Davis has coached several different positions at the high school and collegiate levels. He held coaching and front office positions at the professional level. He's traveled nationwide and beyond.
Davis wants those days to be over. He wants to be planted in Enid so he can be a father to his four children while also he building what he hopes will be a successful indoor football franchise as its head coach and team president.
On July 24, he was officially introduced to the community during a press conference announcing Enid would be receiving an indoor football expansion franchise — later christened the Oklahoma Flying Aces — of the Champions Indoor Football league (CIF). The team will play its home games at Central National Bank Center starting in the spring of 2019.
Davis, originally from Oklahoma City, said he and his family were looking for an opportunity to return to Oklahoma. Davis is the son of a career Oklahoma high school coach and a retired superintendent and comes from a family of educators.
"Oklahoma is home for me," Davis said during the July 24 press conference. "All of my family lives here."
But his return to Oklahoma isn't without controversy.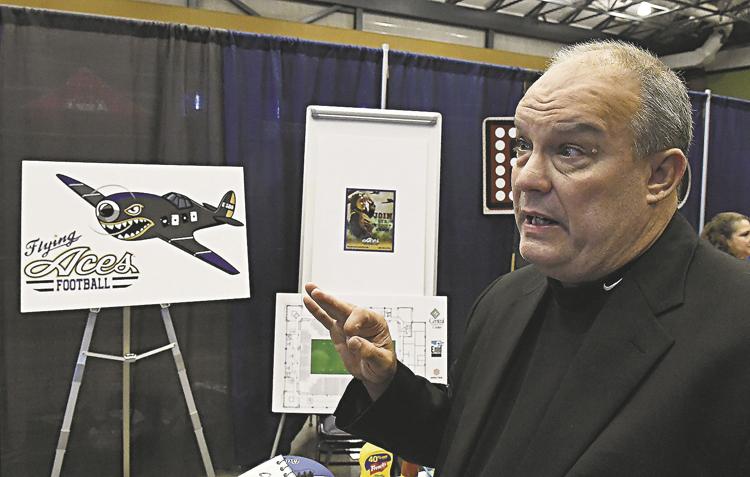 Three months prior to the introductory press conference, Davis was fired as the head coach and general manager of the Bismarck Bucks, another indoor football franchise in Bismarck, N.D. It was in Bismarck where an employee filed a five-page complaint against Davis, according to a KX News report.
Bucks' ownership told KX News the complaint was not the reason Davis was fired.
Move to be 'a better dad'
The Flying Aces are Davis' third venture in team-building. It's an enterprise preceded by nearly three decades of football experience. Davis described himself as once being a "vagabond coach", staying single until he was 40 years old. That's when he said he was fortunate enough to meet his wife, Judy.
"I've moved more than I envisioned when I got my career started," he said. "That's not an unfair statement."
Since 1991, Davis' career took him across the Atlantic Ocean, joining the coaching staff of the London Monarchs, of NFL Europe. He's been on the sidelines, the front office and — between some coaching stops — in the private sector.
Like many professional football coaches, Davis never stayed in one place for too long.
"Looking in the rearview mirror, I would change that if I could," Davis, now in his 50s, said of his career. "My mom has warned me for years, 'too many moves, too many moves.'"
When he spoke with the News & Eagle on Sept. 5, the franchise was in the early stages of the building process. Davis was still working on the team's front office. The walls were being painted. Floors were being worked on. The team's name, logos and colors were still undecided.
All he wants is another opportunity to build in Enid.
"This would be, for me, a culminating process where I can, in fact, come home, coach a little ball, chase a championship with the some grown men, and be able to slowly fade — if that makes any sense...allow my children's lives to take the forefront instead of them living through dad's life," Davis said.
Brief stays
There are few, if any, who doubt Davis' football IQ and passion for the game.
"Richard Davis is an offensive guru," Kahlil Carter said.
Carter coached alongside Davis when the pair were a part of the Graceland University football staff during the 2010 season. Carter's known Davis since 2000, when he was a defensive back for the Richmond Speed and Davis was the team's head coach and vice president.
In four seasons with the Speed, Davis compiled a 39-19 overall record. In his second season in Richmond, Davis led the Speed to a division and conference championship on the way to an ArenaCup appearance.
With the London Monarchs, Davis helped the team win the league championship that season as a part of a coaching staff that included former Cleveland Browns head coach Hue Jackson.
In Bismarck, the Bucks went 5-8 in their inaugural season and clinched a playoff berth under Davis. The organization was named the CIF's Franchise of the Year.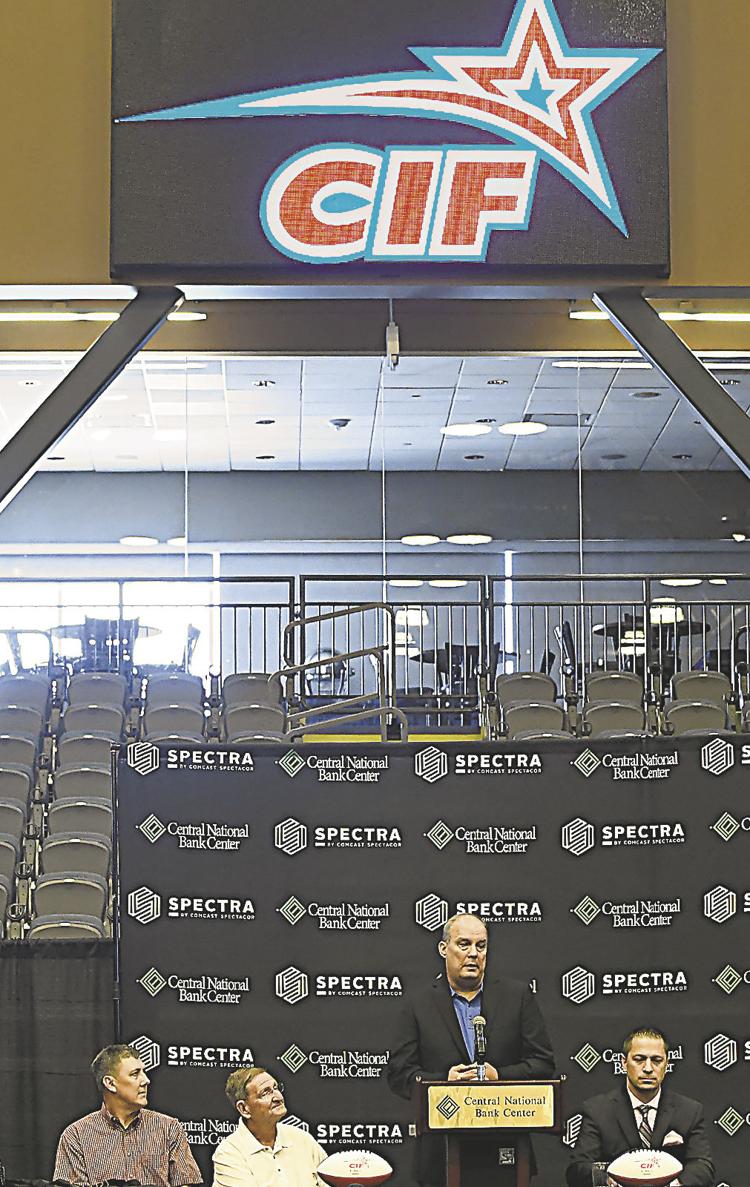 While successful, Davis' time with each team was brief. He spent four seasons with the Speed, his longest tenure, before being fired in June 2003.
Davis had brief stints with the Albany Conquest (2005), Stockston Lightning (2006) and Tri-City Fever (2009), with each stop lasting one season or less. In 2015, Davis was named the head coach and general manager of the Bemidji Axemen, but the Minnesota franchise folded before he could coach a down of football.
In April, Davis was fired in the middle of his second season with the Bucks, who were 3-2 at the time.
Davis made an impact on his players in the short amount of time. According to The Troy (N.Y.) Record, several players praised Davis after he was fired as the head coach of the Albany Conquest indoor football team.
"I think he's a great guy," former Conquest player Cy Butler told the Record. "He believed in us and we believed in him and it's unfortunate to see him released." Obey Arah said Davis was "the best coach" of his football career.
Donald Moore-Gutierrez, who played under Davis in Bismarck and Graceland University (Iowa), said describing Davis as passionate is an understatement.
"He was going to put it on you," Moore-Gutierrez. "But when you walked on that field if you hadn't eaten that day, he was going to buy you a steak dinner. If you needed a shirt, he's going to take you and get you what you need."
According to various media reports, Davis was fired from Richmond, Albany, Tri-City and Bismarck, and his contract was not renewed in Stockton. But, Davis disputes most of those reports.
Parted ways
Davis remembered his termination from Tri-City came when he was on his way to the airport.
"I was fired, rightfully so," he said, adding the team was 0-5 when he was fired.
However, Davis is adamant that he was not fired by Richmond or Albany. In an email to the News & Eagle, Davis requested attempts be made to contact the owners and general managers of the franchises and ask for "any documentation showing" he was fired.
"I can assure you, they will not be able to provide any such paperwork, because, in each of those cases, I was not fired," he wrote.
According to The Quad-City Times, Davis was "relieved of his duties" by Speed owner B.K. Katherman.
Davis said he quit in Richmond over "a disagreement with me and the owner." He would not comment on the disagreement. Katherman did not return calls for an interview.
At the time, Katherman said, "Our focus has been bad this year because Richard focused on the negatives and none of the positives. Richard drew a line in the sand tonight. He forgot it was my sand."
The Conquest's owner, Walter Robb, referred the News & Eagle to the team's former general manager Robert Zeig, who could not be contacted.
Davis said he chose not to exercise the second year of his two-year contract with Stockton. Former team president Dan Chapman said the franchise didn't renew Davis' contract because the franchise "felt like we should go in another direction."
In the complaint filed against Davis in Bismarck, the employee alleged she was continually "bullied, harassed, verbally abused, intimidated and degraded," during the first six months of their working relationship.
Chapman was asked if the employee's accusations against Davis sounded out-of-character.
"I guess I could say some of the things that have occurred since his time in Stockton — that I've heard about — have not come as a complete surprise," Chapman said.