Growing up in Enid, I never heard too much about Woody Guthrie. Sure, we sang "This Land Is Your Land" at Hayes Elementary School, but I didn't know much more besides the iconic song being written by an Oklahoman. Still, I was proud of that.  
Little did I know at that time how my future journalistic efforts would lead to discovering his mother's lost grave.
As a University of Oklahoma student, I remember Norman musician Todd Walker standing up during a guest lecture at Dale Hall. (I believe the speaker was Haskell Wexler, the famed American cinematographer credited on the Guthrie biopic "Bound for Glory.) Like some counterculture version of Norman Rockwell's "Freedom of Speech" painting, Walker stood and proclaimed during the Q&A that a portrait of Guthrie — arguably one of Oklahoma's most famous native sons — did not hang at the state Capitol. That didn't seem right, and it stuck in my head.
Around that time, I was discovering Bob Dylan. I drove from Enid in August 1989 for my first Oklahoma City concert to see him perform at the Zoo Amphitheatre with Steve Earle opening. Soon, I was digging through Dylan's back pages and learning how Guthrie influenced the metamorphosis of Robert Zimmerman into the folksinging Dylan … and beyond. Without Woody, there would be no Dylan.
Before making it big, Dylan dropped out of college and traveled to New York City to perform. It struck me how the younger musician visited Guthrie when he was suffering from Huntington's chorea at Greystone Park Psychiatric Hospital. Protege learning from mentor.
"The songs themselves had the infinite sweep of humanity in them," Dylan later wrote of Guthrie, an Okemah native.
"(He) was the true voice of the American spirit. I said to myself I was going to be Guthrie's greatest disciple."
After graduating college and working as a young journalist at The Norman Transcript in 2002, I started delving into the mystery of where Woody Guthrie's mom, Nora Belle Guthrie, was buried. This was around the time the Smithsonian exhibition "This Land Is Your Land" opened in Oklahoma City at the Oklahoma Historical Society. 
The family lost track of Nora Belle's whereabouts when she died in 1930. After hitting a dead end at Griffin Memorial Hospital and poking around burial grounds seven decades later, I published a story reporting Woody's mom was institutionalized in Norman, where she was suffering from the same disease as her son. 
Evelyn Parker of the Cleveland County Genealogical Society called me at The Transcript newsroom after reading my story. In a simple twist of fate, Parker told me a roll of "This Land Is Your Land" was loaded on her player piano. Solving the mystery, she found Nora Belle's unmarked grave. 
"It was in their records," Parker said of the Norman IOOF Cemetery. "They let me look at the old records way back in the back room."
After Nora Belle's death certificate was verified by Parker, I called Woody's younger sister, Mary Jo Guthrie Edgmon, in Seminole to tell her where her long-lost mother was buried. She just cried. 
On Feb. 20, 2002, Mary Jo thanked me from the bottom of her heart in a letter that I still cherish.
"You can't imagine how excited I was to get your phone call and the next day the wonderful coverage of Mama's grave site," Woody's sister wrote.
"You just about caused me to 'burst all of the buttons right off my blouses' with your wonderful letter and the extra papers you sent me."
When Nora Belle's headstone was dedicated in March 2002, Mary Jo held our 1-year-old daughter, Kalina, while dancing and singing "This Land Is Your Land" alongside the late folksinger Jimmy LaFave and others. It's a memory I will never forget.
Eventually, Guthrie's portrait made it to the state Capitol. My Oklahoma Gazette cover story spearheaded efforts to install artist Charles Banks Wilson's portrait of Woody on the fourth-floor rotunda. Then-Publisher Bill Bleakley initiated a populist fundraising drive (including a donation from the band Wilco) to pay the costs of the artist's commission, framing and eventual hanging of the portrait in 2004. 
Wilson donated his $20,000 commission for the painting to the Oklahoma chapter of the Huntington Disease Society of America, according to The Oklahoman. Flanked by family, Woody's son, Arlo Guthrie, performed three of his dad's songs — "Pretty Boy Floyd," "Sinking of the Reuben James" and, of course, "This Land Is Your Land."
I remember how joyous Mary Jo looked at the dedication of her older brother's portrait, saying Woody loved Oklahoma and always said, "I would be mighty proud if you would just write 'Okie' on my tombstone."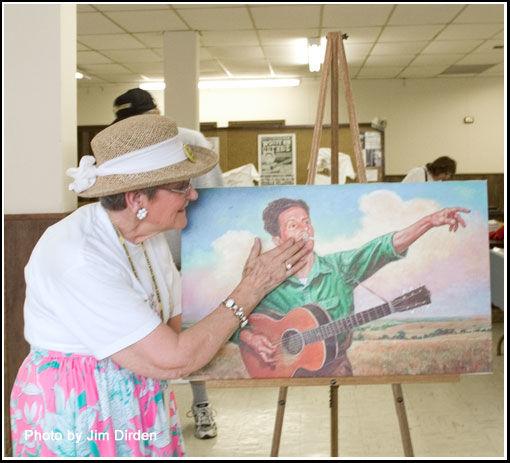 At age 90, The New York Times described Mary Jo as "a white-haired, elfin woman with a persistent smile and a sharp wit." That sounds about right to me.
I was saddened to hear of Mary Jo's passing on Sunday at age 96. The Tulsa-based Woody Guthrie Center released a heartfelt statement about "baby sister" being the torchbearer for the traveling troubadour:
"Nobody loved Woody Guthrie as much as his baby sister Mary Jo did. Years before the Woody Guthrie Folk Festival and the Woody Guthrie Center were established, she was his champion, sharing his message with students across the state so that his importance in American history was not forgotten."
So long, Mary Jo, it's been good to know you. We won't forget you or your brother.
Collins is executive editor of the Enid News & Eagle.