Our son nearly died after childbirth 13 years ago.
Critically ill after his premature birth, Landon's heart was shunting. Basically, the blood was flowing in the wrong direction. 
As young parents, we had to learn scary acronyms like NICU (Neonatal Intensive Care Unit) as our baby's lungs were supported by life-saving respirators.
Needing to perform a central line — insert a central venous catheter into our child's chest — one doctor told us Landon had a 50 percent chance of surviving the procedure. A well-meaning visiting priest even told us we could baptize Landon ourselves if we sensed that he was about to die in intensive care.
Although we'd already prepared Landon's brightly colored nursery room at home, things were looking grim about our baby boy being released from the hospital. 
As he progressed to more intense breathing machines — which ratcheted up an increased chance of brain damage — he simply wasn't responding to artificial respiration. We were desperately praying for our son to recover. 
People are known to make pacts with God during trying times. Catholics are known to ask saints in heaven to pray with us and for us, much like you might ask friends to pray with you, or ask them to add you to their prayer chain.
This may not be proper protocol before official sainthood, but I prayed for the Rev. Stanley Rother to pray for us. My wife, Kim, also remembers staring at Landon on an oscillating ventilator and asking Rother to heal Landon's broken heart.
"His cause for canonization takes on a special meaning for us because we truly believe he interceded on Landon's behalf," said my wife, Kim. 
Hearing about the recent death of the Rev. Thomas McSherry brings these memories back to us. McSherry, who died June 5 at age 74, played an integral role in the story of the Rev. Rother and his own remarkable heart remaining in Guatemala.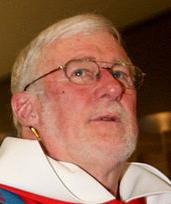 In 1991, McSherry was moving Rother's vital organ from behind the main altar to a less obscure location in the church in Santiago Atitlan, Guatemala. A decade before, three masked gunmen had burst into the rectory and killed the Oklahoma-born priest.
Rother was a missionary with humble beginnings. The unassuming priest taught a traditional Mayan ethnic group known as the Tzutujil (pronounced ZOO-too-heel) and helped translate the New Testament into their language.
We often visited my aunt's family in Okarche when I was young, and I remember hearing about Guatemala being in the throes of civil war between guerrillas and militarist government forces. Images raced in my head about this Central American clash.
Rother's name was on a death list, but the Oklahoma priest opted to remain with his people. McSherry once told me Rother showed remarkable faith under extraordinary circumstances.
When Rother was assassinated, the indigenous parishioners thought their God had died. To preserve his symbolic spirit, the Tzutujil kept his heart in Guatemala while his body was buried back home in Okarche. 
A decade after his martyrdom on July 28, 1981, McSherry removed Rother's heart enshrined inside a black, plastic sheet within a wooden box.
"There was about a half-gallon jar with blood in it, and the metal part of the jar had rusted but the blood had not congealed," McSherry, later a priest at St. Patrick Catholic Church in Oklahoma City, told Oklahoma Gazette in 2006.
McSherry described his experience 13 years ago for my cover story, "Heart of a martyr," which published at the 25th anniversary of his death. McSherry was among the first Oklahomans to return to the Guatemalan mission four years after the assassination.
Since then, it's been interesting to watch history unfold. Moving Rother's canonization process toward sainthood, tribunal members interviewed more than 90 people and collected thousands of documents, including newspaper articles and personal letters. 
While at the Gazette, I provided unclassified U.S. State Department documents to the historical commission that I had obtained about Rother's assassination. The murder remains unsolved to this day.
In a milestone in 2017, Blessed Stanley became the first North American-born martyr and the first U.S. priest to be beatified. This crucial step toward canonization should make Rother Oklahoma's first Catholic saint. 
Fittingly, McSherry presented the first-class relic of Blessed Stanley Rother at his recent Rite of Beatification. Remains of saints inspire us to ask for prayers for the grace of God.
The Rev. Marvin Leven, who visited Rother in Guatemala, once told me there have been miracles. By praying for Rother's intersession, people have reported remarkable results.
When we prayed for Rother's intercession, Landon returned from death's door through God's grace. While the Catholic Church may not consider this one of Rother's official miracles, Landon's lungs matured and his reactive airways disease rapidly improved. Now he's healthy at age 13.
In a way, Rother's heart is entwined with our son.