Innocence Project founding board member Jason Flom last week released what he called an "​amazing and alarming episode"​ about the case of a former Oklahoma City police officer convicted of raping women while on duty in 2013 and 2014.
Flom proclaimed Daniel Holtzclaw's 2015 convictions a ​"tragic miscarriage of justice" that turn the "abusive cop narrative right on its head."
Prosecutors accused Holtzclaw of targeting black women while on duty in 2013 and 2014. He was convicted in December 2015 on 18 of 36 counts of sexual crimes against 12 women and a teenage girl, including four counts of first-degree rape. Holtzclaw was sentenced to 263 years in prison.
---
LISTEN HERE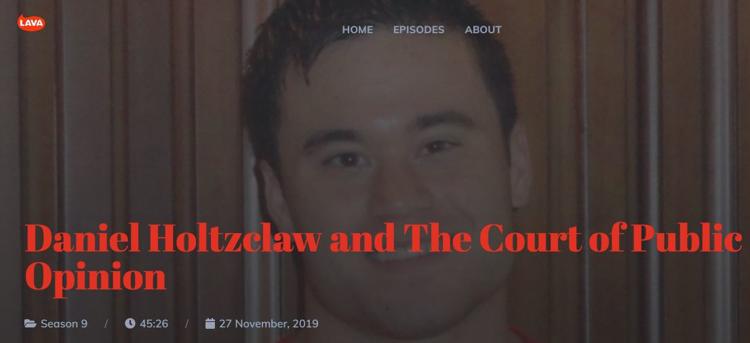 https://www.wrongfulconvictionpodcast.com.
---
His family and supporters have continued to proclaim his innocence.
Holtzclaw has an appeal filed at the state-court level contesting an August 2019 Court of Criminals Appeals decision upholding his conviction. He also has filed an appeal with the U.S. Supreme Court.
In addition to upholding his conviction, Oklahoma Court of Criminal Appeals also denied a request for an evidentiary hearing in the case.
Flom's 47-minute podcast featured a phone interview from prison with Holtzclaw, who told Flom his Christian faith keeps him strong behind bars​.
"God has a plan for me," Holtzclaw said, and "I've never had a thought of giving up. I know I'm going to be free."​
Holtzclaw vowed to "​fight for the wrongfully convicted"​ and "do my best to help everyone out there in my position" after having seen both sides as both a cop and a convict.
Along with Daniel Holtz­claw, Flom interviewed his sister Jenny, whom he described as "one of the most persistent and brave women I've ever met," and Iowa biologist Erica Fuchs, who first detected pivotal errors in the analysis and testimony regarding forensic evidence in the case.
Flom deconstructed each of the charges, contradictory testimony, accuser misidentifications and what he termed deceptive solicitation of accusers by detectives. Flom informed his audience about the "​perfect storm for a wrongful conviction" ​in Holtzclaw's case, including a ​"media frenzy"​ in the summer of 2014 that resulted in a ​"barrage of one-sided information"; a ​"hopelessly tainted"​ jury pool; "bumbling, incompetent and biased investigators"; a ​"prosecutor who lied"​ about DNA evidence to jurors; forensic people who lied; a defense attorney "who was not up to the task";​ and an ​"outcome that was preordained."
Flom's "Wrongful Con­viction" podcast is in its ninth season and has been downloaded more than 10 million times worldwide. The music executive and philanthropist helped bring national attention to Oklahoma exoneree Michelle Murphy and supports criminal justice reform efforts throughout the state. He informed listeners that Holtzclaw's legal team is preparing to file a petition for a writ of certiorari with the U.S. Supreme Court later this month and a state post-conviction relief motion next year.
Jenny Holtzclaw provided the family's response to the podcast.
"Our family wants to extend deepest thanks and gratitude to Jason Flom and his team for their extraordinary work and tireless advocacy fighting for the innocent," she said. "Nobody has done more than Jason to educate the public about how wrongful convictions can happen to anyone — black or white, young or old, civilian or police officer. We pray that more Oklahomans will be inspired to learn the whole truth about Daniel's case and join us and Jason to right this terrible wrong."
A ​change.org petition​ supporting Holtzclaw has surpassed 41,000 signatures.