OKLAHOMA CITY — Pregnancy discrimination stole the social media spotlight recently after questions arose over Democratic presidential candidate Elizabeth Warren's account of being pushed out of a teaching job in the 1970s because she was pregnant.  
When I was 22 and finishing my first year of teaching, I had an experience millions of women will recognize. By June I was visibly pregnant—and the principal told me the job I'd already been promised for the next year would go to someone else.

— Elizabeth Warren (@ewarren) October 8, 2019
Despite a 41-year-old federal law banning employers from discriminating on the basis of pregnancy or childbirth, complaints continue nationwide. But in Oklahoma, fewer women are reporting discrimination.   
The number of complaints filed with the U.S. Equal Employment Opportunity Commission office in Oklahoma City, which receives all statewide reports, has been dropping steadily for the past five years, according to data requested by Oklahoma Watch. In fiscal year 2019, which ended Sept. 30, 22 complaints were filed, the lowest number since at least 2014, the data shows.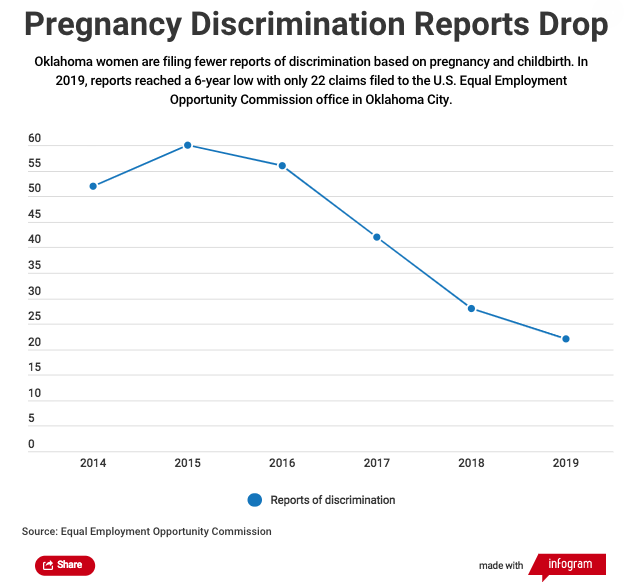 The reports include women who were fired after revealing they were pregnant or while on maternity leave; were denied accommodations; were transferred to undesirable shifts after returning from leave; were questioned about their appearance and dedication during pregnancy, or received reduced bonuses.