MUSKOGEE, Okla. — Donna Powell's recollection of near-historic flooding is similar to scores of others who live along the Arkansas River, or any overflowing river in Oklahoma: Floodwaters rising toward her home before she and her family were forced to seek shelter.
Highways and homes around Muskogee, Okay, Fort Gibson and Webbers Falls still lie beneath the swollen river as is slowly recedes from a crest of 46.39 feet at 9 a.m. Sunday.
City of Muskogee Emergency Management Director Tyler Evans said water levels continued to improve Monday. The National Weather Service in Tulsa reported levels at the Port of Muskogee gauge had dropped about a half-foot since the Arkansas River began receding.
Rain, however, remains in the forecast during the next few days.
Muskogee Counter Emergency Management Director Jeff Smith said officials are monitoring lake levels and the weather.
"We're watching what Keystone Dam, Fort Gibson Dam and Oologah are all putting out," Smith said. "Then we can monitor how much water is coming through our channel."
Muskogee County Emergency Management Services community relations coordinator Trish German said the entire town of Webbers Falls was evacuated.
District 2 Muskogee County Commissioner Stephen Wright said Monday that Webbers Falls remained underwater. He said he does not know when residents can come home.
"We'll probably need a bigger effort when the water goes down," Wright said. "Webbers Falls, it is a catastrophe. It's bad, bad."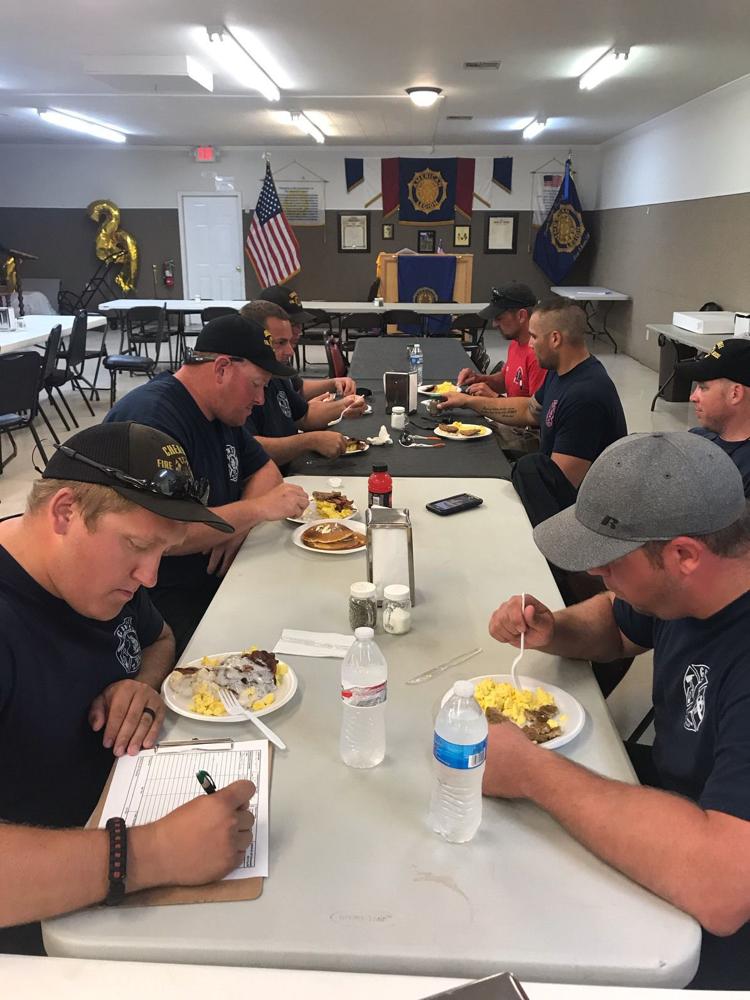 Fort Gibson residents step in to help one another
FORT GIBSON, Okla. — Fort Gibson Emergency Resource Center, at the high school's old gym, is accepting donations for those affected by flooding.
Haley Norman, coordinator, said people have worked to ensure people in Braggs and Okay, as well as those in Fort Gibson, have food and supplies. She said truckloads and boatloads of supplies have been sent to isolated communities. She said the center is supplying the communities with nonperishable foods, water, paper products and baby goods.
"We have a list for volunteers willing to sign to help now and in the future for clean up," she said. "We also are taking a list of people who are in need, or are going to be in need of cleanup."
Fort Gibson, Okay and Braggs residents who need help may go by the resource center, 500 S. Ross, or call Norman at (918) 781-3027.
The center is accepting bottled water, nonperishable food items and baby formula as immediate needs. Other needs are diapers of all sizes, baby food, baby wipes, toiletries, new towels, new blankets, mops, paper goods, feminine hygiene products, gloves and cleaning supplies. No clothing is requested at this time.
Emergency road helps restock, restore Braggs
When Muskogee County Emergency Management workers approached Camp Gruber officials about building an emergency road to Braggs, they were told it was "impossible."
"Apparently, they don't know our men and the determination we have," District 1 Commissioner Ken Doke said. "This isn't the first time we've built an impossible road."
The 7-mile back road extends over the mountain behind Camp Gruber to enter Braggs, opening a route to bring supplies to the flood-locked town. Up to that point Braggs had become inaccessible by traditional means because of near-historic flooding of the Arkansas River.
The first of the supplies — water, food and more packed into a truck and trailer — arrived via the emergency road Monday morning from a team headed by Sheriff Rob Frazier. Food wasn't the only relief the action team provided; the road enabled workers with OG&E Electric Services and Lake Region Electric Cooperative to restore the town's power at 7 p.m. Sunday.
Doke said efforts are underway by county and railroad officials for a contingency plan to secure Union Pacific rail service as a backup supply line.
"The reason we're doing that is that rain is predicted for the next several days, and we are concerned that we could hold the relief road," Doke said, noting the railroad would be used to deliver only supplies, not people. "We are working on a plan that would involve bringing in supplies with a rail truck on the railroad line between Fort Gibson and Braggs."
National Guard aids communities following severe weather
TULSA, Okla. — Oklahoma Army National Guard has been mobilized to parts of Northeast Oklahoma in response to flood and tornado damage.
More than 250 Oklahoma Army National Guard soldiers from 1st Battalion, 160th Field Artillery Regiment; 120th Engineering Battalion; and 1st Battalion, 279th Infantry Regiment, have conducted disaster relief missions, including the inspection of flood walls along the Arkansas River, filling thousands of sandbags to be placed along fatigued levees, setting up water pumps and stabilizing the historic WWII submarine USS Batfish.
Oklahoma National Guard aviation assets from the 245th Aviation Battalion have flown UH-60 Black Hawk and UH-72 Lakota helicopters more than 45 flight hours while assisting with rescue missions and relief efforts in the most devastated parts of the State.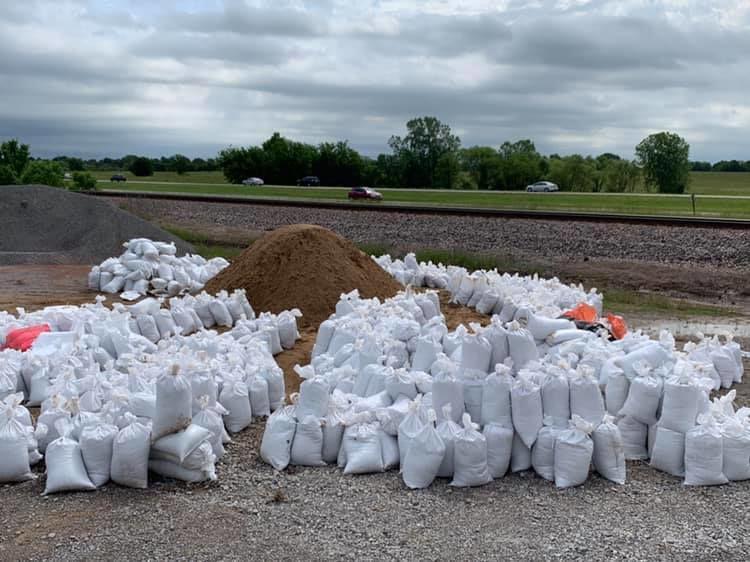 Rogers County has sand bags available
CLAREMORE, Okla. — Rogers County Emergency Management has pre-filled sandbags available for those fighting flooding. The bags are at Rogers County District 3 warehouse, south of Claremore, just off King and U.S. 66.
Oklahoma Gov. Kevin Stitt was in Rogers County Sunday to help fill sandbags for those in need.
Drivers urged to be cautious on county roads and bridges
STILLWATER, Okla. — Residents who live near flooded roadways and bridges are anxious for the water to recede so they can take their normal routes to work and home. But floodwaters are not the only danger.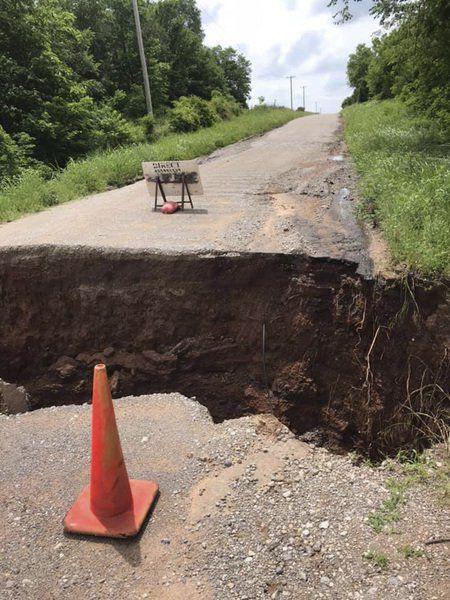 As the recent wet weather pattern continues, more and more roads and bridges are being undermined by repeated cycles of flooding that soften the road base or wash it away.
Payne County resident Tim Thornburg had a close call recently that drove that lesson home.
As Thornburg approached a creek, he saw the roadway in the opposite lane had disappeared since the last time he drove it. He said the road ahead of him looked intact, but as he drove over it, the pavement began to give way.
"I heard a loud noise, like 'bam!' 'bam!'" he said. "I managed to clear it, but then I stopped and got out to check the damage on my truck and see what kind of bullet I dodged. There was a big ditch behind me (where the road had been), and I could see water running under the asphalt. It had collapsed on about 50% of that lane."
Thornburg escaped without any major injuries, but his truck suffered significant damage to its wheels, rims and suspension system as well as some minor body damage.
Payne County Commissioners Rocky Blasier and Zach Cavett both said road crews have been working almost nonstop since the flooding began about a week ago and are struggling just to keep the worst areas barricaded so people don't drive into danger. It's a situation being repeated across many Oklahoma counties.
Cavett said he has run out of barricades and "road closed" signs. It takes time to get more from manufacturers, so his crew will is building additional warning signs and barriers out of wood.
Both Blasier and Cavett say even when they do place signs, it seems to do little good. Some drivers go around them, and others either knock them down or steal them.
Blasier says he's frustrated because it's a matter of public safety.
"Every night we have had to go out and replace signs that they threw down or took," he said. "They're going to get somebody killed doing that."