ENID, Okla. — As Dustin Buffalo was strolling around the career fair Wednesday at Stride Bank Center, he stopped at the table for Tyson Foods.
The 37-year-old Enid man spoke with the two Tyson representatives there before writing some of his information down on a piece of paper, planning to apply online for "one of the best" companies in town.
Buffalo was the 16th person interested in employment with Tyson and was one of about 100 people who turned out for Oklahoma Employment Security Commission's career fair, which had 28 companies present.
"You never know — you might find an open door somewhere," said Buffalo, who also went to the tables for PT and Gore Nitrogen Pumping Service at the fair.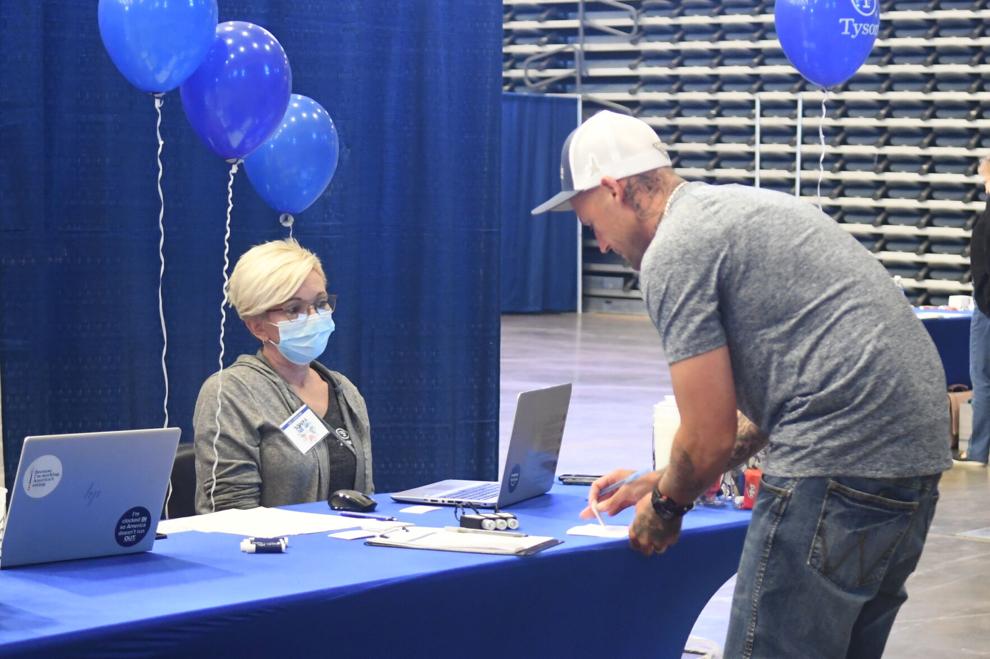 Melisa Robrahn, human resources manager at Tyson and one of the two women who spoke with Buffalo, said it's important, especially now, for Tyson and other companies to show up to career fairs.
"We just need to partner with different organizations throughout Enid and in this area to ... be able to make that connection to attract applicants so they know how to apply and all the different opportunities that we have available," Robrahn said.
There are currently about 70 positions available at the four different Tyson facilities in Enid, Robrahn said.
The unemployment rate in Oklahoma in March was 4.2%, which is up from last year's 3.1%, said Shelley Zumwalt, OESC executive director.
Many people, especially people in the COVID-19 pandemic, don't expect to be unemployed, Zumwalt said, adding that statistically, the longer people are on unemployment, the harder it is to get a job.
That's why it's important for OESC to host the career fairs — to help connect people with employers.
"Getting to put on the job fairs and meet some of the people has been really gratifying, and then to connect them with employers is the icing on the cake," Zumwalt said. "That's what most claimants want — most of them want to find employment that is gratifying and supports their families or themselves and want to move on from everything that's happened in the past year."
The career fair in Enid on Wednesday was one of seven from OESC: two were in Tulsa last week and one was in McAlester on Monday, and one will be in Lawton on Friday and two will be in Oklahoma City next week.
Zumwalt said it's an "employer's market" right now and is encouraging claimants to seek out job opportunities sooner rather than later.
Amy Killam, people operations lead at Walmart, and Brandy Rathbone, market coordinator at Walmart, were at their table with applications for the Neighborhood Market locations in Enid and Stillwater.
Rathbone said as of noon, the job fair has gone "so far, so good." One person was actually hired early Wednesday morning, and she had taken down a few names and handed out business cards to others who stopped by.
Alexia Barr, a trainer with RibCrib, added that career fairs help people seeking employment find out what is available and accessible and learn about the company and the interviewers, which is "much better" than searching the company on Google.
Aaron Miller, a recruiter with RibCrib, said he and Barr hadn't seen quite the turnout they expected, but that was OK because of the applicants they received.
"Quality over quantity," Miller said.