VANCE AIR FORCE BASE, Okla. — Col. Corey "Senator" Simmons relinquished command of the 71st Flying Training Wing at Vance Air Force Base during a live-streamed change of command ceremony Monday morning.
Simmons completed his two-year tour by handing over the reins of the base and its airmen to Col. Timothy Danielson.
Maj. Gen. Craig Wills, commander of the 19th Air Force at Joint Base San Antonio–Randolph, Texas, presided over the ceremony.
Wills thanked Simmons for the quality of his leadership at Vance over the last two years, capped off by continuing to meet pilot production goals in spite of the COVID-19 pandemic.
"I am very proud of how you and the team here at Vance have tackled this threat," Will said, referring to the pandemic.
"Col. Simmons has a phenomenal reputation, strategic savvy, operational credibility and an innate ability to solve tough problems," Wills said.
Wills lauded Simmons for instilling a "culture of innovation and pride" in the wing and for modernizing pilot production through innovative uses of technology, upgrades to base infrastructure and increasing pilot output.
During Simmons' tenure, Vance was the only Air Education and Training Command base to meet its production goals in both 2018 and 2019.
Vance was recognized as the top AETC pilot training wing in 2018, and at one time during Simmons' tenure, the base had the top AETC squadron in T-1, T-6 and T-38 aircraft and the top operations group in AETC.
Simmons was presented the Legion of Merit during the change of command for his team's accomplishments during his command tour.
In his brief comments, Simmons thanked Vance airmen for embracing and living the culture of "Vance Proud."
"Over the last two years, Team Vance not only showed up you showed the highest levels of the Air Force the good thing you have going here," Simmons said.
"Executing the pilot training mission is what we do," Simmons said. "There's no question Team Vance is the crown jewel of Air Force pilot training and the breeding ground for tomorrow's Air Force leaders."
Simmons will move on to command the 60th Air Mobility Wing at Travis Air Force Base, Calif.
Col. Danielson, in his remarks, acknowledged Vance's reputation in the Air Force.
"This wing is all about producing the world's best pilots," Danielson said, also chalking that up to the culture of pride and teamwork at the base.
To continue that reputation, Danielson said airmen at Vance "must challenge ourselves to be more proficient — we must seize the initiative and be proactive."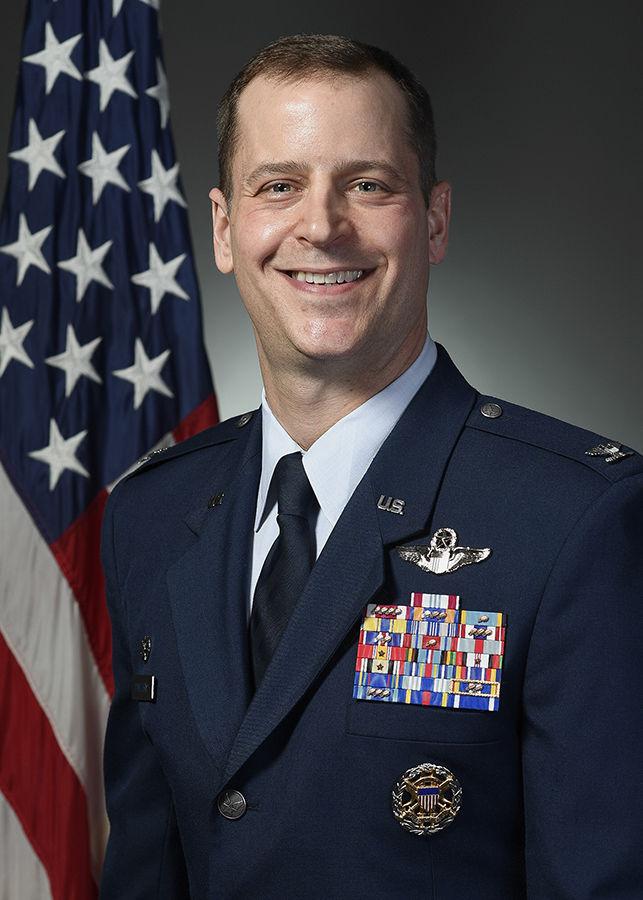 Vance airmen will continue to focus on "safely generating pilots while finding innovative solutions to our forward thinking," Danielson said. "We owe this not only to our Air Force but to the United States of America."
Danielson formerly was commander of the 43rd Air Mobility Operations Group, at Pope Army Airfield, N.C., responsible for rapid strategic deployment of forces assigned to Joint Special Operations Command, the XVIII Airborne Corps and 82nd Airborne Division.
He entered the Air Force in February 1998 after receiving his commission through the ROTC program at the University of Alabama. He has been an aircraft commander, instructor and flight examiner in the C-21, C-130 and the KC-135.
His deployments include service in staff and flying positions in support of operations Southern Watch, Enduring Freedom and Iraqi Freedom. He is a graduate of the School of Advanced Air and Space Studies and the Eisenhower School of National Security and Resource Strategy.
Danielson is a command pilot with more than 3,900 hours in T-37, T-1, C-21, C-130 and KC-135 aircraft.