NEWKIRK, Okla. —National Weather Service is reporting a possible tornado caused damage in the Newkirk area early in the overnight hours Tuesday night.
A mobile home was blown over and a roof reportedly was blown off a building, according to NWS, and power lines and a radio tower were down. Damage to some structures as viewed via Twitter also were contributing to the fact a tornado may have caused the damage, according to the Storm Prediction Center.
Brian Richins, who told the Enid News & Eagle he is a meteorologist and storm chaser, took numerous photos of damage in the area. He said the damage appears to have been caused from a possible tornado or microburst.
Storms began moving through the area in the late evening hours Tuesday, with lightning and high wind and torrential rainfall as the main threats.
Tommy Farnsworth, of Jet, said lightning hit his building on Main Street at 9:50 p.m., bringing down a wall to the building and exposing his workshop area.
"It sounded like the terrorists hit," Farnsworth said, adding a man working late at the town's bank nearby told him "I thought a bomb went off."
Farnsworth said he has created a home, garage and workshop out of the downtown building, and there is no insurance on the structure.
He was positive it was lightning, he said, adding one can see where it struck the brick and brought it down "like Moses parting the red sea."
"I've got all the free brick anyone could want," he said.
Much of Northwest Oklahoma received more than 2 inches of rainfall in the past 24 hours, with flooding reported in some areas.
Some houses in the Dacoma area have flooded, according to Woods County Emergency Management. 
"We are still working on gathering more information to better assess damages," said Ethan Feidler, WCEM director. "We have other flooding issues in different areas of the count,y including about 35 miles of county roads that are closed. We are still working on assessing damages to the roadways."
The heavy rain also caused flooding that forced some roads and highways to close, according to Oklahoma Highway Patrol.
By the afternoon, some of the highways had been re-opened, according to OHP and Oklahoma Department of Transportation.
As of ODOT's 4 p.m. update, Oklahoma 8 near Cherokee between U.S. 64 and Oklahoma 11 remained closed, as was U.S. 281 north of Alva between Oklahoma 11 and the Kansas state line.
In Kay County, U.S. 77 south of Tonkawa is closed between U.S. 60 and Oklahoma 15 and U.S. 177 is closed north of Blackwell.
Interstate 35 northbound was open to the Kansas line, but motorists were being detoured in Kansas to westbound U.S. 166 and northbound U.S. 81 to Wichita, until repairs could be completed on the Kansas I-35 turnpike, according to ODOT.
According to the Kansas Turnpike Authority, Interstate 35 is closed from mile marker 4 at South Haven, Kansas, to mile marker 19 at Wellington, Kansas, due to water over the roadway.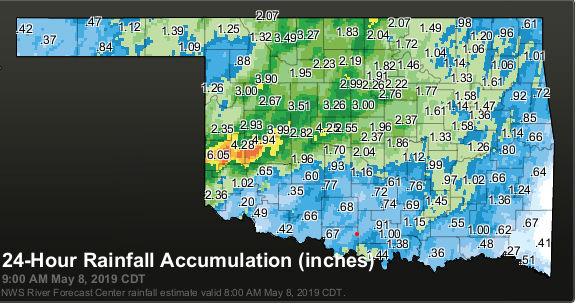 According to the state's Mesonet weather-recording sites, rainfall amounts in the last 24 hours include 2.19 inches at Breckinridge, 2.25 inches at Lahoma, 1.95 inches at Fairview, 3.35 inches at Cherokee, 3.60 inches at Alva, 1.86 inches at Medford and 3.26 inches at Kingfisher.