NORMAN, OKLA. — A New Jersey-based pharmaceutical company caused an Oklahoma opioid crisis that led to thousands of deaths, and must pay $572.1 million to fix it, a Cleveland County, Oklahoma, district judge ruled Monday.
He's the Cleveland County judge who will decide single-handedly how much, if any, blame opioid manufacturer Johnson and Johnson and its subsidiaries bear for Oklahoma's addiction epidemic.
Judge Thad Balkman told a packed courtroom that the opioid crisis is "an imminent danger and menace" to Oklahomans, and the state proved that Johnson & Johnson and its subsidiary Janssen launched a misleading marketing campaign that created a public nuisance in Oklahoma.
The amount Balkman awarded, though, was well short of the $17.5 billion state leaders were seeking to abate the crisis over 30 years.
In his 42-page ruling, Balkman said the state failed to prove the amount of time and costs necessary to abate the problem beyond year one. He said the state could use the opioid award to pay its attorney fees.
Johnson & Johnson said it planned to appeal the verdict.
Company attorney Sabrina Strong said her side is disappointed and disagrees with the decision.
"We believe that it is flawed," she said. "We have sympathy for all who suffer from substance abuse. But Johnson & Johnson did not cause the opioid abuse crisis in Oklahoma or anywhere in this country. We do not believe the facts or the law supports the decision today. We have many strong grounds for appeal, and we intend to pursue those vigorously."
In a statement, the company said the ruling disregarded the its compliance with federal and state laws, the unique roles the medications play in the lives of those who need them and its responsible marketing practices. The company said its medications accounted for less than 1 percent of total opioid prescriptions in Oklahoma.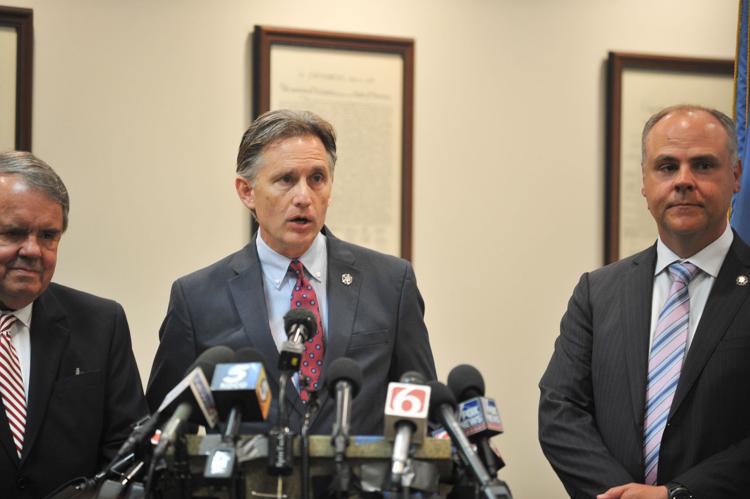 Oklahoma Attorney General Mike Hunter, though, called the verdict "a major victory" for anyone who has lost someone to an overdose.
"Johnson & Johnson will finally be held accountable of thousands of deaths and addiction caused by their activities," he said. "Throughout the trial, our team proved what we have alleged all along: that the company used pseudo-science and misleading information to downplay Fwd: Media Update # 20the risks of opioids, leading to the worst man-made public nuisance this state and our country has ever seen."
Oklahoma's verdict marked the conclusion of the first opioid trial in the nation. The industry is still facing thousands of other lawsuits from states, tribes and local governments.
The state previously settled with Teva Pharmaceuticals and OxyContin-maker Purdue Pharma for a total of more than $350 million.
In his ruling, Balkman noted that from 2011 to 2015, more than 2,100 Oklahomans died of an accidental prescription drug overdose.
In 2015, more than 326 million opioid pills were dispensed to Oklahoma residents. That's enough, Balkman wrote, for every Oklahoman to have 110 pills.
Outside the Cleveland County Courthouse, Craig Box said he needed to read the verdict to fully understand it.
Box, an attorney from Enid, Oklahoma, testified during the eight-week trial about his son, Austin. The 22-year-old University of Oklahoma linebacker had five prescription painkillers in his system when he died of an accidental overdose in 2011.
"I'm just pleased that the court found that Johnson & Johnson was responsible for this epidemic and the cause of so much pain to Oklahoma," he said.
Johnson & Johnson announced shortly after Cleveland County District Judge Thad Balkman read his decision that the company will appeal the ruling and ask an appellate court to put Balkman's order on hold while the case plays out.