ENID, Okla. — Ernst Leroy Currier entered pleas of guilty to 33 felonies Tuesday morning, receiving a 13-and-a-half-year prison sentence followed by 31 years of probation. Currier was also ordered to pay $1.8 million in restitution in what was the largest fraud scheme perpetrated in Enid history.
"I am guilty," Currier told the court while reading a prepared statement. "I am guilty of these crimes levied against me today. My actions were shocking and inexcusable. To stoop to this level reflects an absence of principle and integrity. I am guilty of violating the trust of my employers and co-workers. There is absolutely no excuse for this action. The bank treated me with respect and dignity the entire time I was employed, and I repaid that by my criminal actions. For this, I am profoundly sorry.
"I am also guilty of abusing my relationships with friends for which I care deeply. They were family. I defiled the trust they placed in me, and I am certain the hurt and disappointment I have caused them and their families is extensive. I pray that over time, these wounds will be healed. With every ounce of sincerity in my body, I am deeply sorry.
"For many years my community, my church and my neighbors have trusted me to lead in various positions, and I have squandered that trust as well. I am genuinely ashamed, and genuinely sorry. My family, whether blood or otherwise, have been impacted greatly. I have burdened them with a level of embarrassment that is oppressive.
"My actions were mine and mine alone, and those closest to me should not have to experience the judgment that I deserve. I am thankful for their unconditional love, but from the bottom of my heart, I am sorry.
"In each and every case, I feel that I should not be so presumptuous as to ask for your forgiveness, but perhaps in time, at least any anger and resentment that is deservedly directed toward me might fade. To numerous individuals, families, church groups, etc. that have called to tell me that you are praying for me, my heartfelt thanks. I need your prayers, and I feel your prayers. Please do not stop.
"Finally, I have sinned against God. My prayers for His forgiveness have been constant throughout the legal process. I am thankful for His grace and mercy, and I pray for spiritual restoration."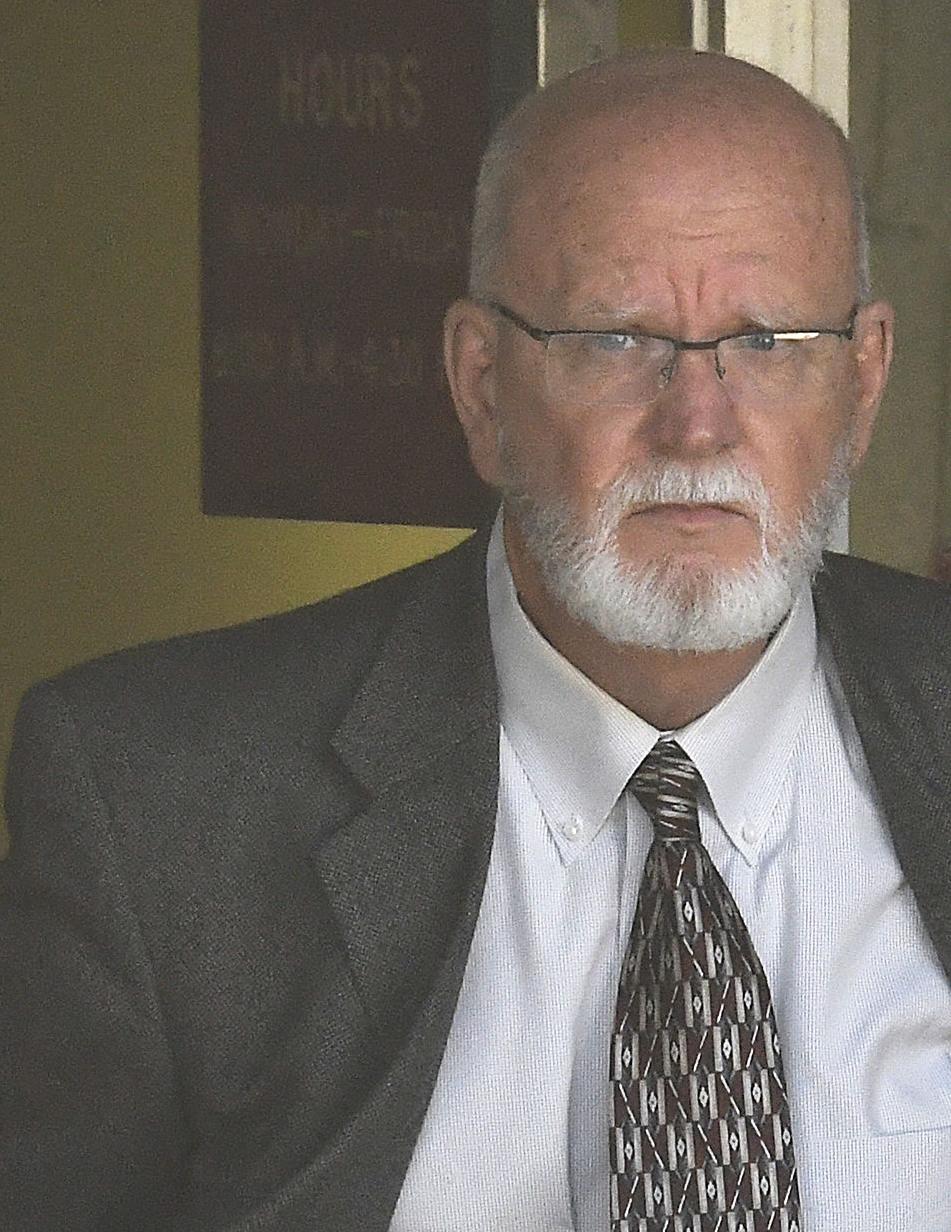 Currier was also ordered to pay $1,811,588.01 in restitution, with a payment of $350,000 due Tuesday. Upon his release, Currier will pay one quarter of his household income toward restitution before the 14th day of each month. He was also ordered to pay $25 in jail costs, a $150 DNA fee and $50 to the victim compensation fund in each case and court costs in each case.
'Begin to heal'
Currier's attorney Clint Claypole told the court the agreement reached with prosecutors should be accepted by the court for several reasons.
"Since the investigation into this matter began, we were in contact with all levels of law enforcement in order to establish and maintain an open line of communication. This was to ensure this matter could be concluded as timely and easily as possible, to limit the impact on those affected by these crimes and on the community as a whole."
Claypole noted four months had passed since his client made an initial appearance on the charges and has waived all his rights to allow for "judicial economy" in the case.
"Mr. Currier has acknowledged his actions since day one and has been both prepared and willing to accept judgment for those actions. Today, he plead guilty to all 33 counts against him and has begun repaying his debt to those financially harmed by these crimes and his debt to society. As you can see from his own words, he understands the impact on those affected by these crimes and on the community as a whole.
"It is both Mr. Currier's hope and my own that his sentencing today allows all those affected by these crimes and the community to begin to heal."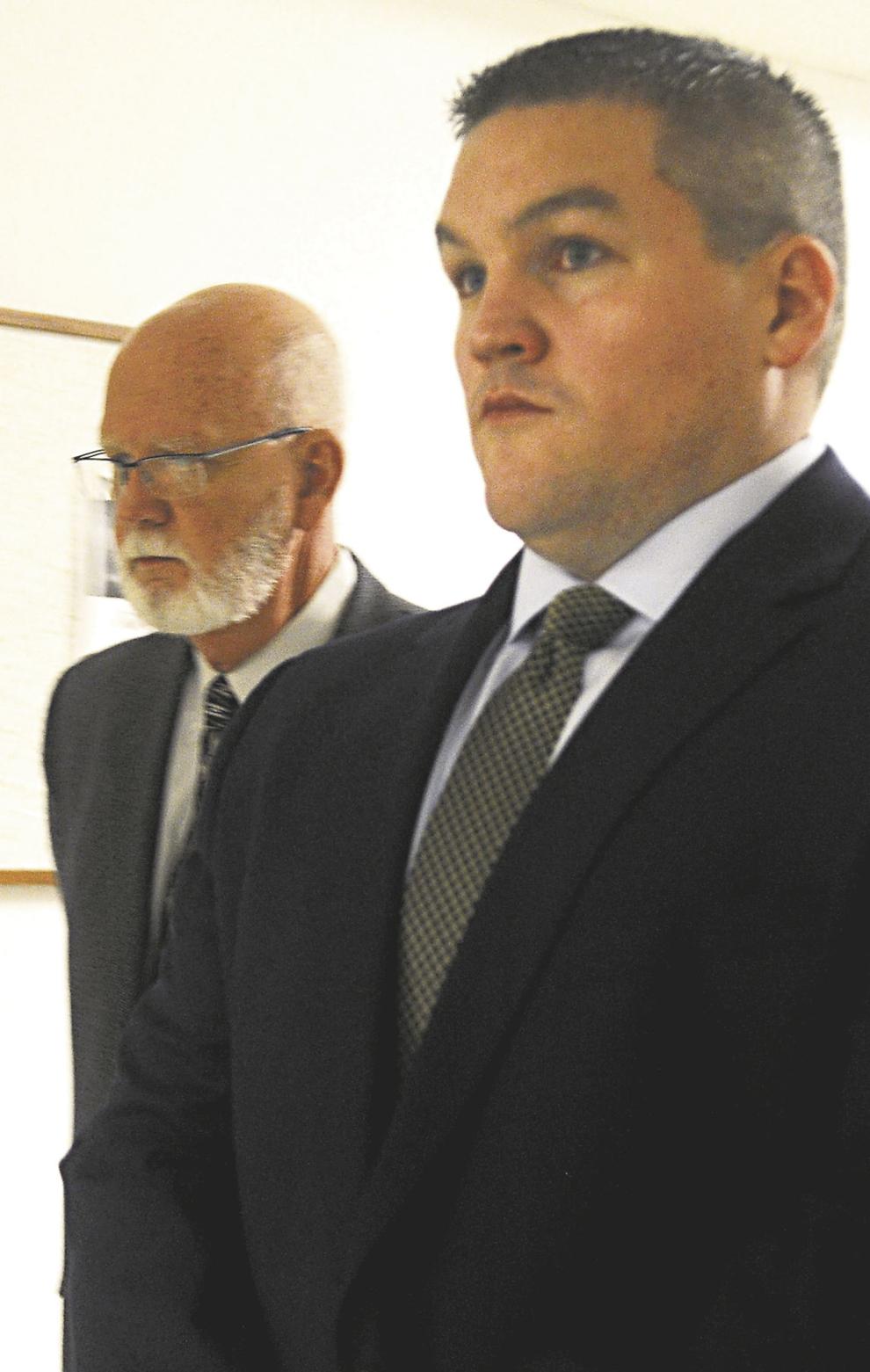 DA: Currier 'was motivated by greed'
District Attorney Mike Fields also addressed the court, saying the prosecution had two goals in prosecuting Currier in Garfield County.
"One: to hold the defendant accountable for his crimes, and, two: to remove from him the benefit of his criminal scheme," Fields said.
Fields said holding the defendant took on "significance" because of Currier's leadership in the community and at the bank.
"As a result, there were several matters to address within this accountability goal," he said. "Clearly, the most important aspect of the accountability goal is the sentence itself. The defendant will serve a prison sentence of 13 and a half years followed by supervised probation for another 31 years. The way the sentences are structured is significant and intentional, the various crimes committed against each victim and fictitious identity have their own distinct punishments and sentences."
Fields said the decision to try Currier locally, and not in federal court, was made taking punishment into consideration.
"To me, there were two overriding considerations in deciding if this case should be investigated locally and prosecuted in state court or whether it should be turned over to federal authorities," Fields said. "First, there was a strong sentiment that the defendant should be held accountable in our community by those who were directly impacted by his deception, his crime and his fraud. Second, I believed that the range of likely outcomes in state court were more favorable for accountability. While the outcome of any litigation cannot be predicted with certainty, I had complete confidence that the Enid Police Department would fully and capably investigate this case, and I also believed the law of our state would allow the defendant to be punished appropriately with multiple counts that covered the full range of his criminal conduct, rather than one or two broad counts."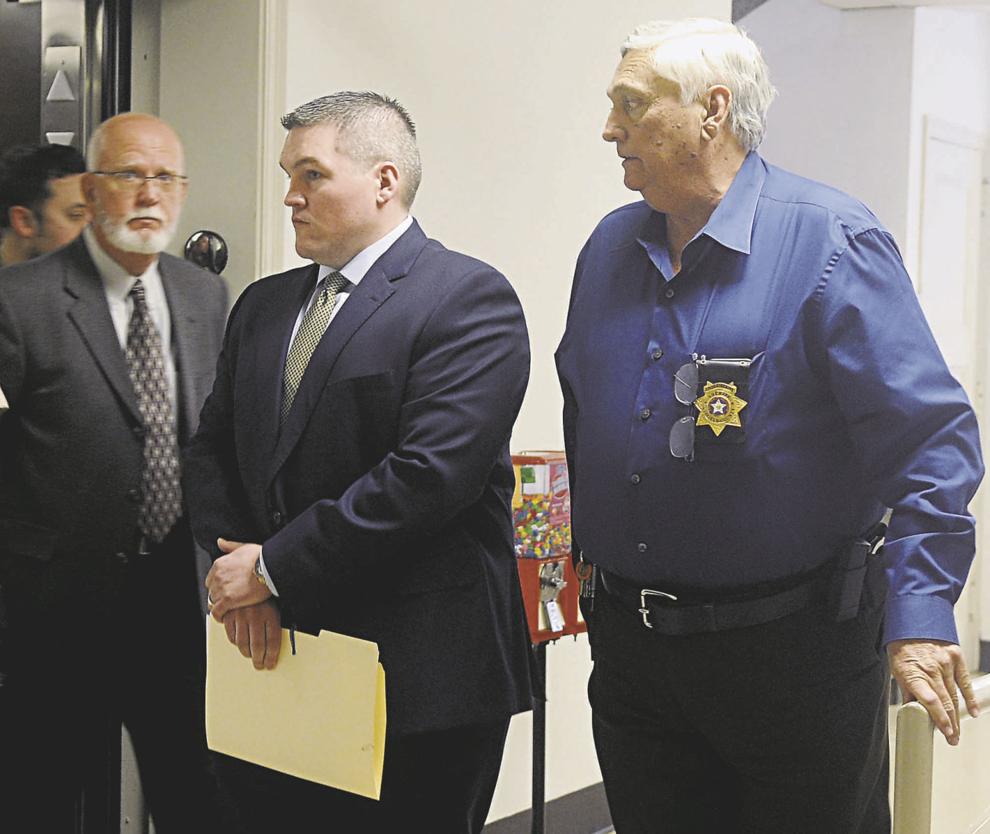 Fields said the final component of holding Currier accountable was determining if he acted alone.
"The investigation revealed that the defendant acted alone, and that he was motivated by greed and a desire to keep hidden his past criminal conduct," Fields told the court. "The evidence showed that he continued to write fraudulent loans to cover previous fraudulent loans that were coming due, all the while spending large amounts of money for his own benefit."
Fields said the second goal of prosecutors was to disgorge assets tied directly or indirectly to Currier's crimes and return that money to the bank.
"This goal was accomplished by the liquidation auction, the upfront restitution payment to the bank and the monthly payments upon release from prison," Fields said. "The liquidation of all his significant assets included selling his home, real property adjoining his home, vehicles and equipment, and personal property."
Fields said the sale of those items resulted in the upfront restitution payment of $350,000 to the bank Tuesday.
"An important component of this goal also included a careful focus on whether there were any significant assets apart from, or in addition to, the assets that were sold in the liquidation auction," he said. "The investigation did not uncover any evidence of significant, undisclosed assets.
"The final component of this goal was to require the defendant to make efforts — likely for the remainder of his life — to pay back the balance of the outstanding restitution," Fields said. "This is why a lengthy suspended sentence is necessary. While it is unlikely that the full amount of restitution will ever be repaid, and it is certain that the intangible damage done to our community by the defendant's actions can never be repaid, the state believes it's important for him to know that he must make amends to our community. First, with a loss of his liberty and then with a portion of his income for the rest of his life."
Judge, SNB comment
Associate District Judge Tom Newby asked any victims if they wished to speak. No one came forward.
Newby said he had given this case great consideration since learning he would be the judge handling it. He then told the court he would accept the plea agreement presented.
Currier was led from the court by Claypole and later handcuffed in the antechamber off the courtroom.
Security National Bank Vice President of Human Resources and Corporate Communication April Danahy thanked law enforcement and the bank's customers for their support during the investigation.
"Thank you to law enforcement who worked with us during this investigation," she said. "We are grateful for the support of our customers and community. We remain committed to offering the best in financial services to the people of Enid and Northwest Oklahoma."
'Plea bargain agreement'
Currier, who was arraigned in November 2017 on 33 felony charges related to a years-long fraud scheme, waived his right to a preliminary hearing Jan. 29 during a bond appearance.
The document had a box checked next to a portion reading "Pursuant to the plea bargain agreement." The document does not detail what the agreement with prosecutors entails and also reads, "I am aware that the judge is not bound by this recommendation."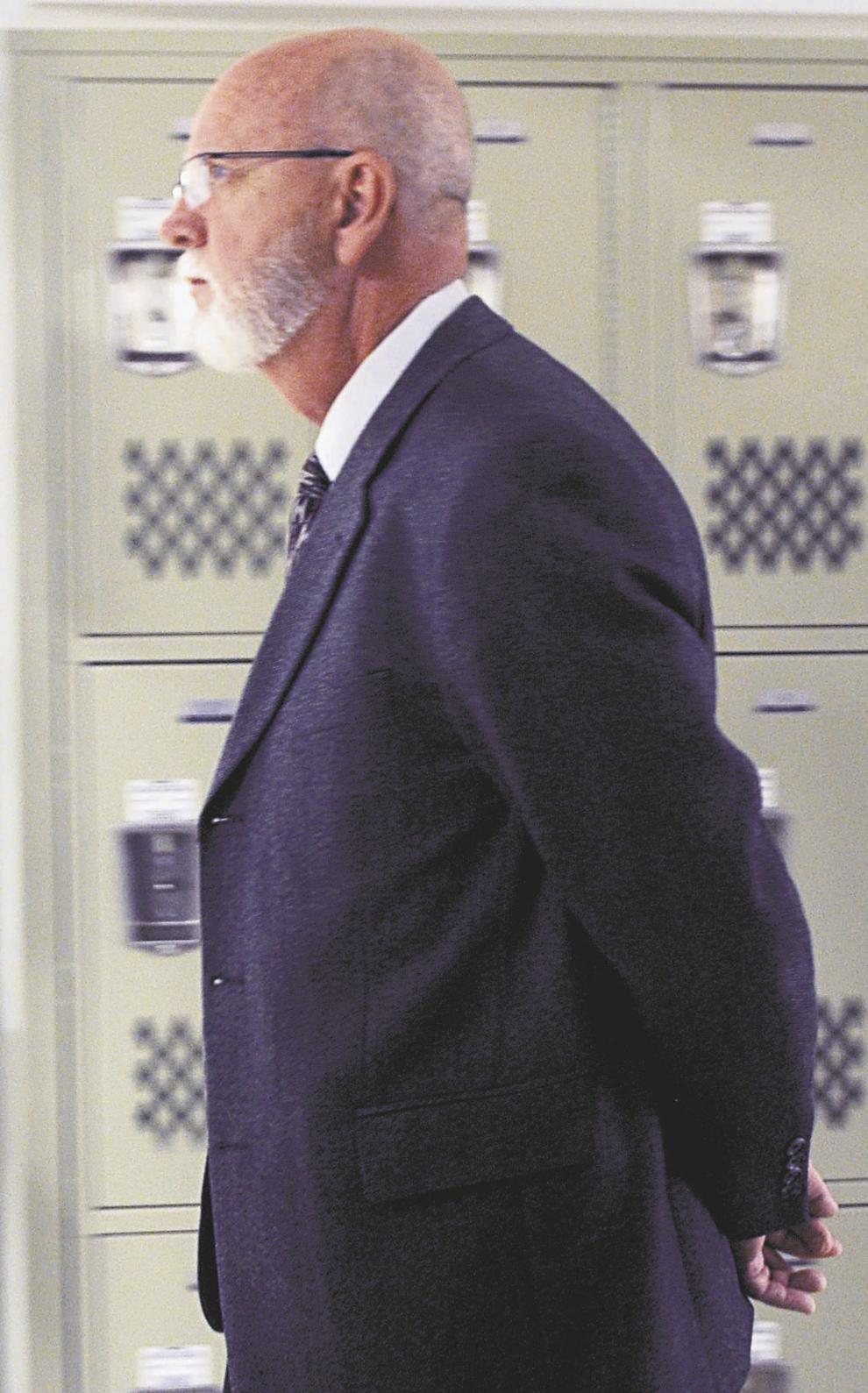 Currier, 64, was charged Nov. 14, 2017, with 33 felony charges including: one count of misapplication of funds, one count of unlawful proceeds, seven counts of false personation, 12 counts of second-degree forgery and 12 counts of obtaining money by false pretenses.
The crimes were punishable by up to 299 years in prison, fines of up to $160,000 and civil penalties of up to three times the value of the property involved in the transaction on all the charges.
Investigation detailed
On Sept. 5, 2017, a man made a report with the Enid Police Department regarding the theft of his identity, according to an affidavit filed in the case. He said on Aug. 31, 2017, he'd received a phone call from a Security National Bank representative who inquired about his farm equipment loan. The man said he'd never received such a loan, so he contacted Currier, senior vice president of commercial lending at Security National Bank in Enid.
According to an affidavit filed in the case, when the man called Currier about the loans Currier told him he had taken the loans out in his name. Currier told the man he "fully expected to be prosecuted." Currier also told the man there were other names he used to create fraudulent loans. The man recorded the conversation and gave police a copy.
That man had three loans, in the amounts of $125,000, $100,000 and $145,000, taken out in his name, according to the affidavit. Records indicate Currier generated and signed the documents used to open loans in the man's name.
Currier resigned from Security National Bank on Sept. 5. Two days later, on Sept. 7, law enforcement officials confirmed an investigation into Currier's activities.
Two more men came forward to police with similar stories about loans taken out in their names that they did not obtain themselves.
Scheme began 17 years ago
Detectives uncovered was a loan-fraud scheme that began more than 17 years ago, according to the affidavit. Police say Currier opened a total of 61 fraudulent loans between the years 2000 and 2017.
He stole and used the personal identities of at least nine confirmed individuals and created at least eight other false identities, according to the affidavit. Bank records indicated Currier disbursed the loans by using wire transfers to a variety of business and personal accounts held at other financial institutions.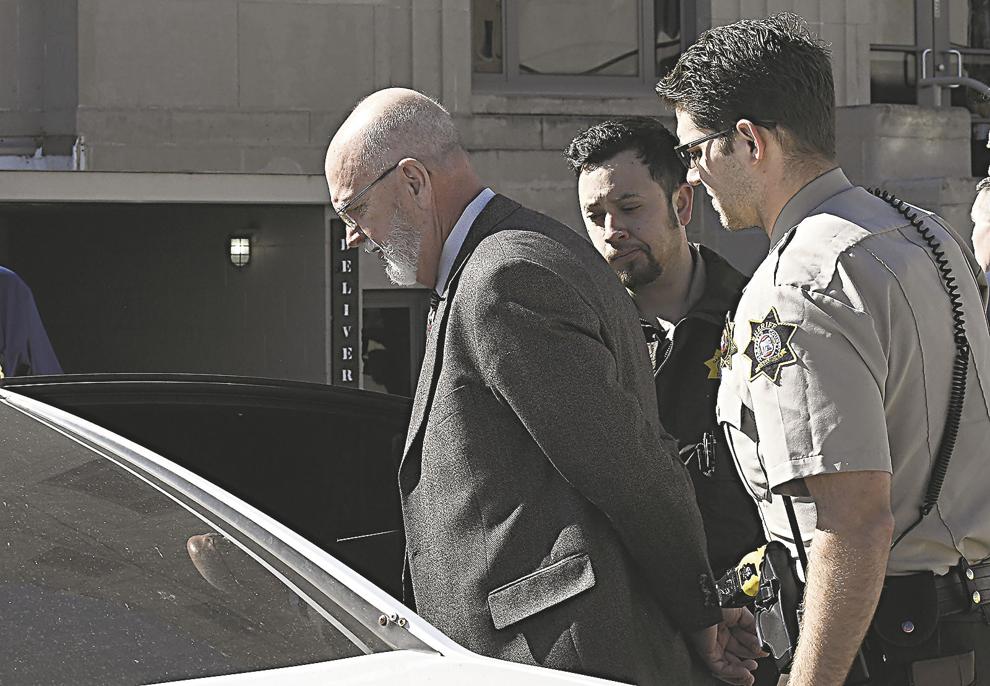 Currier had established the other accounts by using sham companies and counterfeit information. Once the proceeds were transferred, Currier would typically use a portion of the funds to make loan payments and another portion for his personal use, said Enid Police Department Capt. Tim Jacobi.
"The banking records clearly indicated that Ernst Currier routinely used portions of the unlawful proceeds for his own personal gain," Jacobi said. "To keep his criminal activity concealed and to further the scheme, Currier manufactured a large collection of fabricated documents over the years."
Those documents included fraudulent tax returns, forged loan applications, financial statements, identification documents and profit and loss statements. Currier also set up several post office boxes to direct mail and to give the appearance of a legitimate address.
The total combined original amount of all 61 fraudulent loan accounts opened unlawfully by Currier is $6,207,229.88, according to the affidavit. The combined outstanding and remaining balance on all the fraudulent loan accounts is $1,811,588.01.
Chief O'Rourke comments
Enid Police Department Chief Brian O'Rourke said the department was "stunned" by what was uncovered when the investigation began.
"The EPD was shocked to receive this case involving a community leader. Once the EPD started investigating, we were stunned on the depth and breadth of the fraud," the chief said. "Sgt. Nick John and Detective James McFadden were assigned and started to work along with others in the Investigative Division of the EPD. The man-hours spent collecting information from financial institutions was massive. The cooperation we received was upfront and honest."
O'Rourke said the decision to keep the case local, and to not have Currier charged in federal court, was made at the local level.
"This was the biggest fraud that has been uncovered in Enid, and the EPD rose to the occasion. We worked closely with District Attorney Mike Fields and his staff from day one to bring it to the conclusion that we see today," he said. "Between District Attorney Mike Fields and I, it was decided to keep the case in the state venue.
"This was not decided lightly, and it was after discussions with the U.S. attorney for the Western District of Oklahoma that the district attorney and I both had. The decision was made between us that the charges be filed in state court with the sentencing guidelines being stricter.
"I am glad to see this controversial case come to an end and Mr. Currier pay for his crimes as the system dictates."
Former Citizen of the Year
Currier served on the board of, as well as president, of Enid Public Schools Board of Education. Currier, who was a 2014 Pillar of the Plains honoree, was named Greater Enid Chamber of Commerce Citizen of the Year in 2016.
"He was able to gain access to those identities by using his position of trust at the Security National Bank, the First Baptist Church in Enid and by his status as a leader in the community," Jacobi said.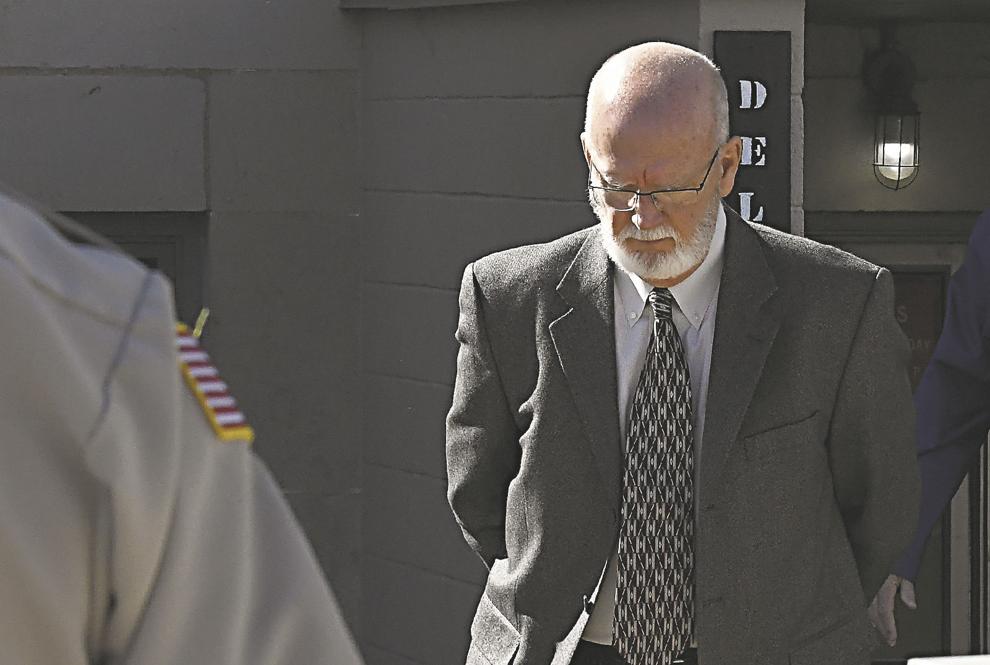 Currier was a Vance Air Force Base Partner in the Sky and Vance Development Authority member. He also serves on Leadership Greater Enid Board. Currier volunteered his time and was instrumental in getting more than $90 million in bonds passed for EPS in February 2016 and garnering voter approval for the Kaw Lake pipeline to secure Enid's future water needs.
Currier, who was born in Buffalo, Okla., moved to Enid in 1971 after graduating from high school. The family moved here because Currier's father, who was disabled, required medical care, he told the Enid News & Eagle in 2014. He was mayor during the last Base Realignment and Closure round in 2005, when Vance gained personnel.