ENID, Okla. — Enid Public Schools students will return to school in alternate in-person schedules next week, following a change in Garfield County's COVID-19 risk level.
When school begins Aug. 13, students who opted to attend classes in person will attend in an A/B schedule to reduce the number of people in school buildings and ensure the opportunity for greater social distancing, EPS Superintendent Darrell Floyd said in a letter to school patrons on Monday.
Each school site's student population will be split into an A and B group. The initial split will be those students with the last name A-L being on the A schedule and M-Z on the B schedule.
Aug. 13 will be an A day, and Aug. 14 will be a B day. 
Students in group A who opted for blended learning — one of the district's two learning plans along with virtual learning — will attend school in-person Monday and Tuesday, and remotely Wednesday to Friday, while students in group B will attend remotely Monday to Wednesday and in-person Thursday and Friday. This means no students will attend in-person on Wednesdays.
Full virtual learning also is an option for students, and students opting for virtual learning still may participate in extracurricular activities in-person, EPS spokesperson Miranda Johnson said.
As it stands now, starting school with an A/B schedule allows the district to:
• Reduce by half the number of students in school buildings and on buses to better ensure social distancing.
• Keep class sizes more manageable for teachers who will have numerous new procedures and safety precautions to learn and execute.
• Ensure some time in the classroom for students to collaborate face-to-face on projects and lab activities.
• Provide elementary students crucial face-to-face instruction on the new learning management system appropriate to their grade level.
"Due to the impossibility of equalizing all classes at all grade levels based on this one criteria, it will be imperative that building level administrators have the discretion to adjust the initial placement if needed," Floyd's letter stated. "Attention will be given to ensure students from the same family/household are assigned the same days."
Last week, Oklahoma State Department of Health moved Garfield County into orange level 1, or moderate-risk, for COVID-19 cases, which strongly recommends alternative schedules or distance learning. The EPS board previously approved following the state board of education's recommended plan that is based on the health department's four-tiered COVID-19 alert system.
Another change from yellow to orange 1 states that students pre-K to third-grade no longer may remove masks while in class.
If OSDH drops Garfield County back to the yellow, low-risk level Friday, when rankings are released, EPS students will attend class in person on Aug. 13 and 14. There would be no alternate schedule while the county is in yellow level, Floyd's letter states.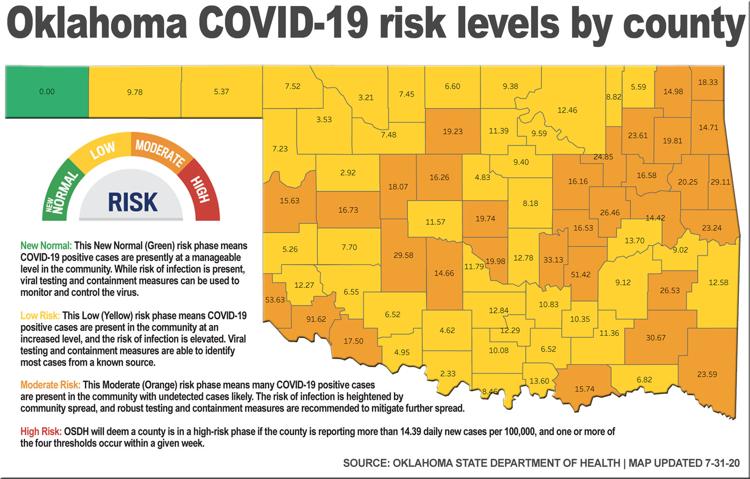 A map of Oklahoma counties (see above) is updated to reflect COVID-19 risk levels, definitions and rescources every Friday at https://coronavirus.health.ok.gov/covid-19-alert-system.
EPS will continue to update families weekly on any changes reported from the OSDH.
A deadline for students and parents to decide on virtual or blended learning has not been determined yet, Johnson said.
However, elementary parents are invited to attend a virtual town hall Tuesday night to learn more about how virtual learning will work for their students.