ENID, Okla. — At first, there was darkness. Ten seconds later, Enid became a city of color and light.
With the flick of a switch, more than 20,000 lights of red, green, blue, yellow and orange illuminated the world's largest fresh-cut Christmas tree standing at over 140 feet tall in downtown Enid.
Brittney Wadsworth, visiting from Loveland, Colo., looked up in awe at the newly lit Christmas tree, as her 3-year-old daughter Charlotte sat on her shoulders.
"What do you think, Char? Do you like the Christmas lights?" Wadsworth asked. Charlotte nodded, telling her that Christmas is her favorite time of the year.
"This has all been really fun," her mom said. "It really helps instill that Christmas spirit in this little one."
Tens of thousands made their way to downtown Enid to attend the 28th annual Enid Lights Up the Plains and the lighting of the world's largest fresh-cut Christmas tree, which together marked the official start to the Christmas season in Northwest Oklahoma.
Main Street Enid organizers said between 30,000 and 40,000 people were in attendance, enjoying the downtown lights parade, shop vendors, live entertainment and the lighting ceremony of the Christ Tree.
This year's downtown lighting event was the first Jesús Llamas and his wife attended, having lived in Enid for almost a decade. The couple said they were drawn out to watch the tree-lighting on Park Avenue.
Llamas said to him, the tree symbolizes hope, after nearly two years of dealing with COVID-19.
"The lights and the whole crowd … I think there's a lot of hope this year," he said.
From now until Jan. 6, as part of "The One" event series, dozens of free Christmas events such as concerts, holiday vendor markets and church services will be around the site of the tree at Park Avenue, between Grand and Independence.
A stage area was set up Friday night on Independence for a community Christmas choir, other musical performances and the tree-lighting commemoration.
"The One," the evening's emcee explained, was each person whose life would be changed by the power of Jesus Christ.
Dan Schiedel, with United Way of Enid and Northwest Oklahoma, said each sprig on the tree represented all of those in attendance Friday.
"The beauty is that no two sprigs are the same, but when we come together, it forms a magnificent sight," Schiedel said. "With the events that have transpired in the last several years, now more than ever we believe that we are better together than any one of us could ever be by ourselves."
The One — and bringing the tree to Enid — were two years in the making, Schiedel said.
The Williams family's initial idea was brought to life by a 15-person executive team, which worked to bring the tree to Enid, organize its installation and decoration, collect more than 80 sponsorships and plan the events running nearly every day for the next six weeks.
Alex Williams said the tree looked bare and empty when it first arrived from California's Shasta National Forest. High-speed Oklahoma winds later took down branches.
Williams said once workers reattached them and hung more than 10,000 ornaments, they turned the tree into a "work of art."
"(The tree) is a joyful proclamation that Jesus is here for each and every one of you," he said.
Mayor George Pankonin stood near the stage as the tree was lit and the fireworks began shooting up from the parking lot to the northwest.
"It's pretty awesome," he said, taking a video of the fireworks show on his iPhone. "I'm proud to be from Enid today."
Holly Ash stood with her arms stretched apart in front of the newly lit tree posing for a photo.
"Do I look like a dork?" she asked her husband, Logan, who was taking the picture on his cellphone.
"Yeah, a little" he replied, "but it looks cool, though."
The couple moved to Enid from Fort Collins, Colo., in April, for Logan's pilot training at Vance Air Force Base. They found out about the tree in the news.
"So we got really lucky," Holly said.
Enid resident Kayla Scott had been attending ELUTP for around 15 years, and she and her friend, Samantha Lovely, said they'd never seen a night like Friday.
"Tonight is just full of excitement," Lovely said.
"Joy, too," Scott added.
Natalie Beurlot, executive director of Main Street Enid, said ELUTP was a great way to show off downtown and the city of Enid as a whole — just as hopefully lucrative holiday season begins.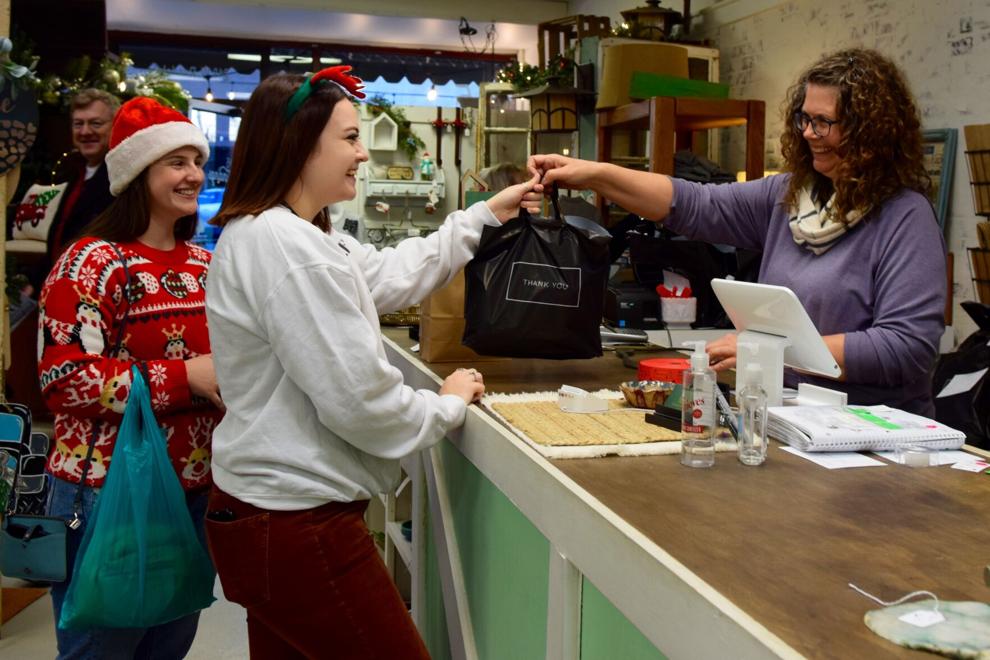 "This event put Enid on the map," she said.
With lights twinkling and holiday tunes blaring Friday, masses of shopping buddies sat on the benches on the 200 block of West Randolph as their loved ones perused nearby stores.
Black Friday shoppers flocked to downtown to enjoy holiday shopping and discounts as Enid geared up for the annual holiday kickoff event.
Green and white trees and accents decorated the display windows at No. 5 Findings Vintage Home Decor. Sales of furniture, home goods and decor kept owner Carmenia Passey occupied all day.
"We have been super busy since we opened at 11 a.m.," Passey said. "People have just been in and out constantly. I think I've only had 30 minutes of downtime."
Hand-painted white trees and branches filled the front windows next door at Azalea Park Boutique, where shoppers purchased on-sale Blenders EyeWear and Bru-Mates, among other boutique apparel.
"It's been amazing," co-owner Elyse McCart said. "We have had a lot of people take advantage of our promotions. We've been so busy. I'm happy to see downtown busy again."