ENID, Okla. — Following Enid Public Schools Board of Education's termination of former campus police chief Mike Dods, members returned from executive session at 1:31 a.m. and adopted a 13-point findings of facts against him.
After executive session, the Enid Public Schools Board of Education voted unanimously to adopt findings of fact presented in Tuesday's termination hearing of Mike Dods, former police chief of Enid High School.
Oklahoma Education Association attorney Heath Merchen, representing Dods, released a statement Tuesday concerning the board's vote: " … As everyone knew, the board made their decision long before they came into the room. The blatant misrepresentations before and during the hearing were more than enough to demonstrate it.
"Now, however, the real process begins. The goal was to get key admissions for the suit, which we did, and as soon as the notice of claim period expires, we'll be filing. It will be a long process. Those in power will see this as an end to the issue ... to the contrary, it is just beginning."
EPS Superintendent Darrell Floyd also released a statement following the nine-and-a-half-hour meeting: "We appreciate the time and the due diligence applied by the Board of Education regarding tonight's decision. This has been a difficult and divisive process, and we look forward to continuing to focus on what matters most — the safety and education of our students."
Opening statement
In his opening statement, EPS attorney Bryan Drummond said there was enough cause to terminate Dods.
"We have a person who gets a little bit of power, it goes to his head and he takes advantage," Drummond said. "He thinks the rules don't apply to him, and he takes advantage of them. He had a duty to conduct himself in an appropriate and responsible manner."
Drummond told the board Dods inappropriately recorded a principal and administrator without their permission or knowledge, encrypted his school computer in violation of policy, installed security cameras in his office and lied to administrators about their use.
Merchen's first words in his opening statement were: "I'm proud to represent Mike Dods."
Merchen said Dods was nominated by the same administrators for a national award for campus police and promoted him to chief over two other officers.
"So, what happened?" Merchen asked. "Student A and Student B."
Merchen said Student A harassed and stalked 15 girls with the administration doing nothing because the student had special needs. Dods began an investigation and submitted charges to Garfield County District Attorney's Office, and charges were filed. Student A later was released on bond, with a condition of bond being he have no contact with the victims in the case.
Merchen said Dods got the sense the administration wasn't happy with him.
"But, he was grateful the no-contact order existed," Merchen said. "The admin initially told him that the perpetrator will be schooled at home."
Student A was allowed to return to school. Dods said he would arrest the boy if he had contact with the girls on the no-contact order. Merchen said Dods was told if he filed a report to get the boy arrested, he would be fired.
Merchen said Student B, the child of an EPS administrator, was involved in an incident where he wielded a pair of scissors.
"Student (A) had destroyed private property, destroyed district property and had an extreme violent propensity," Merchen said. "He had threatened to kill five girls. He had followed them throughout the school and tried to get into different areas of the school."
Merchen said the Student A also asked questions about getting onto the school's roof and how many students he could see from different vantage points.
"The administration had done nothing to either of those students," Merchen said. "Officer Dods intervened. Officer Dods filed charges with the DA. The real reason they're firing him is they are trying to cover-up their own incompetence."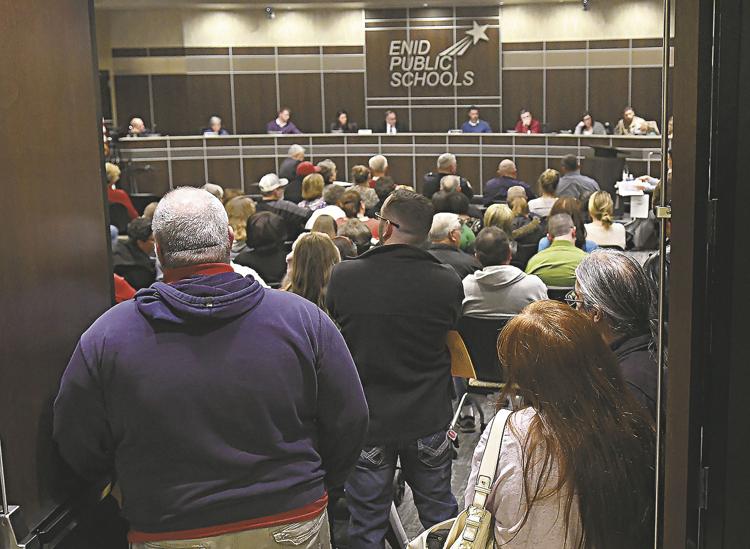 Drummond called Dods as the first witness of the hearing. Drummond asked if he could file charges against a student even if there were no victims.
"It depends on the severity of the law broken," Dods said. "I can file charges if there is a victim that doesn't want to testify or something of that nature."
Dods said it was his recommendation charges be filed against Student B following the scissor incident.
Drummond asked if the victims of Student A, or their parents, asked to file a complaint against the student.
"They came to us and said they were scared," said Dods, who then elected to file the report.
"Do you have a problem with autistic kids?" Drummond asked.
"No," Dods said.
"Do you have a problem with special education students?" Drummond asked.
"I don't have a problem with autistic children," Dods said.
Drummond asked Dods if he worked with principals when deciding if charges were warranted.
"I always work with my principals to find out what they want to do," Dods said.
"But, if they don't want to do charges, you can go ahead and do that if you want to?" Drummond asked.
"Yes," Dods said.
Drummond questioned Dods about repeatedly refusing to meet with administrators and principals. Dods said he felt the meetings would be disciplinary in nature.
"I was told by my EEA (Enid Education Association) rep that if a conversation got hostile, or aggressive, I would need to say I need 24 hours to have representation there," Dods said. "I went and talked to the ADA (assistant district attorney) and asked what I needed to do. He said I needed to file charges so there would be something there.
"Mr. (EHS Principal Dudley) Darrow told me he didn't want to file charges because it was the first thing to happen this year," Dods said.
"You don't think it was a violation of your directive to file these charges?" Drummond asked.
"No," Dods said.
Dods also testified he has body camera videos stored on a drive at his residence.
"Aren't those public records?" Drummond asked. "Yes," Dods said.
"Were you ever directed to return any recordings or body camera footage to schools?" Drummond asked.
"I don't remember," Dods said.
Drummond asked: "Do you regret any of your actions in this matter?"
"No," Dods said. "I'm here to protect teachers, students and administrators."
Some in attendance began to clap.
"I will not let something happen to a student because an administrator or superintendent doesn't want them to be penalized because they're friends with them," Dods said.
Audience members began to clap louder and were admonished by the board because the noise interfered with the court reporter's ability to hear testimony.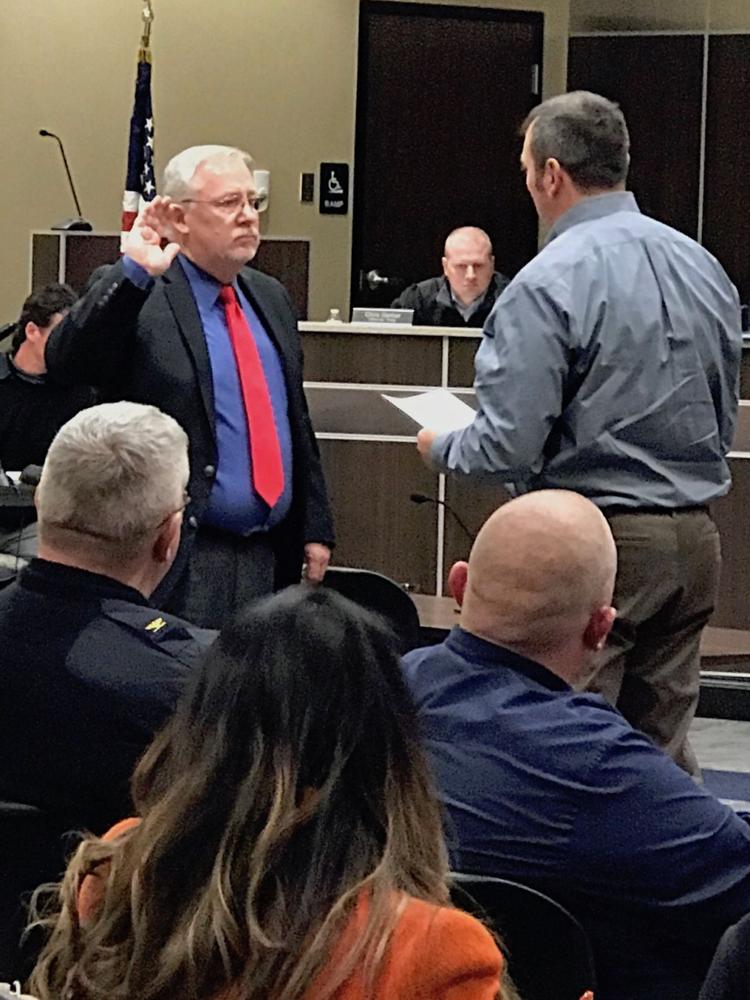 Dods spoke about training he received over the summer to aid in his work.
"I took my time for five weeks, I made sure I came back ready to protect these schools, children, principals and students. If they are dangerous, I have to put a stop to it," Dods said. "If we don't, we're going to have a problem just like Parkland because he was on an IEP (Individualized Education Program) as well. I will file charges if I feel people's lives are danger."
Merchen began his examination of Dods, asking about the incident involving Student A.
"We had girls come to us and tell us Student A was following them, touching inappropriately, hanging around, threatening to throw them out a window. He would get very close to them. He followed them home, he followed them around the block, he followed them where they lived and where they worked," Dods said. "They told us they started telling the administration in December of that year."
Dods said there were 13 victims and two witnesses of Student A's actions. He said he filed charges with the district attorney's office and arrested the boy in Darrow's office. He said Student A appeared before a judge and stipulated to the information. He said the judge set bond at $2,500 with a condition of the bond being Student A have no contact with those involved in the case.
Dods said the school decided to put Student A on an IEP, a legal document under U.S. law developed individually for special education students.
Dods said Darrow threatened him with termination if he arrested Student A.
Dods said he told Darrow, "If I see him approached any of these alleged victims … I will arrest him on the spot.' He said, 'If you do, you will be fired.' I turned around and walked away. I told my officers what had been told to me about this student."
Merchen asked Dods about the incident with Student B.
"I was called into a classroom because a student had broken a pair of scissors and threatened to kill someone and told teachers to (expletive) off," Dods said. "He had been on a table and treated to kill and stab students. They called the assistant principal to handle that instead of us."
Merchen asked Dods to read an affidavit prepared by Phillip Bonadonna, a former EPS substitute teacher who witnessed the incident involving Student B.
"He held the scissors like a knife and pointed them at me," Dods read. "I believe Student B presents a danger to students or staff."
Bonadonna's affidavit also recalled other incidents involving the student.
"He had attacked a teacher. He kicked her and punched her. He jumped up and punched student in the side of the head. At one point, he was walking down a hallway. He turned around and punched a girl right in the face. He once took push tacks and put them between his fingers and would punch students like he was Wolverine."
Dods said he'd also investigated Student B's past history and told Darrow. Merchen asked Dods what the principal said.
"He told me this is only the first time he's done something this year, so let's just let it go," Dods said.
"Were you afraid if you pursued charges you would be fired?" Merchen asked.
"Yes," Dods said.
'Proud to be the chief'
Dods recalled a text message between himself and Randall Rader, assistant superintendent of elementary education, concerning charges being filed.
"He ordered me to drop the charges, and then it was getting a little hostile," Dods said. "He told me to come to his office, and told him I didn't feel comfortable with that."
"Did you believe you would have obligation to report?" Merchen asked.
"Absolutely," Dods said.
"Would the administration have obligation to report?" Merchen asked.
"Absolutely," Dods said.
Dods testified Student A had threatened to kill five girls. He said the student was asked what he wanted for Christmas, and the student said a .22 and five bullets.
Merchen asked Dods, "Are you willing to get fired to protect your students?" Dods answered, "I am."
Dods teared up as he described the impact these proceedings had on his life.
"I'm sorry," Dods said. "It's completely turned my world upside down
"I was proud to be chief. I was not being defiant. When they want you do something that's not lawful, they call it insubordination," he said. "I met victims and survivors this summer, and I vowed to come back to my school and not let that happen here."
Dods said if either Student A or B killed someone, he could not forgive himself.
"I don't want to see that here. The officers that left because of this, our kids deserve better," Dods said. "If I have to lose my job so someone will look at this, then fine."
Upon cross-examination, Drummond asked Dods if he knew the status of the cases against Student A and Student B. Dods said Student A had a hearing set for Feb. 3, and the charges were dropped against Student B.
"Evidently, the DA didn't think it was sufficient to prosecute Student B," Drummond said.
"I don't know," Dods said.
PC police chief testifies
The board also heard testimony from Putnam City Public Schools Police Chief Mark Stout. He's been chief there for 14 years and a campus police officer for 28 years at the campus with more than 20,000 students.
Stout knew Rader and was contacted about the incident involving Student B. He said Rader asked him about requirements for filing charges in such an instance.
"As a police officer, you have to have a victim to file charges," Stout said. "What was described to me was (with) Student B there was no actual victim that had come forward. Students and teachers had not said they wanted to press charges."
Drummond asked Stout how he would have handled the incident with Student B.
"In our situation, I would have consulted (with) the school's administration. I work at the pleasure of the superintendent," he said. "The victim has the right to say we don't want to file charges on that. We can work on it administratively."
Stout said Dods contacted him when Dods heard he was coming to testify at the hearing. He said Dods described the two situations to him, his question was: Who are the victims?
"I asked him if there was anyone in the classroom who wanted to be victims," Stout said. "Then I said the district would be taking care of the threats and the district would be making the decision."
Stout was asked how his school district handles such situations.
"We do hundreds of reports a week. We deal with hundreds of threats. We deal with threats all the time," he said. "We take each one seriously. We evaluate each threat. We evaluate each threat for validity and does that person have the ability to carry out that threat. Are they special ed or not? What are their circumstances at home?"
On cross-examination, Merchen asked Stout why they investigate if the student has special needs.
"It is something we discuss in our evaluations, and it is something the DA frequently asks us," he said. "They take that into consideration."
'An obvious choice'
EPS attorney Cheryl Dixon called Doug Stafford, assistant superintendent of secondary education, to testify before the board.
Stafford said he made the recommendation Dods be made chief.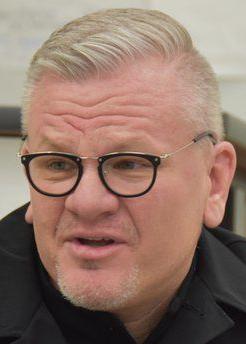 "What we were most impressed with was Officer Dods worked in shooter-response training and how students endured trauma," Stafford said. "He was an obvious choice. He wanted to make the department better."
Stafford said Dods' response to a request for a key to the campus police office and another situation began to change how the decision looked.
Stafford said he received a call from Darrow that Student A was seen at EHS with his mother and sister because it was orientation day for the sister. He said Darrow contacted him, saying Dods wanted to arrest the mother and Student A for violating the no-contact order.
"I think we al love students more than we love the rules, but we have to follow the rules," Stafford said. "We have to make sure we're putting supports in place for the student so he can be successful, and we also have to ensure those supports maintain safety."
Rader also described other issues.
"Officer Dods felt like he didn't answer to anybody, and that wasn't the case. Ultimately, he answers to the district," Rader said. "There (have) been times I've talked to my principals, and they weren't sure who was in charge in those instances. It was kind of some intuition I had based on past experiences. It wasn't the teamwork it needed to be.
"I didn't feel like his judgment was representing the district the way it needed to."
Closing arguments
Merchen began his closing argument telling the board the administration spent the hearing twisting the words of Dods to take attention away from the two incidents involving Student A and B.
"Throughout this process, the administration has lied to you," he said. "He was the one individual who took action, and he knew he would lose his job. And here we are."
Merchen said the administration doesn't want to deal with special education kids, and this stems from wanting to take the easy way out.
"It does't take a lot to discern what's going on there. You've got to see this, and it kills me if you don't," Merchen said. "Let me assure you, this will not end here. If you fire him — this will go on."
Merchen told the board to reinstate Dods as chief of campus police.
"You all have some house cleaning to do. This is no way to lead a district," he said. "Protect your students. Make student safety your priority."
In his closing, Drummond recalled the actions of Dods leveled against him in the district's finding of facts.
He told the board he would provide them with the findings, and they could discuss adopting them.
"When you look at the evidence, I think you'll reach the same conclusion the superintendent and administration did — to fire him," he said.