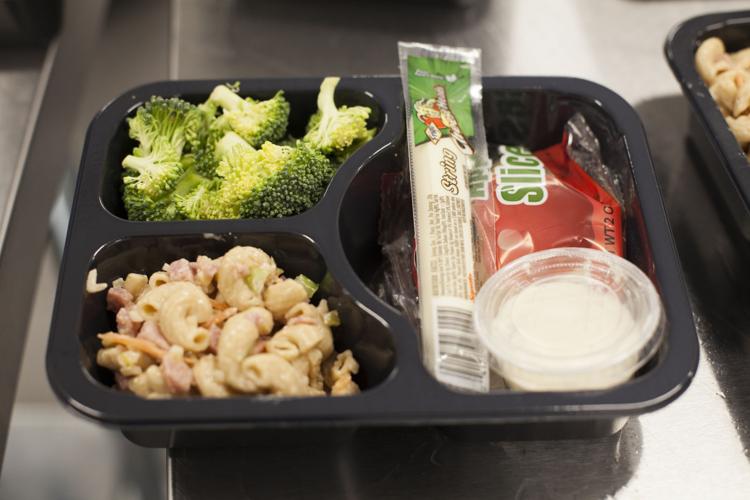 MINCO, Okla. — Hundreds of thousands of Oklahoma youth from poverty-stricken families receive free or reduced-price school lunches, but those meals abruptly end for all but a few over the summer.
The consequence is why Oklahoma continually ranks among the worst in the nation in ensuring its poorest children food between school years.
There's a reason. For years, state officials have essentially turned down millions of dollars in free, federal aid designed to ensure Oklahoma serve nutritious breakfast and lunch to children through the U.S. Department of Agriculture's Summer Food Service Program.
"We're leaving millions of dollars on the table in Oklahoma," said Joy Hofmeister, the state schools superintendent. "Those dollars are going to other states and other children (when) our kids should benefit if they are indeed hungry and in need."
And the numbers clearly show Oklahoma children are indeed in need.
During the last year, nearly 426,000 — or 6 in 10 — school children qualified for the National School Lunch Program, a federal program that provides youth living below the poverty line with access to free or low-cost meals.
But in July 2016, fewer than 1 in 10 of those children were able to access meals during the summer months, said Katie Fitzgerald, chief executive officer of the Regional Food Bank of Oklahoma in an email.
That same year, Oklahoma ranked dead last in use and access to the summer program, and served needy youth the fewest number of meals — 1.38 million — in three years, according the Oklahoma Department of Education, which administers the program.
"Part of it is just public awareness and access," Hofmeister said. "We do not have the mass transit that makes it real easy for children to commute for the breakfast and lunch opportunities that exist in other states or in big urban centers. Even in the metro area, it's very hard to get around."
That's an added complication for working families, who struggle during the summer months to make up for the loss of the food their children receive during the school year, Fitzgerald said.
"For families whose children depend on school meals, summer can be a time of stress and anxiety," she said. "Typically, utility bills are higher over the summer months, which leaves many Oklahomans having to choose between paying the electric bill to fight the heat or paying for groceries to fight hunger."
In the 2016 budget year, the U.S. Department of Agriculture said nearly 875,000 Oklahomans qualified for the Supplemental Nutrition Assistance Program (SNAP), which provides food stamps to low-income individuals and families.
Nearly 1 in 4 Oklahoma children struggled daily with hunger, compared to 1 in 6 nationally, officials said.
Oklahomans face significant economic challenges, particularly in rural communities, Fitzgerald said. The majority of people in need of food assistance are working poor, who struggle to find jobs that pay enough to support a family with housing and other essentials.
Every day during the summer, as many as 50 volunteers gathered at the Regional Food Bank's Hope Kitchen in Oklahoma City to prepare 6,000 meals to be distributed to hungry children.
The free meals were ultimately destined for one of the 124 feeding sites in 53 central and western counties, according to the agency.
The role of school
On a June afternoon, the Minco Public School cafeteria began to fill with children hoping to receive heaping mounds of hot, fresh spaghetti.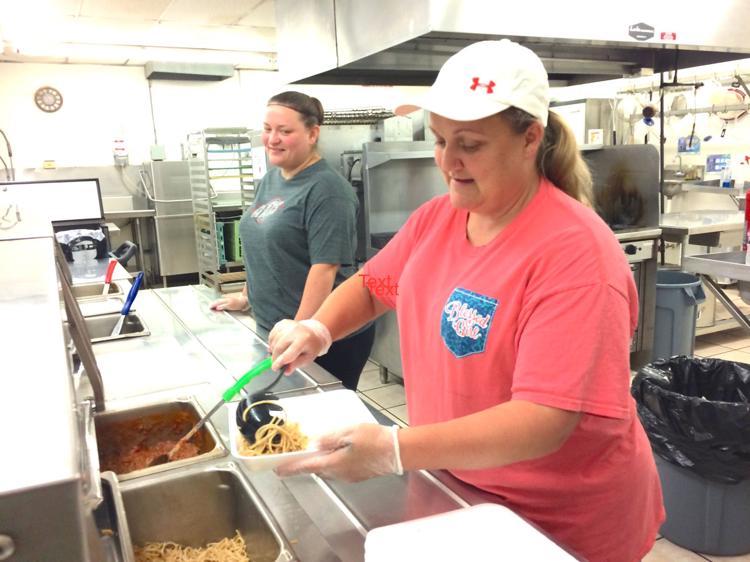 Soon, the cafeteria was so packed that two teachers grabbed a sixth folding table from the wall and set it up to feed the hungry kids.
In June, the district typically provided as many as 140 children a day with free meals through its summer school program, said Minco Superintendent Kevin Sims. The number declined to about 75 children in July, when summer school ended.
Teachers, meanwhile, report that dozens of children, their siblings — and even a parent or two — walk or ride bikes to the school through the summer heat just to get access to food.
Sims said about 57 percent of students who attend Minco schools are eligible for free or low-cost lunches. And, he added, that number has continued to grow.
#FoodForThought
Across the state, school districts have long served as the most natural and convenient way for low-income students to access breakfast and lunch during summer months, officials say. Schools, for instance, typically have trained cafeteria staff, kitchens that are set up to prepare the food as well the ability to provide transportation to get children to school and back.
But as the Oklahoma Legislature has continued to slash K-12 school funding, fewer districts are now able to afford summer school programs, said Hofmeister, the state school superintendent. The result is fewer meals served to poor children.
U.S. Department of Agriculture officials are so concerned about the state's overall participation rate that they reached out to Hofmeister's staff in recent months, she said.
Hofmeister said she believes her agency is uniquely positioned to have a fast impact through its recently launched #FoodForThought public awareness campaign. The campaign features public service announcements and informational door hangers distributed throughout Oklahoma neighborhoods. The aim is to increase the number of meals as well as the number of sites where youth can go to access free summer meals.
Hofmeister said she hopes the effort will ultimately increase participation, raise awareness and even encourage new groups to open new feeding or food preparation sites around the state.
OKLAHOMA CITY — Elise Robillard was desperate for a quick cash infusion the first time she w…
This summer, there were approximately 615 sites were children could go to get a meal, she said.
"We want every advantage for Oklahoma students," she said. "This matters because we know that students need food to grow physically but also mentally. Their brain needs good nutrition to be ready to learn when school starts."
Still, officials acknowledged the difficulties some families face in accessing meal sites, particularly those in rural communities where the nearest location is often in another community and parents work as many as three jobs. Some also don't have access to transportation.
"The need is greater here, but it is one where great challenges exist because of the rural nature of our state and lack of public transportation," said Hofmeister, adding it is hard to ask children to perform well in school without access to food year-around.