The hometown feel is alive and well in rural Oklahoma, with quaint downtowns, fun events and cheery shop owners setting the scene for a Hallmark Christmas.
Towns across Northwest Oklahoma, including Waukomis, Hennessey and Kingfisher, have encouraged local shopping, spending, eating and enjoying to entertain residents and to bring in sales tax revenue.
Kingfisher Winter Nights happens every weekend throughout the holiday season, featuring Santa, train rides and ice skating. On Saturday, they will have a festive parade and fireworks.
Hennessey hosts its Electric Main Street Parade on Dec. 9 and Christmas movie night on Dec. 18.
Waukomis started hosting its Welcome Christmas throughout downtown, from Buffalo Junction to Buffalo Point Retreat, on Friday and Saturday, featuring crafting activities, rides, live music, specialty food and drinks and more holiday activities.
Dozens of local and regional business owners will gather on Main Street and at the retreat center this weekend to welcome in Christmas.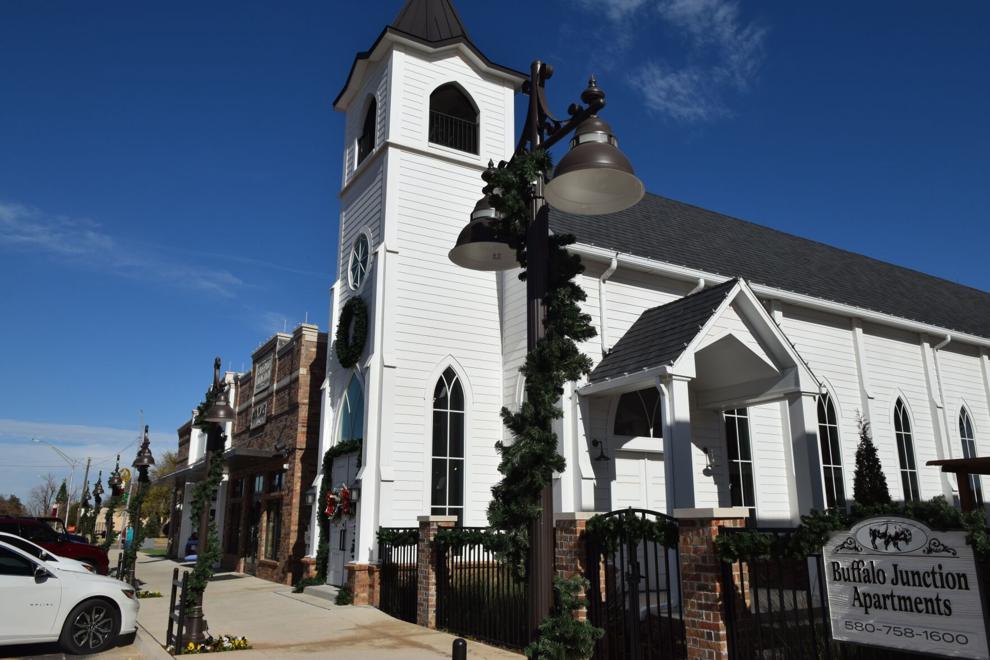 "We were trying to create a small-town, Hallmark theme," said Beth Ives, manager of Mo's Place at Buffalo Junction. "We all got together and came up with some of the events happening this weekend, like riding over to Buffalo Point in a sleigh. Then, we have the live Christmas tree lot and also a petting zoo.
"We wanted to make it really friendly where the community can come together. Anybody can come out and have some fun and be able to experience Hallmark," Ives said.
In downtown, Waukomis resident Tyler Vanover is selling live trees, cut in Michigan just after Thanksgiving.
He said they ordered fewer than 30 fresh trees that still were covered in snow when they arrived. Profits will be donated to the Waukomis junior and senior after-prom party.
"Next year, we are going to bring more trees in and keep that right here in Waukomis," Vanover said. "We are doing this for the town ... There is a lot of stuff going on here this weekend."
Several shop owners said they get customer traffic from all over the state and country.
Dennis Mueggenborg, owner of Designs by Dennis in Kingfisher, said live Facebook videos and open houses continue to encourage strong business. His store also is the only Hallmark Gold Crown distributor in Northwest Oklahoma.
"This November and December have been really good. I have not really had a slow month," Mueggenborg said. "We had our holiday kickoff open house on the first Sunday in November, then we did a Pink Friday push the week before Black Friday that went really well. Black Friday was good, which is normally dead as people run to Oklahoma City.
"We are really close to OKC. We are kind of in the perfect spot. I think people are just wanting to get out and shop," Mueggenborg said.
Dawn Reitz, owner of The Quilt Lady in Kingfisher, said she believes her customers benefit from being able to come into her store to shop.
She said most of her business comes from out of town.
"Christmas is our busy time," Reitz said. "You can buy custom quilts online, but when you come in here, you can feel the material. Say you go to a big box store, the fabric is stiff and you can just tell it isn't soft. You can definitely tell apart our fabric from a corporate store's fabric. And, you get our help when you come in."