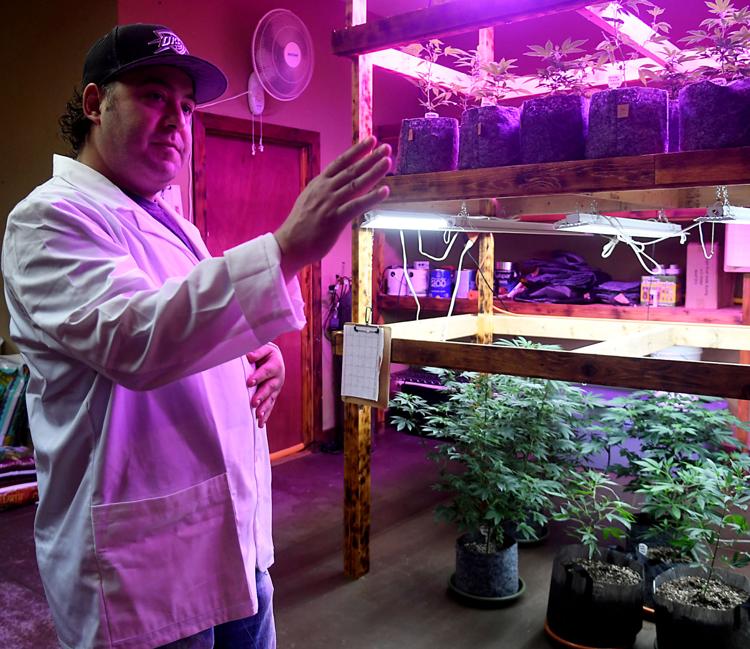 ENID, Okla. — The medical marijuana industry is growing in size and complexity in Oklahoma, from small craft growers producing specialty varieties to large-scale agriculture producers eyeing the possibility of cannabis becoming the state's next cash crop. 
Legal growth of cannabis plants in Oklahoma had to start from scratch last April, when hemp — cannabis not containing the psychotropic compound tetrahydrocannabinol (THC) — became legal for fiber and food applications.
Growers who wanted to legally grow cannabis for medicinal marijuana had to start their grow operations after the practice was legalized in September by passage of State Question 788. Sale of medical cannabis became legal in November.
In the weeks after legalization of medical marijuana, many dispensaries faced a constricted supply of the product and high prices. And, for those who rushed to grow their own plants to meet demand, there was a steep learning curve.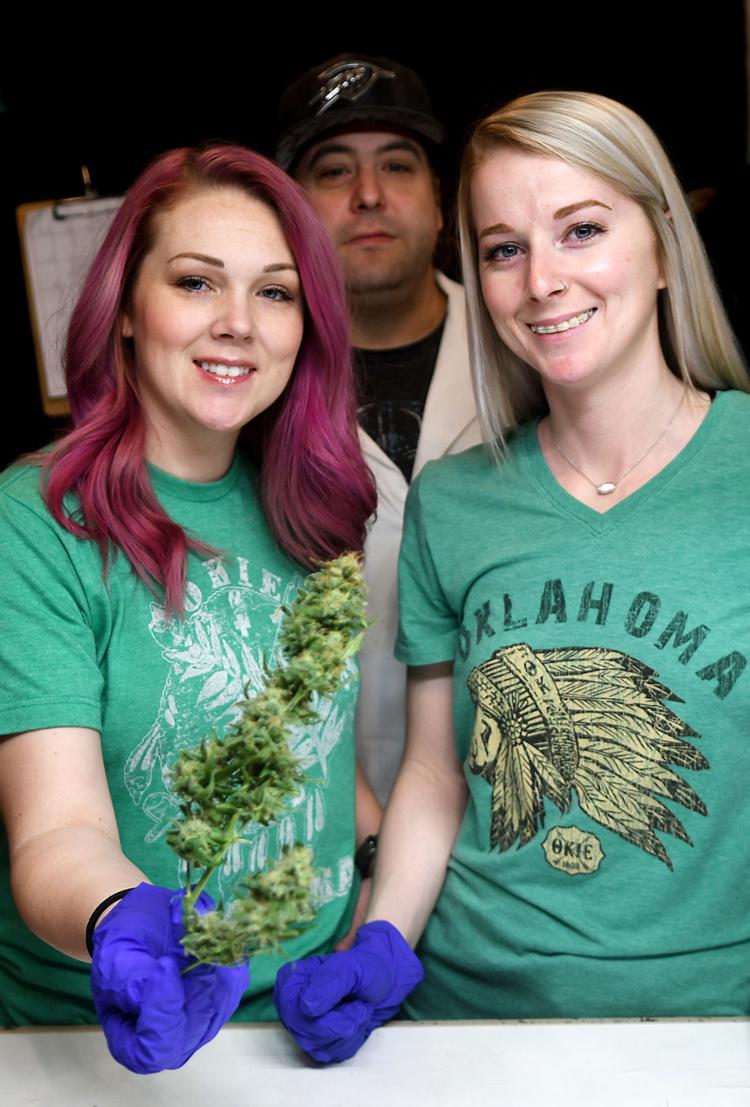 Goal is to help people
Kandra Patterson and Brooke Stephens, sisters and owners of Soul Sisters Dispensary, started a small, grow operation in the back of their shop, 120 W. Randolph, after opening last fall. 
While Stephens focused on the business and law side of the operation, Patterson immersed herself in learning the horticulture of growing cannabis plants.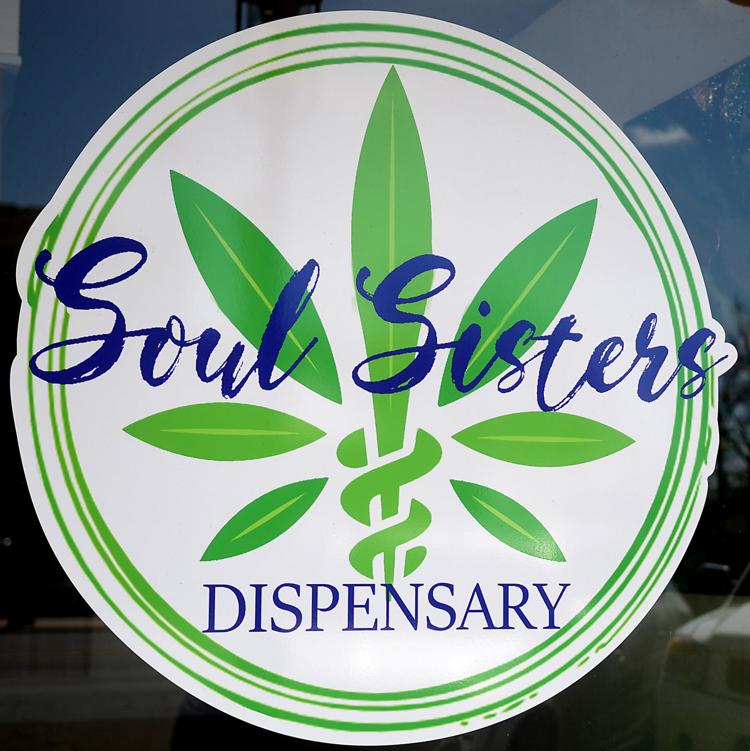 "We did so much research through literature, books and online, and also a lot of trial and error, starting out," Patterson said.
It was more than just growing the plants, she said. To grow effective varieties of medical marijuana providing the desired medicinal results, Patterson said, great attention to detail was needed in the growing operation.
"We wanted to make sure we could do it effectively and efficiently and still provide a great product to help people," Stephens added.
The sisters started growth from seed, then established desired varieties of female plants from which they cloned starter plants, which were then grown in cups and transplanted into 3-gallon pots under artificial lighting and in controlled soil and air conditions.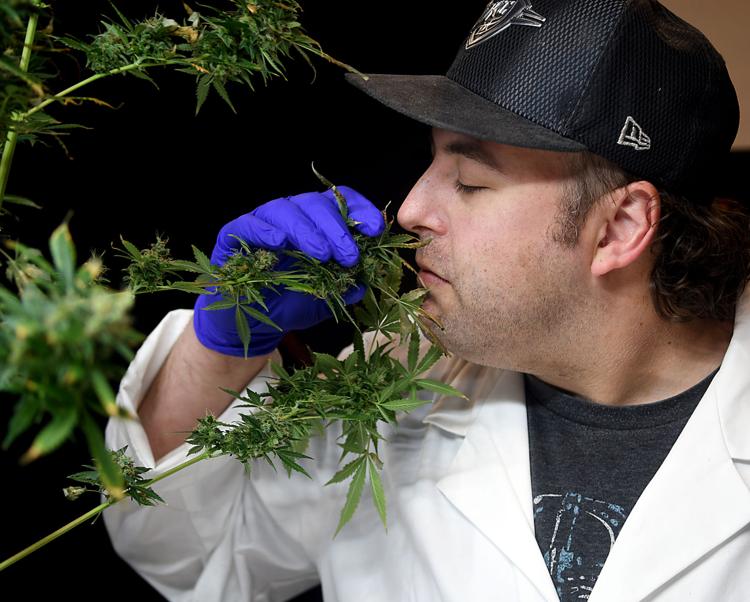 After about four weeks of growth in the pots, the plants are moved to large tents, where they have room to grow to the desired height and develop the flowering buds, which are harvested as the final product. 
It takes about four months from cloning a plant to harvest, and another week to 10 days to dry the product before it can be sold.
Patterson said they were able to grow healthy plants that produced a quality product, but they weren't reaching the desired output from their grow operation.
"Demand just grew so fast that we were a little in over our heads," Patterson said. "We needed someone who had more firsthand experience growing the plants and who knew things you can't learn in a book."
Through mutual acquaintances the sisters were introduced to Leonard Herron, who had more than 21 years of experience growing marijuana plants indoors when SQ788 made the practice legal.
They brought Herron in as the cultivation manager to improve the output and expand the varieties at Soul Sisters.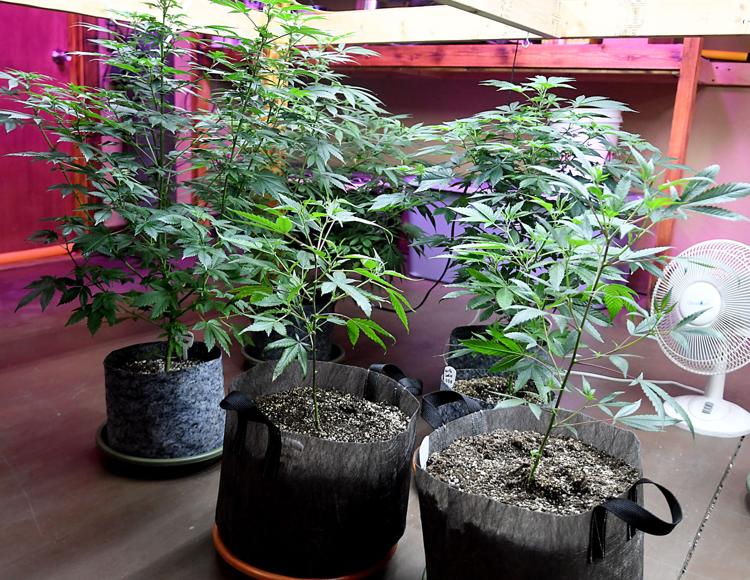 Meeting the demand
Herron said the sisters had a good start on the knowledge, equipment and practices needed to grow high-quality medicinal cannabis. It's a complicated process, from cloning to soil, air and lighting conditions, that requires more specialized knowledge than most vegetable gardening, Herron said.
Since coming onboard, Herron has focused on increasing output from the back-room, grow operation.
Now, Soul Sisters grows 30-40 percent of its own product, relying on other, larger growers to provide the rest. 
Increasing in-house growth already has positively affected prices in the shop, along with better availability in the market as a whole. Stephens said grams of medical marijuana that started out at $20 last November now sell as low as $10.
Patterson said the goal is for Soul Sisters to be able to grow 100 percent of their product.
"We are a relatively small craft farm, and most of what we grow here will be for the store," but the grow operation should be able to supply all of Soul Sisters' customer demand, Herron said.
To meet that goal, Herron said he's focused on increasing the size and output of each plant, through fine-tuning growth conditions and use of his own fertilizer "tea" that's applied to the plants.
Plants in the small operation currently produce about 60 grams of usable medical marijuana. Herron said the grow operation has the potential to raise plants that yield more than seven times that amount — about a pound of medical marijuana per plant.
Herron also has plans to cross-breed specialty varieties for Soul Sisters and is working toward establishing his own seed company to supply other growers.
Stephens said they'd also like to offer marijuana growing classes for people who have a medical marijuana card and want to grow their plants at home. SQ788 permits license holders to possess six mature and six seedling marijuana plants for growth of personal medicinal marijuana.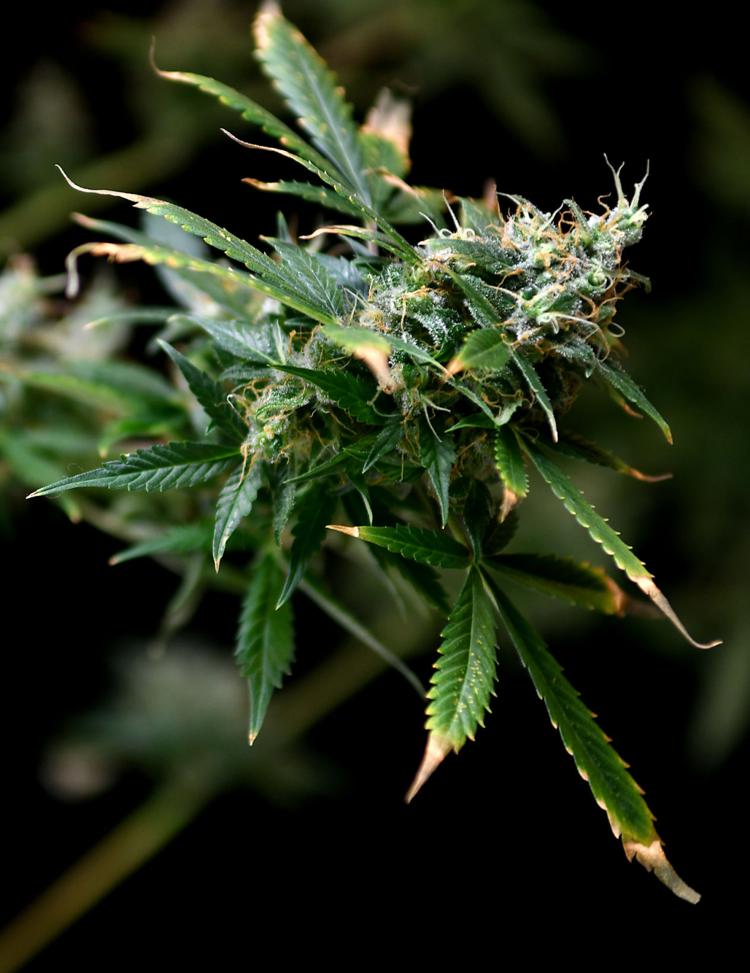 While some knowledge and initial investment is needed to start an at-home, grow operation, people don't need to worry about being gentle with "weed," Herron said.
"This plant loves stress," Herron said. "The more you can stress it without killing it, the hardier it will come back."
The hardy nature of cannabis, paired with ideal growing conditions in Oklahoma, make it a crop with potential far beyond small, indoor grow operations, Herron said. 
"Our environment is almost perfect for growing marijuana outside," Herron said. "It's going to be a booming business, especially if the federal laws change ... it's going to be a benefit for the state, 100 percent."
Business opportunities
Joey Meibergen, president and CEO of Johnston Seed Co., has been studying for more than a year the potential for marijuana as an agriculture product that could be grown on the scale of other staple ag crops in the state.
While he's applying the significant knowledge he's garnered through Johnston Seed, he's looking at cannabis as a private, family venture — one he sees as having significant potential to create jobs and profit.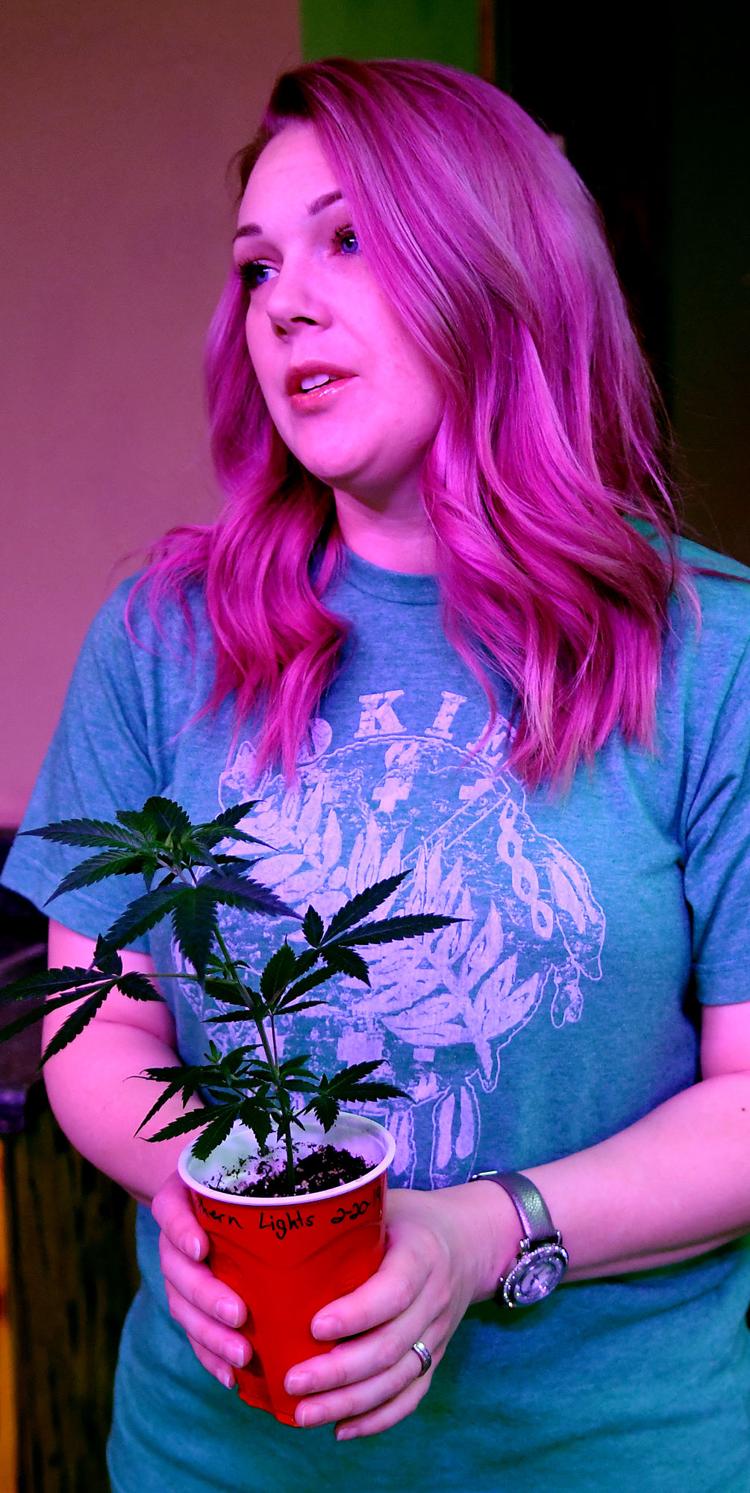 "I'm interested in the new business opportunities this brings, because I think Oklahoma has the potential to be the industrial hemp and medical cannabis grower for the country," Meibergen said.
It's all in the planning stages as of yet, but Meibergen said he's working toward the medical marijuana side of cannabis growth, rather than industrial hemp, because he sees too much government regulation involved in the hemp business.
Industrial hemp currently must be grown through a pilot program that requires growers to partner with a state university that has a plant and soil sciences department and must use certified THC-free plants from a certified grower.
Meibergen said there's limited access to the pilot program, seeds aren't quality-controlled like wheat and other ag products and growers are at the mercy of a limited number of seed producers. Those conditions are constricting growth of hemp, which Meibergen said has immense potential in Oklahoma for food and fiber applications.
"It seems like, right now, the way it's been treated, it's a missed opportunity," Meibergen said.
But, growth of cannabis for medical marijuana actually entails less government regulation, Meibergen said. With a streamlined application process for growers and less government involvement in the growing process, Meibergen said SQ788 set up medicinal cannabis as a free market product.
"It's the way it should be," Meibergen said, "and frankly, that's why I chose this route."
Changing way we think
The only difference between hemp and medical marijuana plants, Meibergen said, is the THC content at testing of the final product.
That THC content in the plants can be controlled in much the same way growers can modify plant phenotypes to develop different heights, textures and colors of Bermuda grass or other crops, Meibergen said.
Building on Tradition is a special section that will publish in the Enid News & Eagle for eight Sundays in February, March and April 2019.…
One major difference between medical marijuana production and other, more traditional, Oklahoma crops is medicinal cannabis must be grown organically, Meibergen said. That means no chemical pesticides or herbicides can be used in the growth process, and only organic fertilizer can be used.
Meibergen said the process used to extract medical grade cannabis oil would concentrate any herbicides or pesticides into the final product, which wouldn't meet desired purity standards for a medicinal product.
"I want to provide something that's safe," Meibergen said, "that I know was grown of a high quality."
Meibergen said he wants to start out in medicinal cannabis, but he sees industrial hemp as the crop with real potential to create jobs and profit in Oklahoma.
"Our goal eventually is to work with a big enough processor to move into the industrial hemp side," he said.
But, whether it's hemp or medical marijuana, Meibergen said Oklahoma still has some cultural barriers to overcome before it's widely-embraced.
"It's a wasted opportunity if we don't change the way we think about cannabis and agriculture," Meibergen said. "But, we need to study it more and be smart about the way we go about it."
Getting better
For now, the medical marijuana industry in Oklahoma remains largely one of small- to mid-sized growers working directly with dispensaries to meet demand.
Herron, with Soul Sisters, said quality and stability of supply is improving as more dispensaries and growers develop those close relationships.
"The quality is getting better," Herron said, "and will consistently continue to get better."
Herron, Stephens and Patterson said they see the potential for much larger growers and greater profits. And they don't mind making a profit. But, they said, that's not why they got into the marijuana business.
"What we wanted to do is working," Stephens said, "and that's for people to get the help they need."
"I wanted to help people and reach people," Herron added. "I wanted to provide to people my talents, my abilities, to try to make this world a little better place."