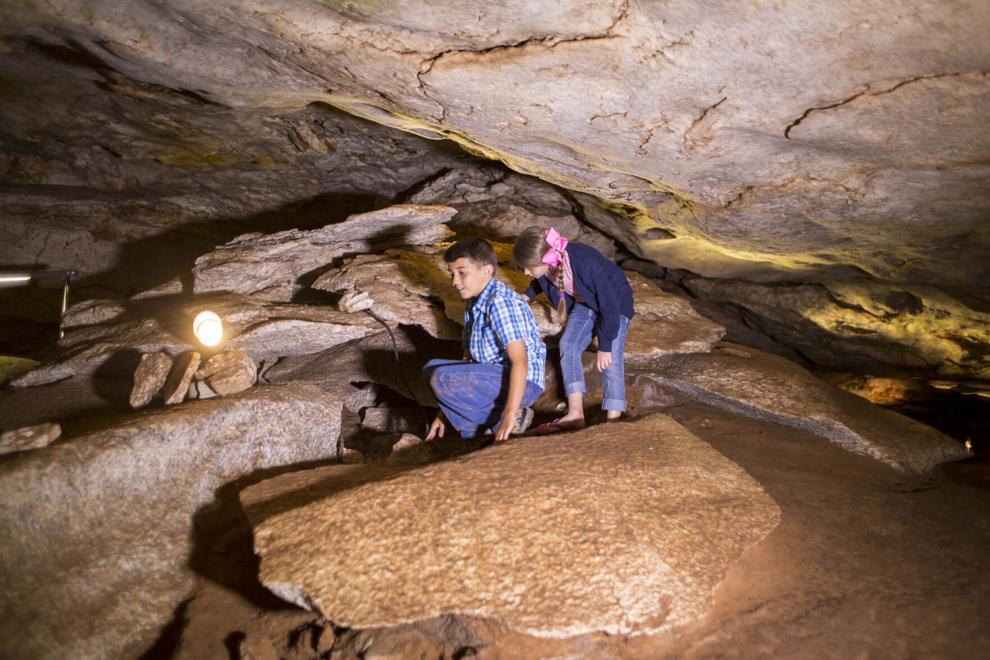 FREEDOM, Okla. — Did you know Oklahoma is home to one of only three black alabaster caverns in the world? And this spelunking tourism attraction in Northwest Oklahoma is the only one of its kind in America, as the other two locations are in Italy and China?
Located 100 miles northwest of Enid on the outskirts of the tiny town of Freedom, Alabaster Caverns State Park boasts the only natural gypsum cave in the United States open to the public for guided tours and wild caving.
"We don't know who first discovered it," said historical interpreter and tour guide Kimberly Hall, who has shown visitors through the park for 33 years.
The gypsum alabaster, a soft mineral often used for art carvings and plaster, was deposited millions of years ago when Northwest Oklahoma was covered by seawater. Over time, the water streams tunneled caverns, leaving behind white, pink and the extremely rare black alabaster, along with selenite crystals like those found nearby in the salty sands of the Salt Plains National Wildlife Refuge, directly 70 miles east. Visitors of these caverns will not spot stalactites or stalagmites typically seen in caves throughout the Midwest.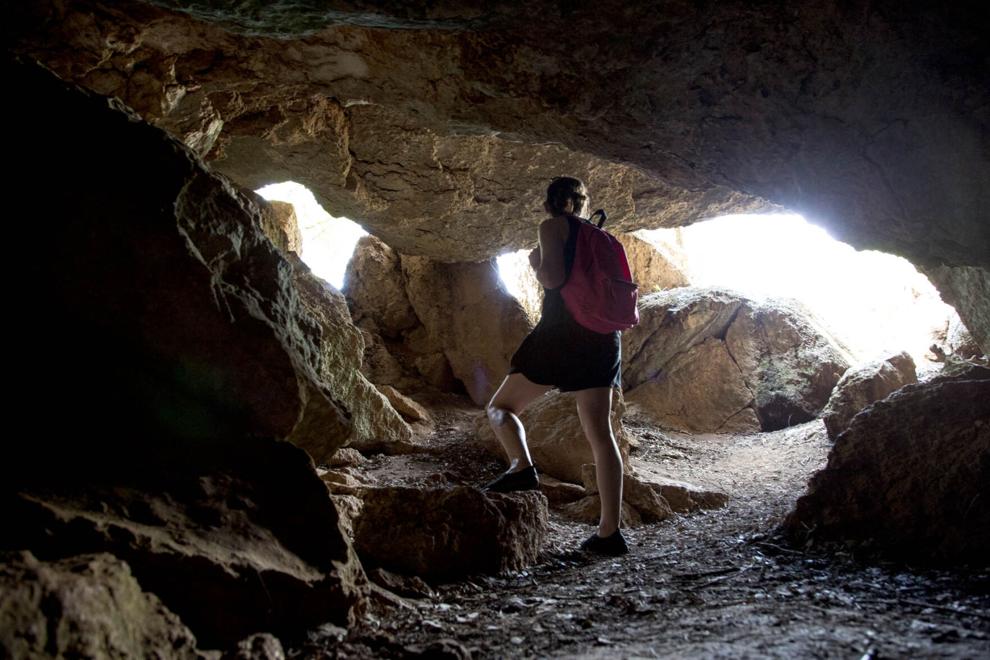 Hall, an Oklahoma native who grew up in the nearby Panhandle and is the state park's most tenured employee, said legend has it the main cave was a hideout for notorious outlaws, including the Dalton Gang in the 1890s, and settlers during the Land Run of 1893 made marks on the walls of the cave that can still be seen today.
The main attraction
When Englishman Charles Grass bought the land in 1939, he fixed up the caves and gave tours. In 1953 the state of Oklahoma purchased the land from Grass, and it was declared a state park in 1956.
In 1967, the Oklahoma Civil Defense designated Alabaster Caverns as a fallout shelter for both natural disasters and/or nuclear attack. It was obviously never used as such, and the caves were cleared of survival supplies in the late-1970s, but Hall said to this day it's still considered a fallout shelter.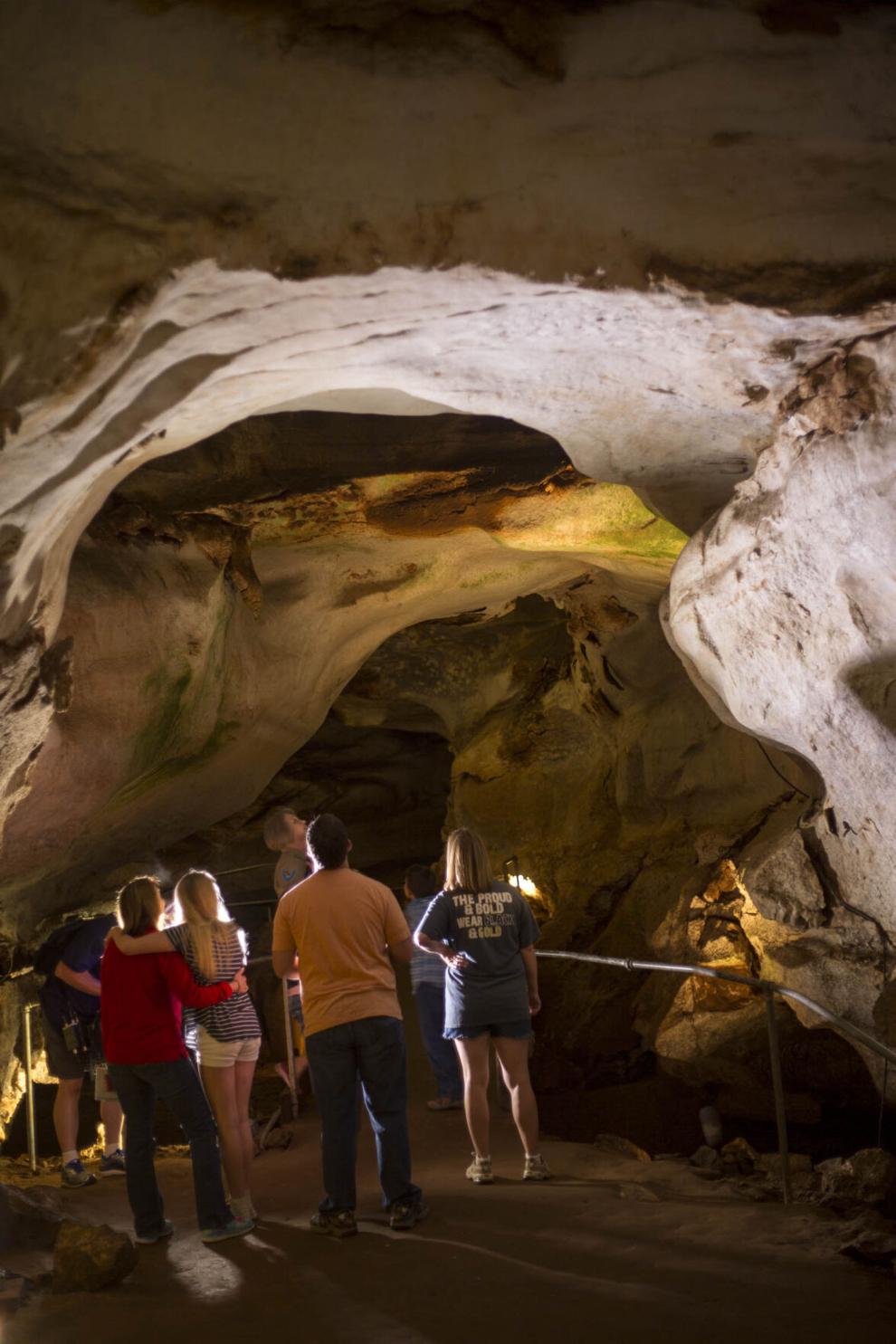 Underground guided tours of the main cave start at the top of every hour from 9 a.m. to 4 p.m. daily, except Thanksgiving and Christmas days, and last about 45 minutes. During the summer, from Memorial Day to Labor Day, one more tour is given at 5 p.m.
Cost is $10 per person and is cheaper for senior adults, active duty military or kids 12 and younger. Visitors should wear sturdy, rubber-soled shoes for traction during walking and climbing, as it can be slick and muddy in spots. Some might want a jacket, too, since it is cool inside the cavern, averaging 55 degrees year-round.
"It is a great way to pass some time during a hot Oklahoma day," commented a visitor from Sapulpa in a review on the TripAdvisor website.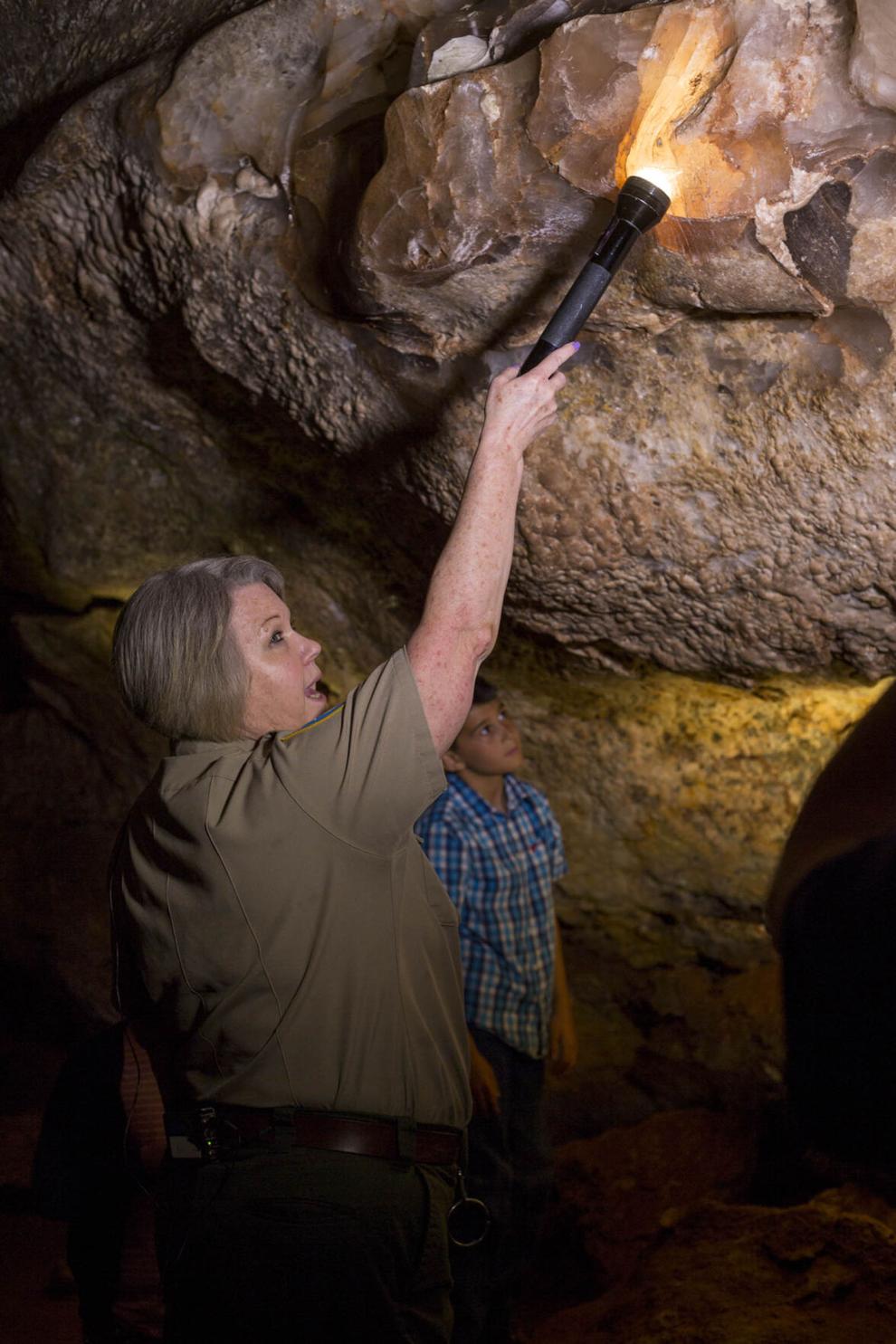 No flashlights or food are permitted on the tour to keep the cave free of litter. Cameras are allowed now; for a while the park had restricted photography, but Hall said they've lifted that ban.
Unfortunately, some visitors may be disappointed they no longer get to see the whole cave, including spotting the black alabaster deep within or experiencing the total darkness halfway through the tour.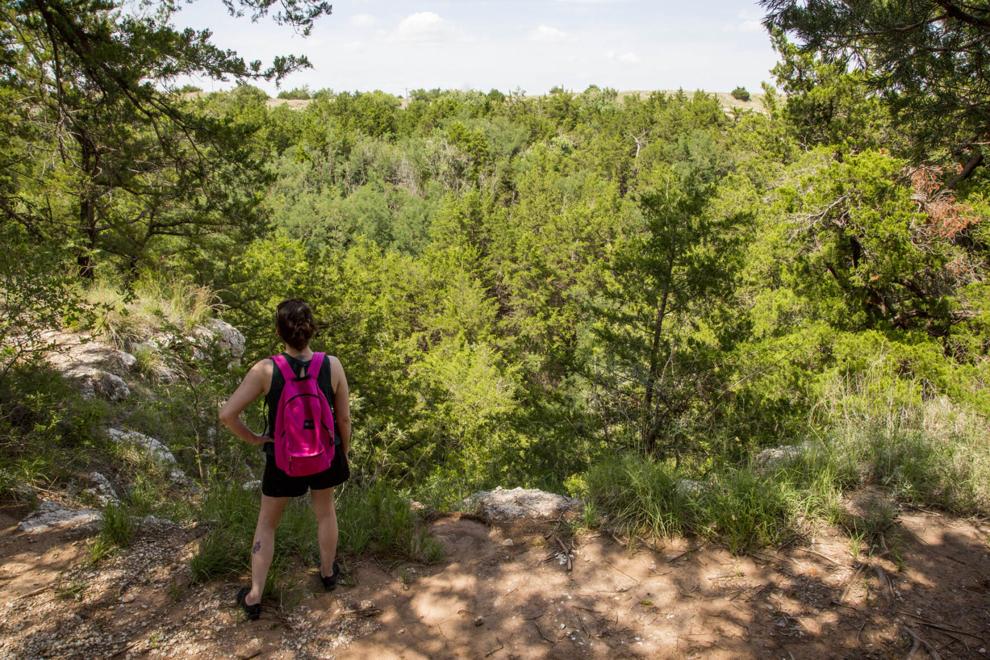 In November 2018, Hall discovered 2,200 tons of rock had shifted and created a cave-in near the original entrance. Public tours temporarily were halted while they assessed the damage and determined the safety of resuming visits.
Today, visitors only get to tour about half of the cave, entering and exiting the same way, rather than walking the entire length.
The rest of the main cavern remains off limits to the public until further notice, Hall said. She said the park is discussing options such as a detoured path or a structure like a bridge over the collapsed portion, but nothing is set in stone, so to speak, and there is no current timetable to a solution.
On the path forward 2022: Building a resilient community is a special section that will publish in the Enid News & Eagle for eight Sundays…
Watching bats fly
Bats, of course, are another of the attractions of Alabaster Caverns. Five different species equaling to nearly 20,000 bats inhabit the caverns. Hall said the best time to spot a bat during the tour is in the hibernation period from December to March.
Associated with Alabaster Caverns State Park but not owned or operated by the park, is the Selman Bat Watch Program. Each summer, hundreds of thousands of Mexican free-tailed bats pour from the Selman Bat Cave located on a 340-acre tract of land near the state park to feed on insects. The Selman Bat Cave Wildlife Management Area, which was purchased by the Oklahoma Department of Wildlife Conservation in 1995, offers the annual bat watch through its Wildlife Diversity Program.
All pre-registered Selman Bat Watch attendees begin at the Alabaster Caverns State Park and then are bused to the Selman Bat Cave Wildlife Management Area after the orientation. To learn more or sign up, go to wildlifedepartment.com/wildlife-diversity/selman-bat-watch/info.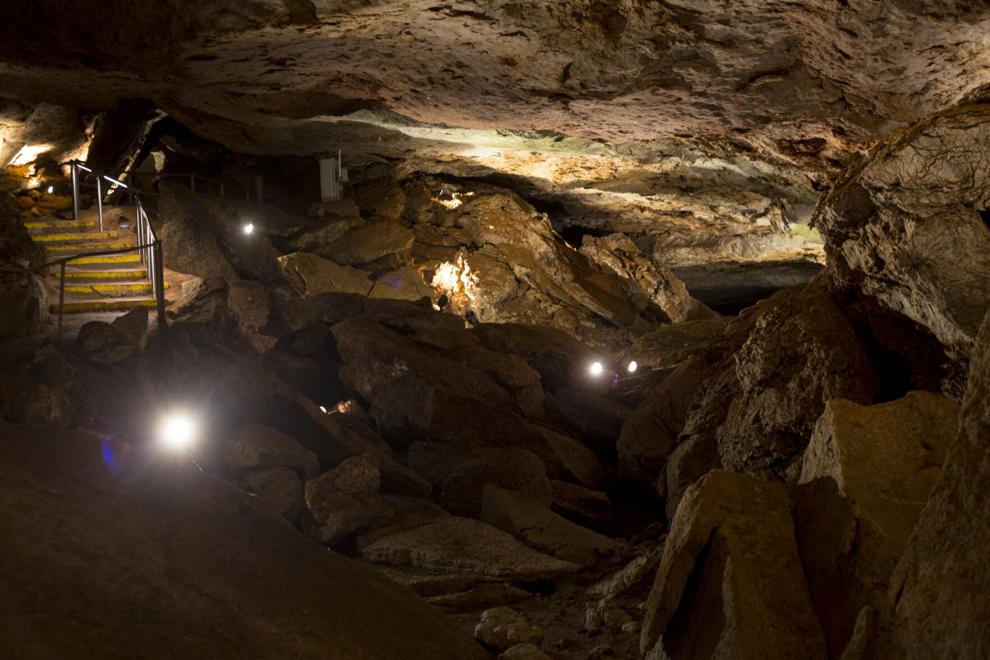 Wild-caving expeditions
For those looking for their own adventure, wild-caving known as spelunking is available at Alabaster Caverns State Park. The park has four "virgin" caves — Owl, Ice Stalactite, Hoe Handle and Bear — for exploration and spelunking from April 1 to Sept. 30.
Hall said there are rules to wild-caving, such as no one can go alone: There must be three people in a party. All spelunkers are required to have a hard hat — bike helmets are allowed — as well as a light source, bottle of water and first aid kit. Spelunkers also must wear long-sleeved shirts, long pants and high-topped shoes or boots.
Permits for spelunking can be obtained at the park office and cost $8 per person regardless of age or experience. Wild-caving is only allowed between 8 a.m. and 3 p.m. Anyone caught after hours or without a permit will be fined $250, Hall said.
Alabaster Caverns allows overnight stays at one of its RV or tent sites. Cost per night depends on the "sleep site," and reservations can only be done online at travelok.com/state-parks/alabaster-caverns-state-park: Click on "book a campsite."
For information or questions about a group tour, call the park at (580) 621-3381.