ENID, Okla. — Longtime Enid resident Clayton Nolen has two business cards he gives out when making new acquaintances.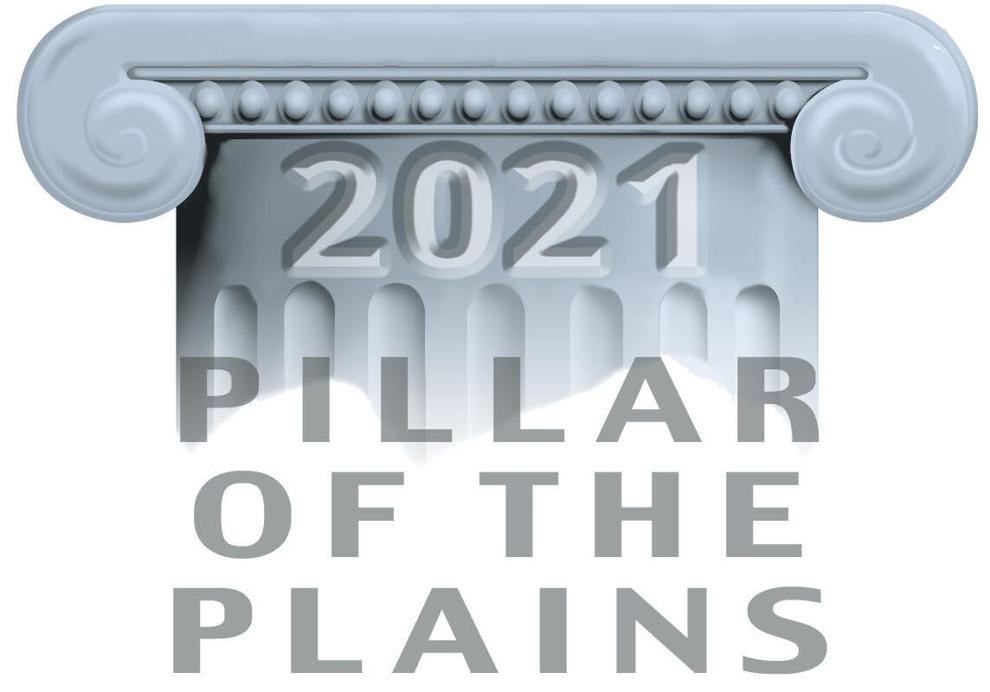 One has his contact information as a local radio host. The other, which Nolen calls his a "retired business card," also has his contact info — along with lines like "No Business, No Plans, No Worries," and "Too Healthy to Beg, Too Old to Steal, Too Lazy to Work."
Indeed, Nolen said he's enjoyed having less to do since he retired in 2014 from Enid Public Schools.
"I tell people … We spend 85% of ourselves going to doctor's visits, and the other 15% trying to figure out how we're gonna pay the insurance," he said.
While he's recently taken a slower path, the 74-year-old educator, church leader and civic volunteer has spent decades serving the Enid community along various avenues. He is now being recognized for his contributions as a Pillar of the Plains honoree.
Nolen is one of three Pillar of the Plains finalists who will be recognized during a reception at 5:30 p.m. Jan. 13 at Stride Bank Center. This year's other finalists are Krista Roberts and Connie Sturgeon-Hart.
"When I think of 'Pillar of the Plains' … (it's) somebody real old, been here for a really long time," Nolen said with a chuckle, "and his or her contributions are not just in one area. It's spread out in many, many different areas and has helped not just establish things but has helped the general public in different needs."
If Nolen were to be named 2021's Pillar recipient, he would be the first Black person to receive the honor.
For years, Nolen has mentored many African-American boys in Northwest Oklahoma, pushing them to be successful in their jobs, churches and families.
By focusing on these three tenets of success, he said, "They can see a future, and that future can be very positive. And they can see themselves moving up and probably in some of the things they always wanted to do."
Nolen served as Enid's Ward 3 commissioner from 1985 to 1989, during which he founded the still-active Dr. Martin Luther King Jr. Holiday Commission; created the public access channel that became PEGASYS and was later given to Enid Public Schools in 2016; and dealt with the purchasing of the financially struggling Phillips University's property. He also chaired the city's Police Civil Service and Community Development Block Grant Funding commissions.
"I never thought that I'd be doing it in Enid," Nolen said about serving in public office. "There was not very many diversities in different positions here in Enid."
Ward 2 City Commissioner Derwin Norwood, who now represents part of the same area after ward boundaries were redrawn, said Nolen has been a great advocate for the community and for the church in Southern Heights, Enid's historically Black neighborhood.
"He really made sure we understood how important it was to get an education," Norwood said. "He led by example."
After graduating from college at Central State University, Nolen worked for Enid schools as a traveling speech pathologist for seven years, also moonlighting as an adult education teacher.
He soon took over as director of EPS' adult ed program, which was moved from Roosevelt Elementary School to Carver Educational Center and was expanded to daytime and evening classes. He also directed teachers who made visits to homebound students.
Nolen later became the chief GED examiner, acquired the Juvenile Detention School and became the supervisor of the schools at Sequoyah Boys' Group Home and Integris Behavioral Health.
He also served on around a dozen education-related local and state boards, committees and task forces during his 42 years with EPS. Today, Nolen still serves on only the Truth and Sentencing Advisory Council for four area counties.
"(Education) was my life. It was my livelihood," he said. "So I had to support that in any manner that I could."
Nolen hung up his teaching hat in 2014. Nolen's wife Varna, also is retired from education as a special ed teacher at Longfellow Middle School.
"It was time. Sometimes you stay at the party too long," he said.
Enid's still-continuing GED program later was relocated to Lincoln Academy when Carver became an early childhood center, and Nolen said he still sees former students around town, many of whom he said succeeded despite different circumstances.
"Seeing a success with your students always made me feel good," he said. "You name 'em, I've had them."
He now also hosts "The Gospel Show with Clayton Nolen," a local Sunday morning radio program on 100.9 FM and 960 AM.
Nolen, a trustee of the Grayson Missionary Baptist Church board, stayed dedicated to his church throughout the troubling COVID pandemic, which saw weekly services move entirely online while major renovations that began in 2019 continued on the building, Enid's oldest historically Black church.
Services only began being held in person again in November for the congregation, which today numbers around 30 to 40 people.
A newly completed addition, along with renovation of existing space, included new handicap-accessible bathrooms, a new pastor's office, fellowship hall, kitchen, two classrooms, a secretary's office and a new entrance off the northeast corner of the church.
Nolen, whose mother passed away in January, began going through her belongings this year. He donated several Bibles from her massive collection to the church, along with much of her clothes, shoes and piano sheet music.
His pastor and longtime friend, the Rev. Norris Williams, said Nolen "has the heart" for the people in the community.
"I know that everything he does is with the intentions of good always," he said. "He is a Christian man who believes in his faith."