ENID, Okla. — Two rising local artists, both students at Oklahoma Bible Academy, are being further recognized for their talents.
Senior Jackson Morgan and junior Parker Schovanec were among the 32 Oklahoma students honored earlier this month with the State Superintendent's Awards for Arts Excellence for their submissions in visual arts.
Dozens of more juniors and seniors from Oklahoma received this year's awards in dance, drama/theater, instrumental music, piano and vocal music.
Both Parker and Jackson already have a long list of state and national awards and recognitions under their belts. But both also had more trouble talking about them Tuesday.
OBA's students had a record-breaking year at the statewide Scholastic Art Awards, receiving 11 Gold Keys, five Silver Keys and five honorable mentions. Jackson, Parker and senior Sydney Winter all received Golds.
"I don't keep track of (awards)," Jackson said Tuesday night during an art show in OBA's gymnasium. "I'm more of just the, 'I want to move on to the next project.'"
His mother, Kristina Pasby, puts together his displays, the first with the artworks and the awards Jackson won with them, such as Scholastic awards and the state Sutton Art Award for photography. She also helps him with his shoots or his submissions.
She had more to say about his honors than Jackson, not one for words as much as visuals.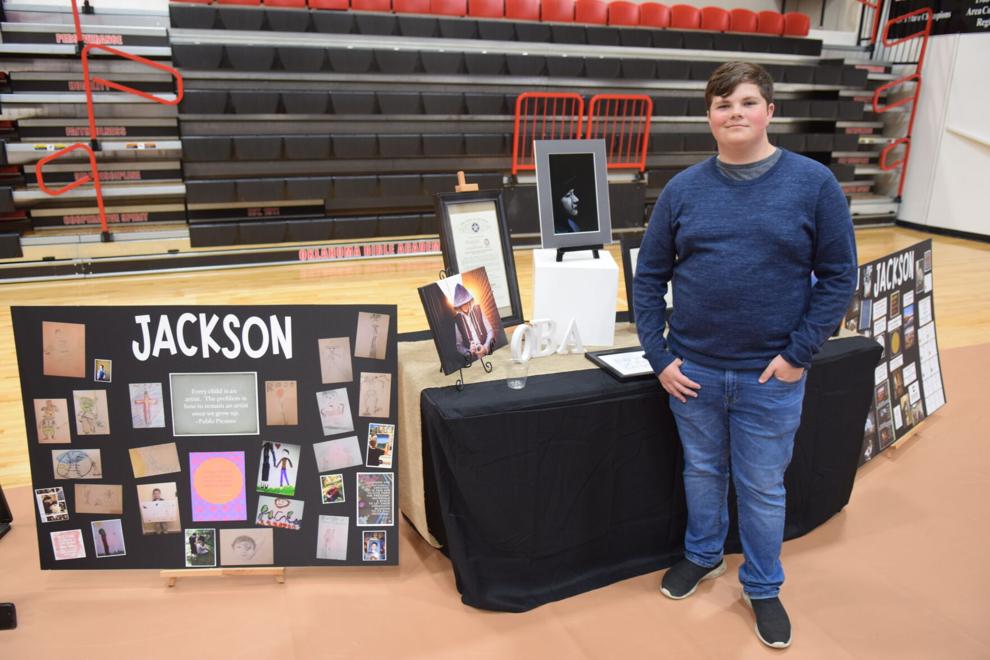 "He's been my little artist since he was in like sixth grade," Pasby said, which she wanted to show with a second board of his childhood drawings and photographs.
"I feel like my family is just so much more proud of me more than I am," Jackson added.
On the other side of the OBA gymnasium, Parker had more trouble finding his words while taking a break from sketching for the night.
"I feel like I'm writing an English essay," he said, as he repeatedly tried to finish the sentence, "It's an honor because …"
Parker has more honors than he could probably count Tuesday — this year, he was named as a two-time American Visions nominee through Scholastic, meaning two of the state's top five artworks were his. He also has received four national medals, a school record.
His girlfriend, sophomore Reagan Redelsperger, stood by staring at him intensely, as if trying to telepathically force a good answer into his mind.
After some more hemming and hawing, Parker finally said, "It encourages me to continue creating more artwork in the future. Because people take notice and they see the hard work I put in."
Parker and Jackson will be recognized individually next month during a virtual ceremony, and their medals and certificates will be mailed.
Local and area awardees also included Emily Barton, Alva High School, drama/theater and vocal music; Sawyer Zimmerman, Woodward High School, drama/theater and instrumental music; and Cailey Luskey, Chisholm High School, vocal music.
The 31st annual event, hosted by Oklahoma Alliance of the Arts, Oklahoma State Department of Education and Masonic Fraternity of Oklahoma, will be held as a virtual ceremony at 7 p.m. May 16 — the second year in a row a ceremony hasn't been in-person due to the COVID-19 pandemic.
Jackson and Parker's teacher, Layce Russell, said the superintendent award was a "great honor" — indeed, the highest one in the state for art students.
"We have a really special group of high school kids this year, who have just done really remarkable things," Russell said. "The thing I guess I'm more proud of, is they're just great human beings. And they're great role models for these younger, middle-school kids."
Sydney was the first to apply and be recognized for the art honor last year.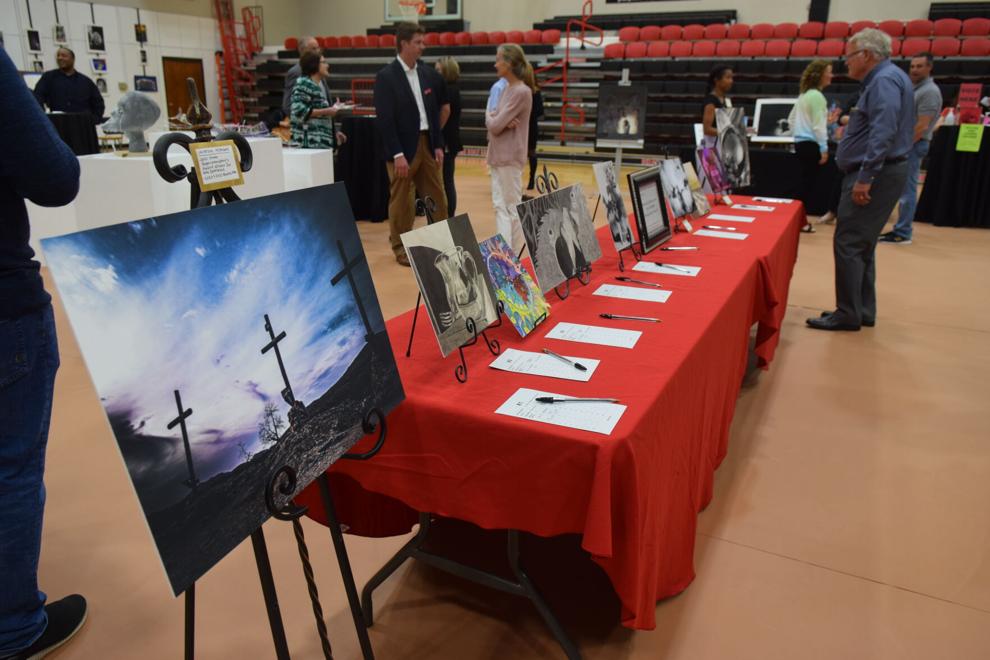 The students' art portfolios were on display around OBA's gymnasium Tuesday, as part of the school's spring fundraiser that showcased its continually burgeoning art program.
Around 250 works from nearly all of Russell's over 50 students were out on tables, walls and standing screens in the gym, ranging from sculpture, drawing, painting, mixed media, collage and printmaking.
Several artworks were up for silent auction. starting bids were around $200-$300 — nearly all had had bids by the end of the evening.
Thursday's show will serve as an awards competition for the OBA students.
Northern Oklahoma College fine arts professor Jena Kodesh, an artist and former art teacher at Enid High School, already juried the show.
Students will be awarded Thursday for photography, middle school, high school 1 and 2, and "Best of Show," as well as Tuesday's people's choice vote.
Parker, who had around 15-16 works on display, took the evening as an opportunity to sketch more of a massive portrait he first took as a photograph of Reagan a month ago, which had been due Friday.
The sketch was supposed to go with his school year portfolio, a theme on the emotions of bullying in schools whose works would each correspond to a word — Parker's sketch was supposed to represent the word "surrender."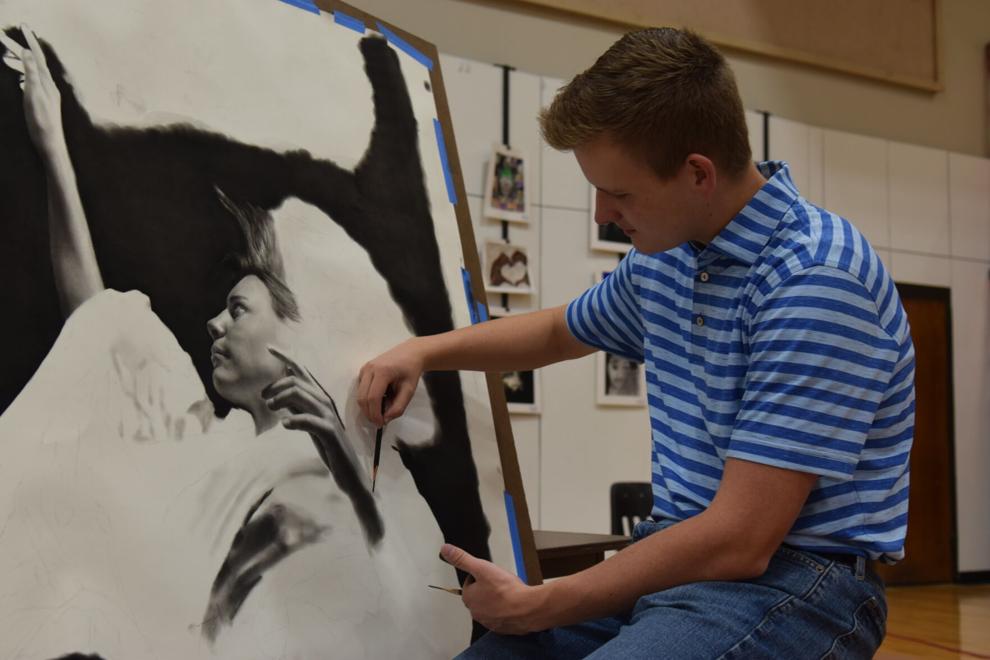 "It was awkward having her come over" to take the photo, Parker said, taking a break from staring at his phone and then sketching from the photo of her hand. "But it scored me major suck-up points."
An artist herself, Reagan was accepted along with Parker and Jackson into the state high school art show, Young Talent of Oklahoma. The three also will be attending the prestigious two-week Oklahoma Summer Arts Institute at Quartz Mountain.
"I win the award with him," Reagan said after she came back over, laughing sarcastically.