ENID, Okla. — An Enid man pleaded guilty to an amended charge of second-degree murder on Tuesday in relation to the January 2020 fatal shooting of teenager during a home invasion.
Damon Lee Robinson, now 21, was charged in March 2020, along with Rico Lamar Stennis, with one count of first-degree murder and one count of conspiracy for acting in concert with 14-year-old Ezavier Condit and causing Condit's death during the commission of a first-degree burglary.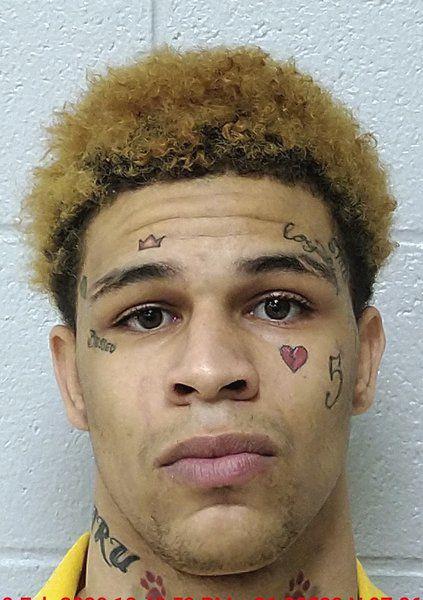 In Oklahoma, when a person dies during the commission of a felony, in this case a first-degree burglary, other people involved in the commission of the crime can be charged with murder.
A pre-sentence investigation was ordered and is due by March 4. Robinson's sentencing date is scheduled for March 14.
At 12:25 a.m. on Jan. 31, 2020, Enid Police Department officers responded to a report of a possible burglary at 1602 E. Park, according to an affidavit filed in the case. The door had been kicked open, but the person who entered had left, and the burglary was captured by a video camera installed inside the house. At 3:18 a.m., EPD responded to another call of a possible burglary at the same address. The resident, Olivia Jaid Hollis-Boegle, said three people had been there the second time.
Hollis-Boegle, armed with a pistol the second time, said she fired one round while standing in her doorway, a second as she was stepping out of the doorway into the yard as the three were running away and then a third shot, according to the affidavit. She did not think she hit any of the burglary suspects.
According to another affidavit, detectives located two spent shell casings within the complete crime scene — one in the driveway and the other in the middle of 16th.
Officers found Condit, who appeared dead from a gunshot wound to the back of the head, approximately half a block north, the affidavit states. He was transported to St. Mary's Regional Medical Center and pronounced dead at 4:42 a.m.
In an interview, Robinson told EPD that he and Condit had gone to the residence to get marijuana to smoke, according to the affidavit. Hollis-Boegle had a medical marijuana card and worked at a marijuana farm around the Waynoka area at the time.
In a separate interview, Stennis, then 17, told officers that Hollis-Boegle had kicked him out of the Park residence on Jan. 29, 2020, which he said he was mad at her for, according to a third affidavit. Stennis contacted Robinson to see if he could "hit a lick" and told Robinson where the cash and drugs were located in the house.
Stennis said after the robbery was completed, he received a call from Robinson that the job had been completed, the third affidavit states. Stennis said the next day he learned Condit had been shot and killed.
In June 2021, Hollis-Boegle pleaded guilty to an amended count of first-degree manslaughter and was sentenced to 12 and a half years in prison, receiving credit for time already served; guilty to one count of maintaining a dwelling where drugs are sold, kept or used, receiving five years, set to run consecutively to the first count and with credit for time already served; guilty to one count of possessing a firearm during commission of a felony and sentenced to seven and a half years to run consecutively to count one but concurrently to count two; and guilty to one count of employing minors in drug crimes, receiving a 10-year suspended sentence to run consecutively to count three.
The next court date for Stennis, now 19, is scheduled for Feb. 17.