ENID, Okla. — On July 26, 1944, a C-54 air ambulance carrying a wounded Lt. Col. Leon Robert Vance, the namesake for Enid's Vance Air Force Base, back to the United States and to his family disappeared en route from England. Vance, along with other wounded and medical staff, boarded the plane for the trip home, only to be lost between Iceland and Newfoundland. The plane has never been found.
Enid pastor, writer and historian Wade Burleson told Enid Rotary Club there is a chance the missing plane has been located off the coast of Greenland.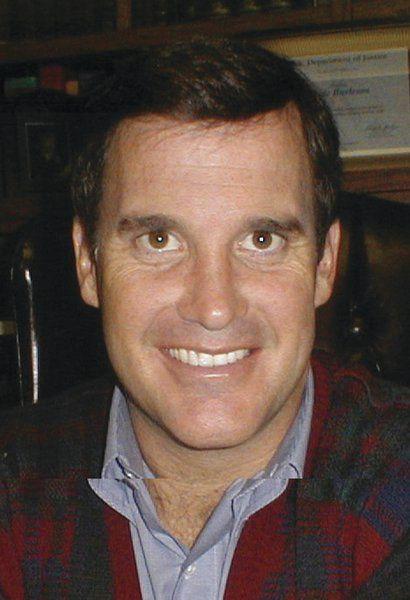 Burleson said he believes that while people in Enid are aware of Vance Air Force Base, and that the base was named after Leon Robert Vance, they may not know the whole story.
"Most people around the world may know the story better than people who live in Enid, and that's really sad," Burleson said.
Vance was born and raised in Enid, graduating from Enid High School in 1933, the son of coach and Longfellow Junior High Principal Leon Vance. He attended the University of Oklahoma and the Military Academy in West Point, N.Y. When he graduated, he trained to be a pilot. He became an instructor in the early days of World War II; however, he later was called to lead a squadron for Operation Overlord, the invasion of D-Day.
Vance was flying in a B-24 Liberator during a bombing raid in support of the D-Day landings on June 5, 1944, when he took over the pilot's duties of his crippled aircraft. Despite a mangled foot wedged under the co-pilot's seat, Vance — believing one member of his crew who had not bailed out of the plane was too injured to parachute — crash landed his wounded Liberator in the English Channel.
He suffered an amputation of his leg, and was looking forward to returning to the U.S. to recover from his injuries. Vance was recognized with the Medal of Honor, which was presented to his young daughter in an official military ceremony in Enid in 1946.
Burleson said he received an email Nov. 1 from a man named Alan Hiatt, who believes he has found Vance's airplane through Google Earth. Burleson said a helicopter would be required to explore the location. That can't happen until next summer because the location is covered in snow. Burleson has published some of Hiatt's Google Earth photographs on his blog at wade burleson.com.
The photos show an ice-covered ravine off the eastern coast of Greenland with some blurry outlines of what appear to be an airplane tail, some cargo, a life raft and wing sections with a couple of the plane's numbers visible.
"Alan Hiatt has a ministry of finding crashed planes using Google Earth to notify next of kin of those who were lost in plane crashes," Burleson said.
Terri Schaefer, chief of public affairs at Vance, was at Monday's Rotary presentation and said base officials have been in conversations with Hiatt over the last couple of years over this potential discovery.
"I enjoyed pastor Burleson's presentation on our namesake, Lt. Col. Vance," Schaefer said. "We have been acting as a liaison between Mr. Hiatt and the Defense POW/MIA Accountability Agency for about two years and look forward to assisting in any way we can in the future."