ENID, Okla. — Even as enrollment in virtual schools like Epic Charter Schools continues to grow, many Oklahoma public school districts have been slow to respond, hesitant to innovate.
But now, in a sudden statewide shift, public school districts are aiming to make up for lost time and lost students by launching nontraditional programs of their own.
"I would say this is going to be the big year," said Monty Guthrie, deputy superintendent of finance and federal programs of the state Department of Education.
"This is the year we're going to start seeing the huge expansion, there's no doubt about that."
Some districts are closer to the head of the curve than others, already offering substantial virtual and blended options, but those are fewer. While one district may be a tweak or two from the cutting edge, another might be far less familiar with the latest in digital learning.
Exact stats aren't available, as the department doesn't currently track which schools — or how many — offer virtual or blended environments, but the department remains certain of the trend regardless.
Whether it's enhancing what a district already has, or establishing something new, interest and effort are surging to a degree not seen in previous years.
Guthrie just recently joined the Education Department this summer, leaving his superintendent's role at Stigler Public Schools.
Virtual and blended learning were at the forefront of his mind at Stigler. Concern remained about how to implement these educational alternatives along with uncertainty if the design the district devised would serve its students well.
Despite that, he felt his district was obligated to provide what nontraditional students clearly wanted, and what was luring them to the for-profit competition.
"The fact of the matter is, I thought I could serve my local kids better with an online version in a local context," Guthrie said. "I believe there are a lot of superintendents that have come to that conclusion, and I believe everyone at the (Education) department is in agreement that we want to do everything we can to give every school district in this state the opportunity to serve their kids best."
'Lets do this right'
Guthrie's initial feelings of reluctance are far from unique, said Derald Glover, assistant executive director of Oklahoma Association of School Administrators.
Local administrators have been sharing similar thoughts statewide.
"There (are) a lot of issues with virtual education, and I think they were very hesitant to step into it," Glover said. "But with a lot of kids starting to move to it — and with its growing acceptance — they decided, 'If we're going to do it, let's do it right.'"
Glover is a member of the Cooperative Council for Oklahoma School Administration, a professional association for Oklahoma school administrators.
In November 2018, CCOSA released a study identifying key concerns with Oklahoma virtual charter schools, including issues with teachers, students, finances, accreditation, governance and academic performance.
Epic, which currently is under investigation for allegedly embezzling millions of dollars and inflating enrollment numbers, was used as the example in the study.
CCOSA later released a suggested framework for a blended program designed with the highlighted concerns in mind.
"There are really no standards out there to guide virtual education, and the framework sets a standard, sets a bar," Glover said.
To help put the framework together, CCOSA also worked with districts with previous success of implementing online models.
"CCOSA is made up of school leaders. If we're not using research and building the best models for that, then we're at fault," he said.
The resulting framework, Glover said, is at least partly responsible for the uptick in expanding online curriculum.
"I think you're going to see a whole lot of schools sign on and endorse the framework as their guide."
When reached for comment, Epic provided this statement:
"More than 24,000 students and families have chosen Epic as their public school option. The laws that pertain to brick-and-mortar schools are the same laws we follow.
"CCOSA is a competitor, and whatever 'studies' they produce are written from that vantage point. They are taking shots at our program while simultaneously telling traditional schools how to implement it. Their motives are clear. … We are confident in the service we provide, and we'll continue to focus on our students."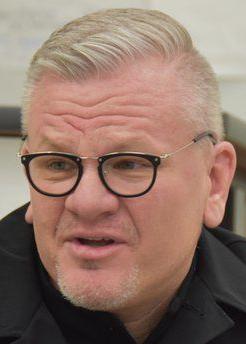 Enid's ePREP
Enid Public Schools, which launched its ePREP Online Learning Program this semester, followed CCOSA's blueprints closely.
A few of the benefits this local, public option can provide over charters include greater transparency, better teacher availability and access to more extracurricular activities, according to the district.
"One of the things that we experience with a virtual program ... is that oftentimes it feels like a treat and street," said Doug Stafford, EPS assistant superintendent of secondary education. "They get into these virtual programs, and there's not a lot of personalization, and there's minimal contact."
With brick-and-mortar sites all over town, public schools are well-equipped for blended learning. If a student gets stuck, there are consistent opportunities to go and seek out face-to-face help from a certified teacher, Stafford said.
Epic has blended learning sites in Oklahoma City, Tulsa and Midwest City, but not in less metropolitan areas like Enid.
"The thing that is really enticing a lot of parents is the support locally ... and that we are offering brick-and-mortar settings," he said.
"There's nighttime opportunities, there's weekend opportunities, there's basically around-the-clock opportunities for students to be able to get in touch and have interaction with Enid teachers."
Before any student can enroll with ePREP, a special committee comprised of teachers, administrators, school psychologists and community members must review applications. The committee determines if it's "educationally appropriate" for each student, if they have the necessary support at home and enough internal motivation to complete assignments independently.
Epic experience
Jace Clark, 17, left EPS and enrolled with Epic a little under a year ago, he said, halfway through his junior year.
"I didn't try very hard in public school if I'm honest with you," Clark said.
Clark said there were a lot of distractions in the classroom and in his life. Grades weren't looking so good, not that this was worry No. 1.
"Being around a bunch of people wasn't very good for me, I wasn't learning very well," he said. "It's hard to pay attention, especially in a room full of people being obnoxious."
A fair share of bullying and harassment added to his distractions.
So far, he's pretty pleased with Epic, he said. It's not perfect, but it's an improvement.
He's an A and B student now, with a tendency to get ahead in his classes. Once a week, he meets with a teacher at the library, and they go over whatever problems are tripping him up, he said. Once a week works for him.
'A philosophical change'
Union Public Schools in Tulsa has offered a blended curriculum for eight years. Starting this semester, it's making a fully virtual experience available for the first time.
"We have all been watching these for-profit, online virtual schools in our state just proliferate, and we are losing kids in our district who are enrolling in these ventures," Superintendent Kirt Hartzler said.
A lot of those kids come back, he said, and play catch up once they're back in the fold.
"We felt like we could offer a very robust and more effective virtual experience for our own kids in Union," he said.
With all the online infrastructure and experience Union already had, it made sense to go a step further, he said, "to continue to be relevant and to serve the needs of our community."
Like EPS, Union is touting extracurriculars and leaving them open to all students, new age or orthodox.
"For the first time in my 34 year in the district, we decided to make a philosophical change," Hartzler said of the decision.
As education advances and new trends develop, schools should evolve to fit, he said.
"We exist to serve, period."
"If that means we have to change our schedule and change the things that we sometimes do because of convenience," he said, "then we need to do that to meet the needs of our students."