ENID, Okla. — Northwest Oklahoma is known for wide-open skies that occasionally explode in a seemingly impossible riot of colors in the early morning or at day's end.
Those skies, and their many chromatic moods, have inspired a young Enid artist, Catherine Freshley.
Her paintings — rendered in acrylic on either canvas or wood — reflect the texture and color of the landscape in and around Enid.
"I found the people in Oklahoma to be really kind and really excited about my art," Freshley said. "I think my paintings feel like home to them and they're fresh and a different perspective than traditional western art."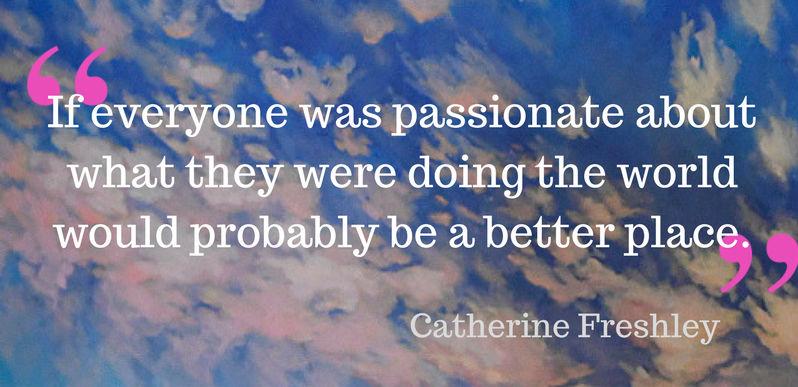 Freshley's work includes original and custom works, prints and greeting cards. She markets her art on her website, catherinefreshleyart.com and at events such as the annual Festival of the Arts in downtown Oklahoma City.
The Portland, Ore., native's love of art is lifelong. As a child she constantly drew or doodled, "on all of my notes in class, hopefully not on too many of my homework assignments," she said. When she was small she even cleaned out her bedroom closet and turned it into her art studio.
"That probably lasted one day," she said.
Her childhood dream was to be a fashion designer, but she majored in economics at Tulane University after spending a semester at the University of Oregon while the New Orleans school rebuilt in the aftermath of Hurricane Katrina.
She took only one painting class in college, but she credits it for her being a painter today. After graduation she worked for an ad agency in New Orleans, continuing to work for the firm remotely while moving with her husband, Tom Leineweber, because of his job, which brought the couple to Enid. Meanwhile she was pursuing her passion for art on nights and weekends, stretching her — and her relationship with her husband — thin.
In March 2016 she quit her full-time advertising job to paint nearly full time while still doing occasional freelance advertising work.
"It's been really great," Freshley said. "I've been a lot happier, I've been able to replace my income, and I really like the freedom this affords me."
As a member of the millennial generation, she worried people would think she had some sort of entitlement attitude when she began to pursue her dream.
"If you have some sort of passion that you can make money from, there's no reason to not go after it," she said. "If everyone was passionate about what they were doing the world would probably be a better place."
Her muse is the fields and and skies of Northwest Oklahoma. When she sees a scene she wants to paint, she first takes a photograph, then works from that.
"I don't have any photography skills at all, so my photo never does the scene justice," she said. "But if I've been there myself and I also have the mental image, I'm able to combine my memory of being there there — the visual memory as well as other senses — combine that with the photograph."
She paints familiar fields, pastures and roads, but portrays them in unfamiliar ways.
"I've had a lot of people tell me that my paintings make them realize how beautiful their everyday experience is," Freshley said. "Or they'll spend more time looking up at the clouds and not taking them for granted. To me that's something really special and a powerful impact of my work. That's what I'm trying to do, is document how spectacular our everyday scenes are."
She says the scenes of Northwest Oklahoma move her more than well-known landmarks like the Grand Canyon or the Rocky Mountains.
"To me just the everyday beauty is something worth capturing," she said.
Freshley is not interested in producing works that are photo-realistic.
"If they can connect to my painting because it brings back a memory or it feels like a place that they've been, that's what I'm trying to do," she said. "They can add their own memory and their own meaning to the painting and make it theirs."