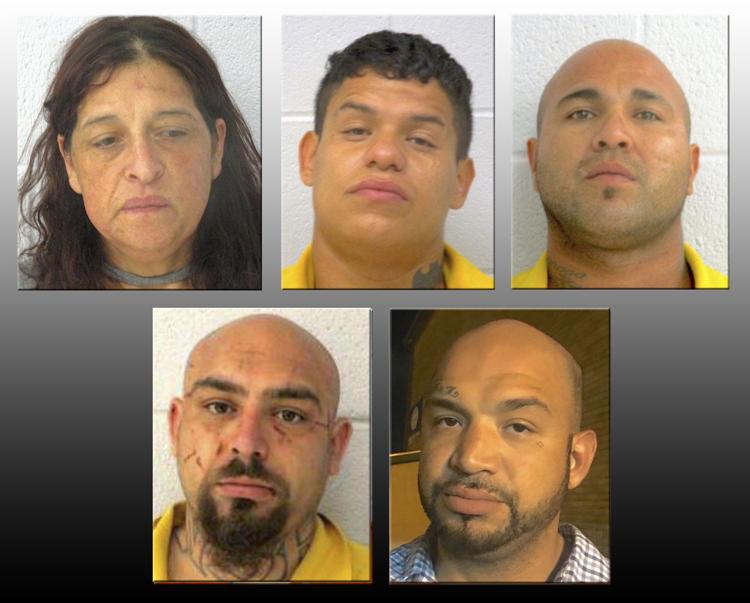 ENID, Okla. — Testimony continued Tuesday in a preliminary hearing for five people charged with first-degree murder and conspiracy in the Sept. 11, 2019, home invasion and attack of a 41-year-old Enid woman that ultimately resulted in her death.
Luis Octavio Macias, 27; Eva Meraz-Corral, 48; Leoncio Hernandez, 34; Cory Mike Sanchez, 31; and Michael Anthony Huerta, 28; each face a charge of first-degree murder and conspiracy in the death of Diana Baez. Special District Judge Brian Lovell is presiding over the hearing, the purpose of which is not to determine guilt or innocence but to determine if enough evidence exists for the cases to continue.
Assistant District Attorney Tallena Hart called Princely Rentaria, who was dating Macias in September 2019.
Hart asked Rentaria about an interview she had with the FBI. Rentaria said she was at a party at 359 E. Birch when three of the accused came into the home and began removing their clothing the night of Baez's attack.
"I told them I see these guys rush into the house, run into the kitchen and all their clothes off and put them into a bag," she said. Rentaria said the three also sprayed Lysol on the clothes and their bodies.
Hart asked the 20-year-old who the three men were. Rentaria said it was Macias, Sanchez and a man she knew as "Turtle," whom she identified as Huerta.
She said the men put their clothing into a trash bag, but she did not know what happened to the bag of clothing afterward.
She said she saw a black sock, belonging to Macias, with blood on it placed into the bag.
Huerta's attorney, Albert J. Hoch Jr., asked Rentaria about her use of methamphetamine and marijuana. She said she was using both around the time of the incident. She said she was smoking meth, "Pretty much on a daily basis."
Hoch asked her how many times she'd seen Huerta at the residence on East Birch. Rentaria said she'd seen him there for two weeks straight.
Sanchez's attorney, Andrew Casey, asked Rentaria if she told the FBI she was selling methamphetamine. She said she told them she was using meth but did not tell them she was selling it.
He asked Rentaria about a statement she attributed to Sanchez but could not remember on direct examination. She said it was made on the porch of the residence on East Birch.
"'It went too far,' or something like that," Rentaria said.
Casey asked if she was scared when speaking with the FBI and she said she was. He asked her if she was under the influence of methamphetamine at the time.
"Yeah," she said.
Hart asked Rentaria if she was scared of the FBI agents. Rentaria said no.
"Did you tell the FBI the truth?" Hart asked. "Yes," Rentaria said.
Assistant District Attorney Sean Hill called Blaine Coleman, who is facing child neglect charges and is in treatment for drug rehabilitation at an out-of-county facility on a recognizance bond.
Hill asked Coleman who was at 359 E. Birch during a party the night before Baez was attacked. He said Hernandez, Macias, Sanchez, Allan Sangret, his wife Lindsey Nash and himself.
He said during the party, Hernandez gave Sangret his car keys and asked him to drive Macias, Huerta and Sancex over to his house. He said the four later returned to the house on Birch.
Hill asked Coleman what the demeanor of the men was.
"Hyped up," Coleman said. "They were all high. Antsy. They started stripping off their clothes."
Coleman said the men put their clothes into a trash sack in the kitchen where they stripped. He said Macias, Huerta, Snachez and his wife were in the room and he could smell bleach. He said Macias and Huerta took the bag of clothes outside and put them in the back of a pickup.
Coleman said after the party he received a call from Hernandez calling back over to the house on Birch for a "family meeting."
"He told us she died of her injuries," Coleman said. "He said if anyone said anything he would kill him."
Hill asked who made the statement and Coleman said it was Hernandez.
On cross examination, Hoch questioned Coleman about his charges and if he had a deal with the state in his pending case. Hoch asked specifically if he was promised a lenient sentence.
"There's always hope," Coleman said.
Hoch asked Coleman about his drug usage and how long he'd been using methamphetamine. Coleman said he's used meth for 30 years and was currently 43 years old.
Casey asked Coleman if he sold meth, and Coleman said he did to support his own habit.
Casey asked Coleman about his first interview with police, if he was high during the questioning. Coleman said he was.
Casey asked Coleman if he was high during the "family meeting" he'd previously testified to. "I was high all day long, sir," Coleman.
Merez-Corral's attorney, Sammy Duncan, asked Coleman if he knew her client. He said he did not. She asked if Merez-Corral was present at the party, and Coleman said she was not there.
Assistant District Attorney Jimmy Bunn called Allen Scott Sangret Jr., also known as "Scotty."
The 29-year-old, who was in custody of Garfield County, said he attended the party on Birch Sept. 10, 2019.
He identified Hernandez, Macias, Sanchez and Huerta, saying each were at the party on Birch.
Sangret said at the request of Hernandez, he drove Macias, Sanchez and Huerta to Herdnandez's house. He said he later was asked to go pick the men up.
"It was kind of sketchy," Sangret said. He said the men go into the car and told him to "Go, go, go. The cops are coming." He said the men looked like they'd just gotten into a fight.
Bunn asked Sangret if he noticed anything else about the men when they got into the car.
"You could smell blood," Sangret said. He said Sanchez had blood on his cheek and hands and Macias had blood on his shirt, pants and hands.
Sangret said Sanchez asked Macias in the car if he'd gotten pictures. He also said Macias had a pair of pliers in one hand and a cellphone in the other.
Sangret said when they returned to 359 E. Birch, the three began undressing and changing their clothes.
"When he came in, he (Macias) handed the phone to Leo," he said. Sangret also said he heard Huerta say, "It's done, bro."
Bunn asked Sangret if at some point after that night he fled the state of Oklahoma. Sangret said he did after he spoke with the FBI and an agent said his life was in danger.
Sangret said he went to Montana, where he was arrested on an outstanding warrant from Garfield County. He said he was testify Tuesday under a "proffer agreement" with prosecutors.
Hoch questioned Sangret about his reasons for testifying Tuesday, asking if he was only doing so to avoid trouble for himself.
Sangret said he intended to return to Oklahoma to testify, regardless.
"My interest is for justice for that lady killed in front of her kids," he said. Hoch told Sangret his reason for testifying was to avoiding returning to the Department of Corrections.
"I've got the hope the truth will set me free," Sangret said.
Casey questioned Sangret about the party on Birch when Sangret said he'd been injecting bath salts that night, after testifying did not use drugs because of the job he held.
The hearing resumes at 9 a.m. Wednesday.