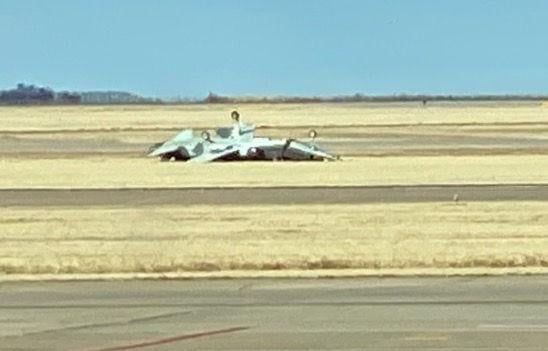 VANCE AIR FORCE BASE, Okla. — An Air Force safety investigation is underway and flight operations are temporarily halted at Vance Air Force Base, after a Thursday, Nov. 21, 2019, mishap claimed the lives of two airmen in one aircraft and left two airmen in a second aircraft uninjured.
The mishap involved two Air Force T-38 Talons at approximately 9:10 a.m. Thursday. One aircraft landed inverted. The second T-38 was able to land, and the two airmen on that aircraft were not injured, Vance public affairs stated Thursday afternoon.
"At the time of the accident, the aircraft were performing a routine training mission," according to a Vance Facebook announcement after the accident. "There were two people onboard each aircraft."
Col. Corey Simmons, commander of the 71st Flying Training Wing at Vance, said during a Thursday afternoon press conference the two aircraft were on a formation training flight and were in the landing phase of the mission when the mishap occurred.
Simmons declined to name the two airmen who died in the mishap, citing the need for families to be notified and "give them time to process what happened." The public affairs office at Vance said Air Force protocol dictates 24 hours after next-of-kin are notified before names are released.
Simmons also declined to answer questions about specifics of the mishap, deferring to the Air Force mishap investigation already underway.
"These things take time," Simmons said, "and I'm not going to guess at what happened."
Yesterday, the lives of two airmen were cut tragically short in a training mishap at Vance Air Force Base. Team Vance and this community will forever be impacted by that tragedy.
Simmons said the bodies of both dead airmen had been recovered prior to the Thursday afternoon press conference.
All flight operations were shut down after the mishap Thursday. Simmons said there most likely would be no flight operations Friday, and he would make a decision over the weekend about when training flights will resume.
"For me, it's all about the integrity of the safety investigation," Simmons said.
In the wake of the accident and two deaths, Simmons said his leadership team is working to help Vance airmen through the grieving process.
"This doesn't happen often," Simmons said. "There's no textbook on how to handle this, so we will do our best to be fantastic human beings to each other, and just put our arms around our airmen."
Lt. Col. Randy Sellers, wing chaplain at Vance, said the base was working Thursday with community agencies in Enid to help with the emotional and spiritual trauma of the day, "to help people walk through this, and to walk through this together."
"Our family, and our team here at Vance is grieving," Sellers said. 
Sellers said members of the community can assist Team Vance by keeping the airmen in their prayers.
"We cherish your thoughts and your prayers, in these days and in the days ahead, especially for the families of the deceased," Sellers said.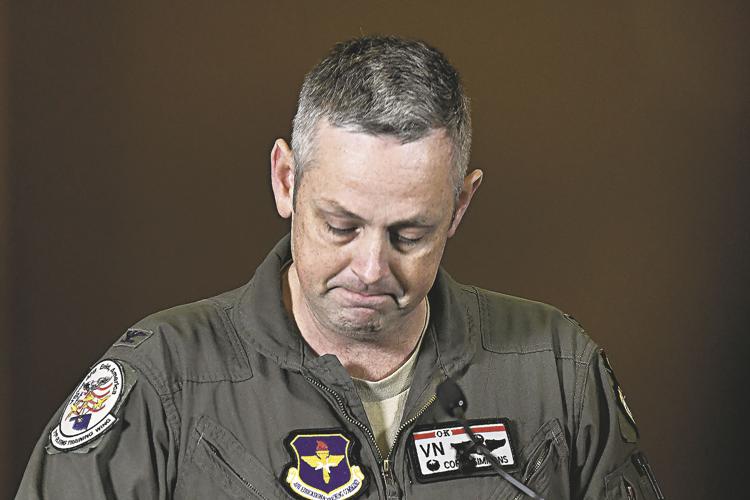 Simmons said Thursday he stands by the safety record at Vance, which hadn't suffered a training death since 2000. The base flies about 225 missions per day, and its runways see 800-1,000 landings per day, Simmons said.
The last Class A mishap involving an aircraft from Vance Air Force Base was on Aug. 17, 2018, when an instructor pilot was forced to eject near the Mutual and Chester area, about 50 miles west of Vance. A Class A mishap involves loss of life or loss of an aircraft.
The instructor pilot was the only person on board and was performing a training mission before ejecting, according to a Vance press release. He was not seriously injured and was evaluated by Air Force medical personnel.
Prior to that accident, the 71st Flying Training Wing had set a safety record in the Air Education and Training Command for not having a Class A mishap since Sept. 8, 2000.
In the 2000 incident, Ensign Kristopher Krohne, 24, of San Diego, a Navy Reserve pilot, was killed during a student training flight at Vance Air Force Base. The T-37 jet Krohne was flying crashed in a field a mile north of a Vance runway.
The T-38 Talon is a "twin-engine, high-altitude, supersonic jet trainer used in a variety of roles because of its design, economy of operations, ease of maintenance, high performance and exceptional safety record," according to an Air Force fact sheet.
The Talon is used by Air Education and Training Command for specialized undergraduate pilot and pilot instructor training, according to the Air Force. Student pilots at Vance have flown T-38's since December 1963. Students in the fighter/bomber track fly the Talon.
The Air Force has ordered a replacement for the aging T-38, the T-7A Red Hawk, set to replace the T-38C starting in 2023.