ENID, Okla. — Almost a half century ago, two young men from Northwest Oklahoma enlisted in the U.S. Navy to see the world and to serve their country in Vietnam.
Jerry Tindel, of Ponca City, and Bob Roberts, of Enid, didn't know each other, and in more than two years of serving aboard the same ship. They never met.
Yates said he's hopeful Blue Water Navy Veterans can educate the public and Congress about both Agent Orange exposure and the amount of money being spent in Vietnam.
Now, 50 years later, the two men have enlisted in a new fight — the fight to win medical benefits from the Department of Veterans Affairs (VA) for their former shipmates, men they feel were exposed to the long-term health effects of Agent Orange in ships' drinking water.
Tindel and Roberts are part of a loosely affiliated group of as many as 90,000 veterans known as Blue Water Navy Veterans, sailors who served aboard ocean-going warships in Vietnam.
Background of Agent Orange
During a 10-year period of the Vietnam war, from 1961 to 1971, U.S. forces sprayed approximately 20 million gallons of herbicides over Vietnam, Cambodia and Laos. 
The most common herbicide was known as Agent Orange, and it contained the chemical dioxin, which would later be discovered to cause a wide variety of cancers, heart disease, Parkinson's disease, neuropathy and Type-2 diabetes.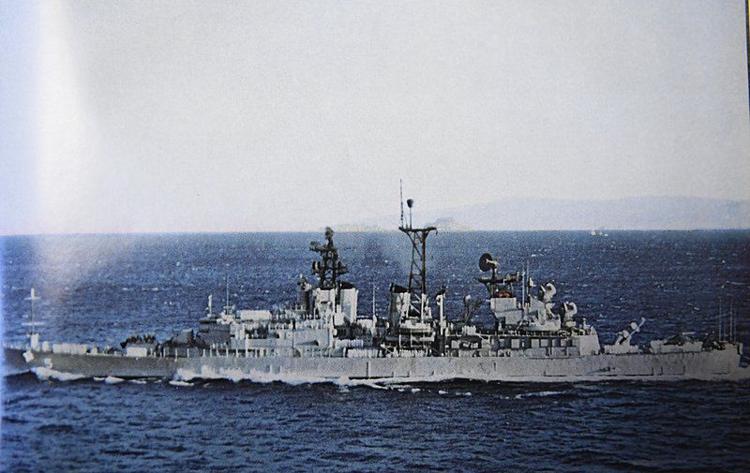 Congress passed the Agent Orange Act of 1991 to provide medical coverage through the VA for veterans exposed to Agent Orange.
Blue Water Navy sailors, like their counterparts who served ashore and in riverine operations, were covered under the Agent Orange Act of 1991, and were presumed to have been exposed to dioxin while serving aboard ships.
That coverage was effectively stripped for Blue Water Navy sailors in 2002, when the VA changed its rules for determining a service connection to illnesses related to Agent Orange exposure. 
After the 2002 change, Blue Water Navy sailors would have to prove they had been exposed to Agent Orange, rather than having the previous presumption of service-related dioxin exposure.
Proving that exposure aboard ship is not feasible, since the Navy did not measure dioxin levels in onboard drinking water or on surfaces, meaning sailors have to prove they had "boots on the ground" or have served in inland waterways in Vietnam in order to be eligible for the same coverage afforded veterans who served ashore.
Tindel, Roberts and other Blue Water Navy Veterans argue that requirement means a decision over whether or not to provide benefits can hinge on something as arbitrary as whether or not a sailor played in a softball tournament, or rode in a bus to the airport.
A tale of two sailors
Tindel joined the Navy in January 1967, and after completing boot camp in San Diego, he received his first assignment as a radioman.
The native of Ponca City thought he was returning home when he heard the assignment.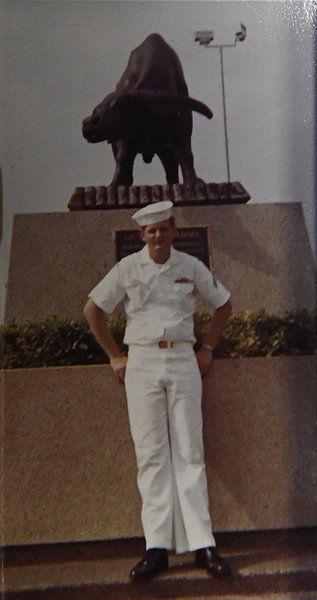 "This Chief Petty Officer said, 'Well son, you're going to Oklahoma City,' and I got a big smile across my face and I thought, 'Oh great, I'm going back home,'" Tindel said.
It turned out the Chief meant the USS Oklahoma City, a Cleveland-class light cruiser then serving as the flagship for naval operations in Vietnam.
Tindel reported aboard the Oklahoma City in June 1968, and remained assigned to the ship until January 1971.
Roberts arrived on the Oklahoma City six months after Tindel, and served as a deck seaman on the ship from December 1968 to December 1971.
During the time the men served on the Oklahoma City it frequently performed naval gunfire support, firing on enemy positions from relatively close to shore, and routinely anchored in Da Nang harbor for gunfire operations and to resupply.
"Many of the times when we came out for gunfire support we were in Da Nang harbor," Tindel said. "We were there a lot."
Roberts estimated the ship spent five to seven days out of every month in Da Nang harbor while the ship was conducting combat operations.
But, the line between service members who are covered for exposure to Agent Orange and those who are not remains firm for the VA: sailors aboard ship are not covered, while those who set foot on the pier, a short distance away, are covered.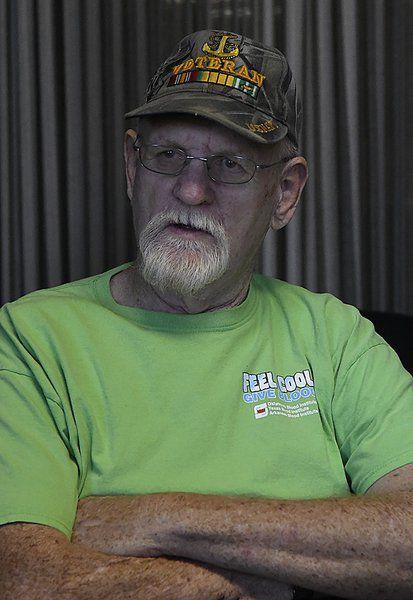 Tindel, who now suffers from coronary artery disease, Type 2 diabetes, neuropathy and coronary vascular disease, is covered by the VA under the presumption of service-related exposure to Agent Orange for one simple reason: He was on the ship's softball team.
The Oklahoma City's softball team was invited to play in a tournament in 1969, which would have required the team to fly out of Da Nang Air Base to Japan.
"We pulled into Da Nang Harbor, and a landing craft came and picked up the softball team and took us ashore," Tindel said. 
Tindel and his teammates spent two days waiting for a flight, then returned to the ship without ever making the tournament.
Almost 50 years later, when Tindel started suffering from illnesses related to dioxin exposure, it took him five years and four claims to win coverage from the VA. He said it was those two days waiting at the Da Nang Air Base that won his appeal.
Roberts and their other shipmates who remained aboard the Oklahoma City, anchored nearby in Da Nang harbor, are not covered.
Roberts said he is not showing any symptoms of diseases related to Agent Orange, but he said there's no reason to make distinctions between sailors based on whether or not they went ashore.
"They say one guy's not covered because he was on the ship, and another guy is just because he went ashore at the dock, or rode to the airport ... that guy's no more exposed than he already was on the ship," Roberts said. "It's like being exposed to anything that causes cancer; we might both be exposed to something that causes cancer, and you might get it, and I might not."
Roberts said he feels compelled to fight for his shipmates, even if he never suffers from a dioxin-related illness.
"We all served together," Roberts said. "We were shipmates. We have to look out for each other."
Can't prove they were; can't prove they weren't
The fight since 2002 over whether or not to fully cover Blue Water Navy Veterans for dioxin-related illnesses has hinged on the ability, or inability, to prove sailors were exposed to Agent Orange while aboard their ships.
The VA has long argued there is insufficient evidence to show sailors were exposed to dioxin, unless they went ashore, maintaining "boots on the ground" as the criteria for a presumption of service-related exposure.
Blue Water Navy advocates, on the other hand, point to an Australian study that supports their assertion that dioxin-contaminated potable water was used aboard the ships.
That study, commissioned by the Australian VA, found that a distillation process used to create drinking water from seawater concentrated dioxin that had run off the shore into the seawater. The Australian VA subsequently determined to provide equal coverage for Agent Orange exposure to both ground and shipboard veterans.
The National Academies of Science Institute of Medicine (IOM) attempted to recreate the findings of the Australian study, and found in 2011 it could not be determined whether U.S. sailors were, or were not exposed to dioxin in their drinking water.
In their report the IOM committee stated their "assessment corroborates the Australian finding that in experiments simulating the water-distillation system used on Navy ships the system had the potential to enrich TCDD (dioxin) concentrations from the feed water to the distilled potable water.
"However," the report continued, "without information on the TCDD concentrations in the marine feed water, it is impossible to determine whether Blue Water Navy personnel were exposed to Agent Orange–associated TCDD via ingestion, dermal contact, or inhalation of potable water.
"The committee was unable to state with certainty that Blue Water Navy personnel were or were not exposed to Agent Orange and its associated TCDD," the IOM report concluded.
Blue Water Navy Veterans also point to water taken from shore facilities while in port as a possible source of dioxin exposure.
According to U.S. Navy records, in the month of July 1967 alone the port of Da Nang saw 134 port visits by U.S. Navy ships, which took on three million gallons of potable water from shore facilities.
The shore facility water was collected, treated and stored ashore — where servicemen are presumed to have been exposed to Agent Orange — but was not tested for dioxin levels before being supplied to the ships.
Unequal treatment
Tindel said he's thankful he has won full coverage for his illnesses because of his two-day visit to the Da Nang Air Base. However, he said, his shipmates who remained aboard are receiving unequal treatment, even though the Australian study shows they likely were exposed to dioxin.
"The evaporators on those ships were sucking that stuff in from the harbors, we were bathing in that stuff and eating food processed in it," Tindel said. "We have as many illnesses as, if not more than, some of the guys who were serving inland."
Roberts maintains a positive view of his time in the Navy.
"I saw countries I'd never see the rest of my lifetime," Roberts said. "For a little old country guy like me, I'd have never seen those countries otherwise."
However, he has a dimmer view of the way his country has treated his shipmates since the war.
"It's not good," Roberts said. "We should all be treated the same."