"Say his name: George Floyd!"
"Say his name: Ahmaud Arbery!"
"Say his name: Trayvon Martin!"
"Say his name: Michael Brown!"
"Say her name: Breonna Taylor!"
"Say his name: Anthony Huff!"
"No justice!" "No peace!"
"United we stand!" "United we fall!"
ENID, Okla. — When Mya Roberts joined other protesters outside the Enid city administration building in chanting the names of the African Americans killed by police, she felt a sense of unity.
Roberts said she hadn't felt that unity since moving to Enid six years ago from South Los Angeles.
"I felt like we were together. I felt like we were as one," she said. "I've never really seen that happen."
She only hopes it stays that way.
Covering today's demonstration in front of the @CityofEnid city admin building.

Lots of call-response chants of "I can't breathe/Let me live," "say his name/George Floyd," etc. pic.twitter.com/taRnGKher4

— Bald Ewald (@okayalexewald) June 7, 2020
Since protests began a month ago in Enid in the wake of the death of George Floyd, both online and at in-person demonstrations and city forums, those in leadership positions in Enid's Black community believe unity both within and outside of the community is necessary to effect significant local change.
Enid's protests, four so far, have remained entirely nonviolent: Demonstrators have chanted call-and-responses, marched to downtown and listened to speakers from the public and city leadership. Several have taken place at Government Springs Park, as well as outside of the city administration building, at 421 W. Garriott.
Shawnta Solo­mon planned the latest rally held in Enid at Government Springs. Solomon and five others manage the Oklahoma Black Lives Matter Facebook group.
She created it about a month ago after her girlfriend, Angela, started a group chat with family and friends about the recent events, and Solomon said she decided to take it a step further and start the group.
The group now has over 2,000 members and sees dozens of posts daily.
Solomon said she, too, thinks members of the BLM movement need to find a common goal that can be worked toward.
"I wish (racism) would end, but if nothing else, we can assist in the attempts to slow the spread and maybe change some hearts and minds that no matter what the color of our skin or the history of our backgrounds, we can still stand together in unity," she said.
Other leaders of Enid's Black community, such as NAACP President Lanita Norwood, also have had and plan to hold more meetings with city officials, including O'Rourke, District Attorney Mike Fields, Garfield County Sheriff Jody Helm and jail administrator Ben Crooks.
The NAACP, the oldest activist group in the U.S., meets the third Friday of every month and welcomes new members of any race.
"We're still taking baby steps forward, but now it's time for us to start leaping forward," Norwood said, "so that we can come together as we get up and say all the time, 'I pledge allegiance to the flag of the United — we're one ­­­— States of America.'"
'People want justice'
Three Black women in the San Francisco Bay Area began the grassroots Black Lives Matter movement online with the hashtag #BlackLivesMatter in 2012 when George Zimmerman, a white neighborhood watch coordinator, was acquitted of killing Trayvon Martin, a Black high schooler. Its first in-person protests began in Ferguson, Mo., in the aftermath of the killing of Michael Brown in 2014.
But the May 25, 2020, police killing of George Floyd in Minneapolis reignited national and global attention to police brutality and other targeted racial injustices against African Americans.
Police violence is the leading cause of death for young men in the United States, according to a study by the National Academy of Sciences, and 1 in 1,000 Black men will be killed by police — 2.5 times more likely than white men.
Within days, tensions spilled over into protest rallies with police forces at times taking initial, violent action against demonstrators, who have recorded and posted such videos onto Twitter with the #BLM hashtag. Some protesters have retaliated by attacking police vehicles and surrounding property.
BLM uses a community-based, online-centric leadership, the first activist group to do so, unlike those of the past civil rights movements in the 1950s and '60s, which centered on "a charismatic male leader" heading an institution like Martin Luther King Jr. or Malcolm X, Northeastern University professor Sarah Jackson told Politico in 2014.
While outcry began over the extrajudicial killings, attentions have branched out to other areas of racial injustice besides police brutality.
Protests have continued in cities, despite less media coverage, as some focus on the removal of Confederate statues, others on calls to defund or eliminate city police departments, on voting rights injustices during primary elections, or on more recent police custody deaths like that of Elijah McClain in Aurora, Colo.
While protests took place this weekend in Tulsa, Oklahoma City, Owasso and Stillwater, none were held in Enid.
"I think other issues have sprouted regarding injustice and community involvement because people want justice, they want change and they want to live as free as America is supposed to be," Solomon said. 
Inaccurate data
Enid has seen more public comment and interaction than in recent years, Enid City Manager Jerald Gilbert said.
"We invite that to the next meeting and the next one and really forever," Gilbert said.
Milton Mitchell, a retired businessman and associate pastor who ran for mayor of Enid in 2019, spoke at a June 2 City Commission meeting of his innate fear of something going wrong during a traffic stop. His was one of 20 names listed on the docket for that night's public comment.
"Every time I get in my car, I am extremely conscious of where I am and what I'm doing. But I am always concerned that I am going to be pulled over for absolutely no reason whatsoever," Mitchell said.
From Nov. 1, 2018, to Oct. 7, 2019, 13.9% of known race contacts made from traffic stops were Black, Enid Police Chief Brian O'Rourke told the local chapter of the NAACP at a 2019 meeting.
During June 2's public comment, Enid NAACP secretary Maria Eaves called the tentative figure a "very clear overrepresentation" of Enid's estimated 4.8% Black population, 9% lower than the national average in 2019.
However, that 13.9% comes from the known data of stop contacts, while racial data for almost half of the total 1,998 people contacted during a traffic stop were recorded as "unknown," Eaves said.
Police in Oklahoma are not required to keep record of a contacted person's race or ethnicity, making it difficult to determine if Enid police officers even are targeting Black people more than those of other races.
"How can we say there's a problem, or even make a statement that there's not a problem, when we don't have accurate data to demonstrate what it is we want to show?" Eaves said.
At a town hall held at Stride Bank Center later that week by the city of Enid with the NAACP, O'Rourke said he would commit to being a part of the conversation.
"I can't solve the problem alone, but I want to be a part of it," he said. "There's no room for racism in law enforcement, and there's no room for inequality, and we're here to listen."
Other panel members included Mayor George Pankonin, Norwood, City Manager Gilbert and all of the city commissioners save for Ward 6's David Mason and Ward 3's Ben Ezzell, among other local officials.
Ward 2 Commissioner Derwin Norwood Jr. told the News & Eagle that since he was appointed to the commission in 2017, Enid's third Black commissioner, his colleagues have become more comfortable having public forums.
"It's been beneficial for the council and for the public so they can feel an opportunity of being heard," he said. "Things can be improved."
'A system set up to oppress'
During that town hall, Nick Jackson, a white man, asked panel members to explain systemic racism. He then asked what his role, as a white man who doesn't believe he is racist, would be to combat this systemic racism.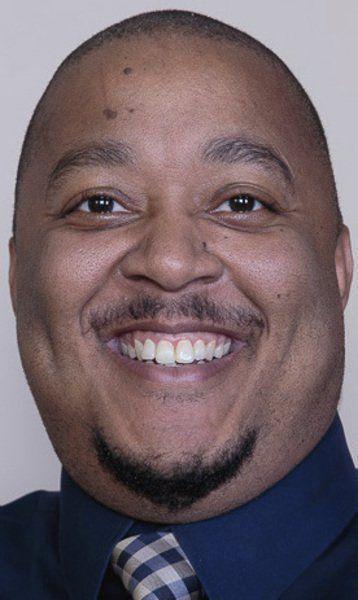 Systemic racism, simply put, is a system that is set up to oppress, Ward 4 Commissioner Jonathan Waddell answered.
Waddell, elected Enid's second Black commissioner in 2017, said systemic racism is not based on a person's individual beliefs, unlike more overt racism such as hate speech or hate crimes.
In the 1970s, post-segregation and post-Civil Rights Acts, Waddell explained, people in power designed a system called "redlining," in which red squares or circles were drawn in county areas that minorities were allowed to exist. Decision-makers such as banks and legislators then determined those areas wouldn't get funding or equal representation in their political process.
Consequently, a cyclical domino effect began to take shape in American cities, including Enid itself, Waddell explained through a series of steps: Banks will avoid lending mortgage and business loans in redlined areas; people's properties' values in those areas will go down and be undervalued; the city's lowered property tax collections will inadequately fund area public schools, public works and community programs; a young Black person's education and quality of life will then be hindered, then leave them likely unable to attend college and begin a well-paying, prestigious occupation; they will be unable to afford basic health care or support a family. 
Thus, plans to "get rich quick" lead to a life of crime that sees more economically disadvantaged minorities and white people alike fall into the prison system, where they are likely to be ignored, mistreated and abused by law enforcement, Waddell said.
"You need finance, you need education and you need opportunity. Now just in that one system we talked about right there, all three of those things have been affected," Waddell said. "So over a period of time, those areas become what you consider today 'the hood' and 'the ghetto.'"
The cycle then begins anew as cities, like Enid, focus both economic and sociocultural development efforts in less costly, newer areas of town.
"This systemic racism that we're talking about isn't something that we're talking about 50, 60, 70 years ago. We're talking about systemic practices that still affect American communities to this day. That's systemic racism," Waddell said.
Meetings in place
As far as what Jackson could do, as a white man wanting to help, Waddell again fielded the question, answering, "When you identify something is wrong in your community, your responsibility is to go to your elected official and demand change."
On July 1, Waddell will meet with Chief O'Rourke, as well as with City Attorney Carol Lahman, to discuss how to reasonably collect more contact data — like approximate age, gender and race — to be able to determine whom officers are contacting and at what frequency.
"I don't want just a policy. I want the policy in a way in which the police chief can implement it," Waddell said.
O'Rourke declined to comment on the meeting until afterward.
Commissioner Ezzell has offered Waddell and Lahman policy proposal ideas from Campaign Zero, an online nonprofit that offers data-driven policy recommendations to end violence and hold police accountable with categories such as community oversight, limiting use of force and ending broken-windows policing (the practice of policing minor crimes such as loitering and vandalism to prevent more serious ones).
"The idea is, let's take policies that have made positive impact on the communities and work with those," Ezzell said.
Negotiations of the Enid Police Department's two-year collective bargaining agreement are expected to come before the city commission next month. Disciplinary action policies are handled, however, by the Enid Civil Service Commission upon recommendation from the police chief.