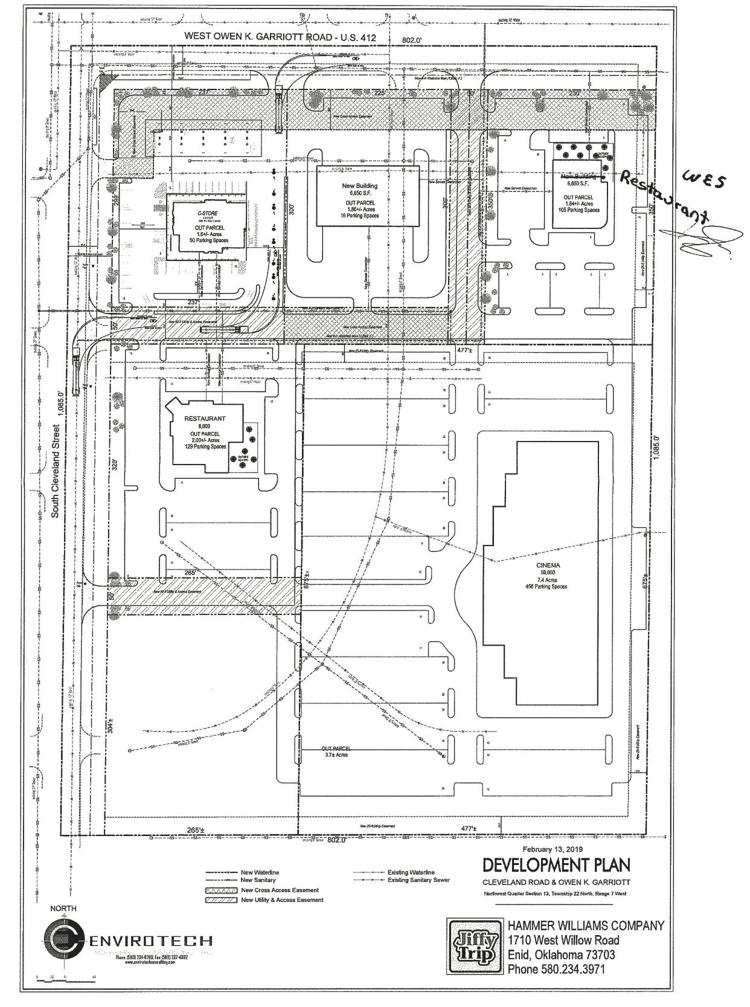 The District, Enid's new 18-acre development at Cleveland and Garriott, was for years a multimillion-dollar uncertainty.
The city's commitment to the project was clear in terms of cash and effort spent, collecting the 48 properties that made up the lot formerly called Lahoma Courts.
They hit a stumbling block with Melvin and Sonya Key, husband and wife, city employees and owners of 2305 E. Court, the only signatures the city couldn't get. Not for a lack of trying.
From a period spanning 2014 to 2019, offers were presented and declined, an attempt was made at eminent domain, lawyers got involved and Melvin Key even filed suit against the city.
That lawsuit, only recently settled, tied off a final loose end left from the last five-years of the redevelopment effort.
Eventually, the Keys did sell the property to the current developer, Anchored Capital 3 Investments, LLC, Garfield County Assessor records show. According to the records, the property was valued at around $80,000 and sold May 2, 2019, for $300,000.
The city sold the other remaining properties to Anchored Capital on June 25.
With the lawsuit settled, and all the Lahoma Courts land in hand, work on the entertainment district is finally moving forward.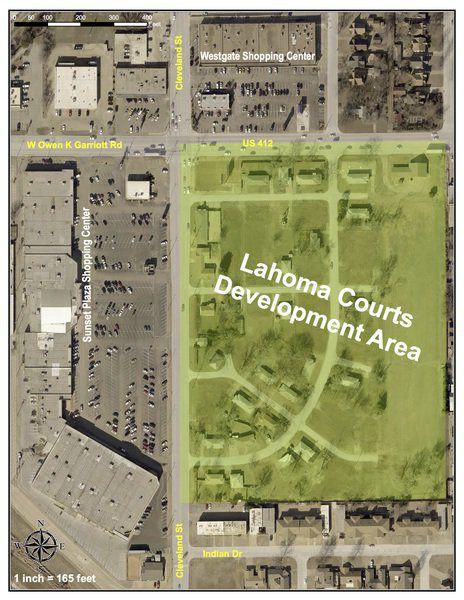 'Adverse employment action'
Melvin Key, now an ex-employee of the city, filed a lawsuit against his former employer in 2017. The suit was recently settled out of court, May 29, 2019, for $65,000.
The lawsuit alleged, among other things, "In the mid-through latter part of 2015, the city manager and other supervisory city authorities sponsored, encouraged and implemented acts of coercive and punitive investigation ... and other adverse employment action taken against (Melvin Key)."
After parting ways with Enid, Key went to work for the city of Eufaula. Sonya Key still works for the City of Enid as the director of human relations.
Regarding Melvin Key's employment with the city of Enid, the lawsuit said that he appealed a "demotion, reassignment and/or separation" but was denied "on or about" Oct. 22, 2015.
It also said, in part, "the city manager relied upon the defamatory statements of municipal employees, but refused to provide Mr. Key with a copy of said statements so that he could respond."
In a July 2019 statement to the Enid News & Eagle, Key said the alleged treatment came about because of the property at Lahoma Courts.
"The city then engaged in attempts to force the sale of the property, including taking adverse personnel action against Melvin Key which coincided with attempts to acquire the property through eminent domain," the statement said.
Since filing in 2017, neither Melvin nor Sonya Key had said the lawsuit was directly related to the ongoing situation with their property at Lahoma Courts.
City Manager Jerald Gilbert called the statement "inaccurate" and added that while the city may have settled with Key over his allegations it does not admit to any of them.
Negotiations
The very first offer for 2305 E. Court, which the Keys had owned since 2012, arrived in September 2014.
Working through Nicholas Real Estate, the city wanted to buy 2305 E. Court for $75,000, a figure higher than the fair cash value for the property around the time, according to county assessor data.
It was turned down, and another letter was sent April 2015, from then-city attorney Andrea Chism, still looking to make a deal.
"I invite you to contact me directly ... so that we can negotiate a price directly rather than through a third party," it said. "Whatever your concerns are, I am sure that we can find a way to work around them."
However, under Oklahoma municipal code, a town or city employee cannot buy, sell, or lease property to or from the municipality they work for, which the Keys have cited before as reason for not signing the property over.
Melvin Key's statement also said that in June 2015 they had offered to meet with then-developer Hunt Properties "but were advised by the city that Hunt had no interest in purchasing individual properties."
Both Sonya and Melvin Key have said the city discouraged or disallowed them from meeting with Hunt.
In 2016, Sonya Key told the News & Eagle that she'd, "offered all along to meet with Hunt Properties, but the city has not allowed me to do that."
Gilbert said the city never discouraged the Keys from meeting with Hunt or from meeting with any potential buyers.
"They had numerous opportunities (to sell). They chose not to take advantage of any of those opportunities until they finally did," Gilbert said.
Around this time is when the "adverse personnel action" began, Melvin Key said, and in September the same year a petition for condemnation was filed against their property. The city took an initial step in pursuing eminent domain.
The Keys objected to the petition in early October, court records show, but no hearing was ever called, and the case was dismissed in January 2016.
A mix-up
Prior to the dismissal, but after the condemnation petition was filed, another issue arose for the Keys.
During an Oct. 6, 2015, city commissioners meeting, 2305 E. Court was on the agenda to be sold as surplus property.
"The contract was approved by City Council, for the amount of $301. I was forced to obtain an attorney to defend my property rights," Melvin Key said.
Another address was listed with the Keys' lot, 2217-2222 C. Court, according to minutes from the meeting, the two items were paired together to be sold for $602.
City Attorney Carol Lahman said the incident was unintentional and there was a mix-up with the addresses.
"Putting it on the agenda ... was an unintentional mistake," said Lahman, who became city attorney in 2017. "They've got all of those different Courts, and we just put the wrong one down. We were intending to put one that we own, not one that we did not own."
With no ownership of the property, it could not have been sold successfully regardless, she said.
"The contract was never executed and nothing happened."
Work-arounds
By March 2016, the city had spent $3.2 million acquiring land at Lahoma Courts. It had 21 properties at the time, and another 25 owned by Westside Builders, a company registered to N.H. "Bud" Nicholas.
There were two holdouts, the Keys' property and 611 S. Cleveland, which was part residence and part barbershop.
With the city struggling to close a deal with either, Hunt Properties had been thinking about what to do if the right offer couldn't be reached.
At the time, former commissioner David Vanhooser said Hunt had a plan to "build around" them.
The development could, in theory, go forward with or without their signatures. The barbershop would be easy enough to build around, and the Keys' property would wind up in a parking lot.
Despite the backup plan, failure to close on the holdouts caused the city's agreement with Hunt to fall through.
City officials quickly went about finding a new developer and would eventually partner with Anchored Capital 3.
The city bought Westside Builder's 25 properties in February of this year for $2.1 million.
All that was left was the Keys' lot on E. Court, and Anchored Capital secured it.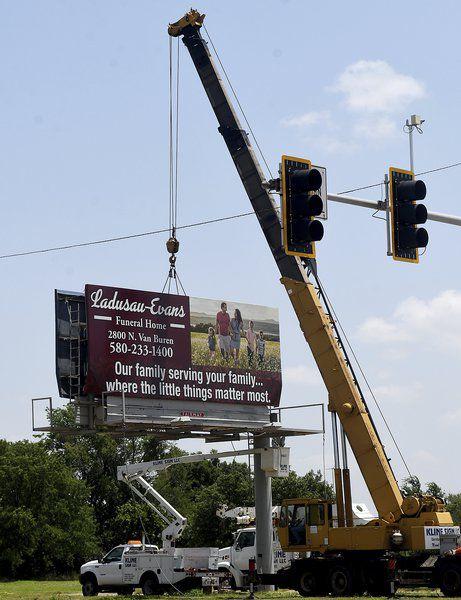 The District
Anchored Capital paid the city more than $1.35 million for the 47 properties it didn't have and, as part of the deal, is going to install more than $2 million worth of new infrastructure in the area.
Demolition is underway, and construction is still some time off, but a gas station, a steak house and a regionally renowned pizza chain are already signed on to The District. There's plenty room left for more, including a 7.4-acre lot set aside specifically for a new movie theater, should one be interested in opening.
"A community the size of Enid needs a quality theater, and I am supportive of that development," Melvin Key said.
"If there had been a choice, I would have preferred it remain affordable housing."