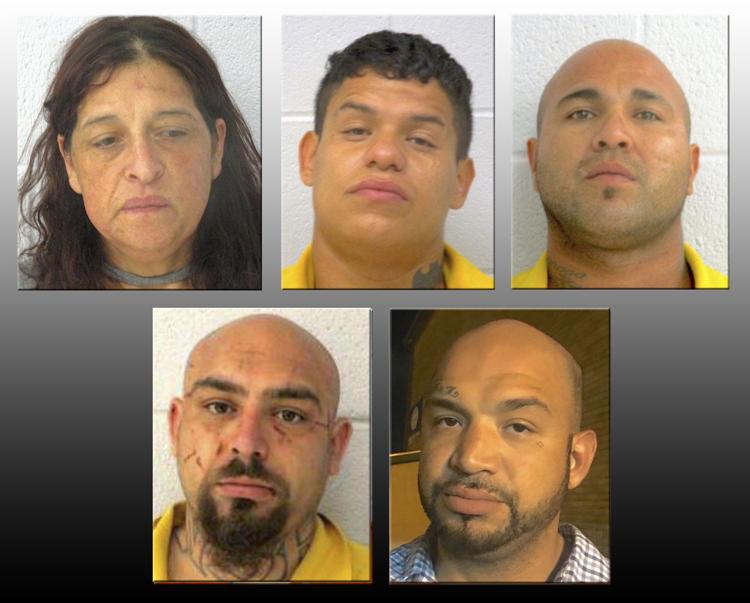 ENID, Okla. — Testimony opened Monday in a preliminary hearing for five people charged with first-degree murder and conspiracy in the Sept. 11, 2019, home invasion and attack of a 41-year-old Enid woman that ultimately resulted in her death.
Luis Octavio Macias, 27; Eva Meraz-Corral, 48; Leoncio Hernandez, 34; Cory Mike Sanchez, 31; and Michael Anthony Huerta, 28; each face a charge of first-degree murder and conspiracy in the death of Diana Baez. Special District Judge Brian Lovell is presiding over the hearing, the purpose of which is not to determine guilt or innocence but to determine if enough evidence exists for the cases to continue.
Assistant district attorneys Sean Hill, Jimmy Bunn and Tallena Hart are prosecuting the case, with Enid Police Department Sgt. Nick John and Detective Tanner Austin acting as case agents. Each of the defendants are being represented by individual counsel.
Testimony began with Hill calling EPD Officer Ryan Peavy, one of the first officers to respond to a reported assault at 413 W. Vine.
Peavy said dispatch sent officers to the address after a child called police and said someone had come into their home and assaulted their mother. He said when officers arrived, children came out the front door.
Hill asked the officer what he found inside the home.
"A female lying on the floor in a pool of blood," he said. "I remember seeing a laceration on her neck that was bleeding."
Peavy said he found a purse in the home with ID that identified the woman. He also testified he took photographs at the scene. He said some items were moved by medical personnel who attended to Baez.
On cross examination, Macias' attorney, Angela Singleton, asked how many people were in the bedroom where Baez was found. Peavy said there was three to four firemen, two medics from the ambulance and himself.
Officer Robert Fleer said about 8:30 p.m. on Sept. 18, 2019, he assisted in serving a search warrant at 359 E. Birch. Fleer said officers found bandanas and ski masks. He said officers also found a pair of jeans with a "reddish stain" along with a black ski mask. There also were narcotics found inside the residence.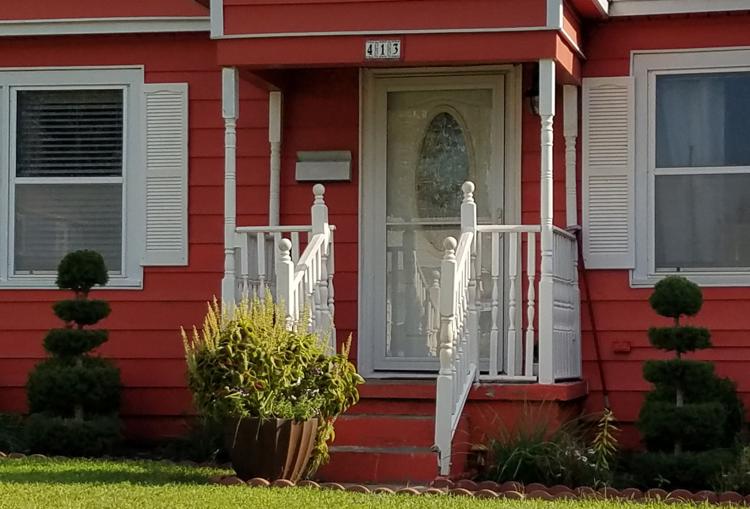 Bunn called FBI Special Agent Jorge Pereira, who conducted interviews with Hernandez and Meraz-Corral.
Pereira testified he asked Hernandez if he killed Baez, and Hernandez said he did not kill her but just passed along a message. The agent said Hernandez told him he'd received a call from Mexico, and the person on the phone told him he needed to take care of someone.
"He said that meant to 'kill someone,'" Pereira said. The agent said all Hernandez would say about the caller was his name was "Primo."
Hernandez said he met with Meraz-Corral and they spoke on three occasions.
"He said Eva (Meraz-Corral) wanted to send a message to Mrs. Baez," Pereira said.
Hernandez told Pereira he was contacted by "Chapo," an alias for Macias, and a tall guy with a tattoo over his eyebrow.
Pereira said he also interviewed Meraz-Corral, speaking Spanish because she said she understood "very little" English.
Pereira said she at first denied everything, saying people were trying to implicate her in the attack on Baez. Pereira said she then admitted to sending threatening messages to her ex-boyfriend, who was seeing Baez, saying harm would come to Baez.
Meraz-Corral said she met Hernandez at a home near 4th and Birch and talked about "sending a message" to Baez. Pereira said Meraz-Corral wanted to "dejarta mal," or "leave her bad," and wanted a tooth knocked out.
Huerta's attorney, Albert J. Hoch Jr., asked Pereira about the phrase "dejarta mal." "It doesn't mean dead?" he asked. "Not necessarily," Pereira said.
Hernandez's attorney, Thomas A. Griesedieck, asked Pereira if his client said, "I don't deal with stuff like that like," in reference to Baez. "Yes, he did say that," Pereira said.
Griesedieck asked who "Oscar" was. Pereira said he was man who lived near the Arkansas border. The agent said Hernandez would only identify hm with a partial phone number.
Pereira said Hernandez met with Merez-Corral after speaking with Primo. Hernandez passed the message along to Oscar, the message being "Take care of someone," Pereira said. He said Oscar passed the message along to Macias and Sanchez.
Pereira said Hernandez never told them to kill Baez, just to give her a beating and blacken her eyes.
Merez-Corral's attorney, Sammy Duncan, asked Pereira if her client appeared impaired by drugs or alcohol during the interview. The agent said she did not.
The agent said Merez-Corral repeatedly said she did not want Baez killed, that she only wanted to send a message.
On redirect questioning, Pereira said Hernandez was upset with what happened with Baez because she was beaten in front of her children.
Hill called Garber resident Andrew Phelps. Phelps was in the custody at the Garfield County jail on a material witness warrant.
Phelps said he was arrested in Potter County, Texas, and met with prosecutors several times before testifying Monday.
Phelps said he's known Macias for about six years and had one encounter with a man he knew as "Father," later identified as Hernandez.
Phelps said he saw Macias in Garber.
"He said he was going to burn a bloody shirt and get rid of more evidence," Phelps said Macias told him. "And he said he had to get it done or brother would be mad at him."
On cross examination, Hoch asked Phelps if he told anyone he wanted money to testify during the hearing.
Phelps said he wanted protection from the district attorney's office or money to protect himself.
Hoch asked Phelps about any deals with the prosecution he had to testifying.
"So, you're expecting something more than getting out of jail," he asked. "No," Phelps said. "At first, I was told I would not have to testify and my name wouldn't be on anything."
During questioning from Singleton, Phelps said he was scared for his life prior to contacting police.
Griesedieck asked Phelps how many times he asked about a reward for contacting Crime Stoppers with information about the attack on Baez. Phelps said he asked about it twice.
Hill asked Phelps if he's received any money from the state of Oklahoma for his testimony. Phelps said he had not. Hill then asked Phelps how much of a reward he received from Crime Stoppers. Phelps said $250.
The hearing resumes at 9 a.m. Tuesday.