ENID, Okla. — When Stephen Woods and his mother, Delores Woods, go to the kitchen in their home in the 2300 block of East Eucalyptus, they're confronted with a new sight outside their kitchen window — a composite American and Confederate flag flying over their neighbor's yard.
Stephen and Delores, who are Black, see the flag as a threat, a symbol of hate and a white man's wish to go back to an era when they were enslaved, denied basic rights, hunted and lynched.
Their longtime next-door neighbor, Jake Skaggs, who is white, said he raised the flag last Monday after NASCAR banned Confederate flags at all its facilities.
The neighbors are embroiled in a microcosm of America's current struggle over Confederate monuments and symbols, and what America wants to, or should, glorify about its past.
Skaggs said he chose a banner that is half American flag, half Confederate flag, because he wants to honor both. The flag does not represent racism or slavery, he said, but rather history.
"I'm not flying that flag for racism or to be hateful," Skaggs said. "I'm flying it because it's part of my history, and they're trying to take part of our history away."
Skaggs said his great-great-grand­father "fought for that flag," referring to fighting for the Confederacy.
"Why didn't we leave well-enough alone?" Skaggs said. "History is history."
Delores and Stephen agree the Confederate flag has historic significance. But they have a different understanding of what that history means for them.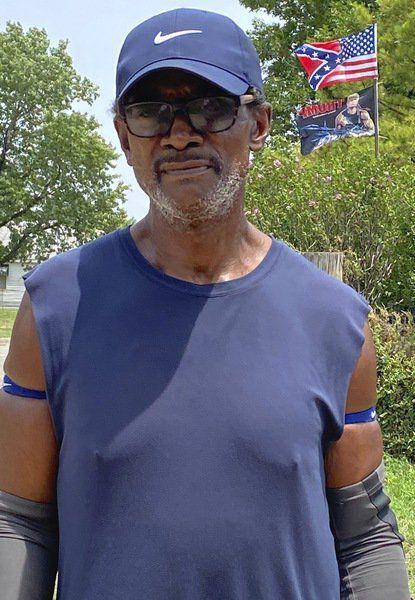 The Woods family came to Enid first in 1955, when Delores' late husband, Lee Woods, was stationed at Vance Air Force Base. They returned in 1972 when Lee retired after 25 years in the Air Force.
Delores was born and raised in Vicksburg, Miss., in the 1930s and 1940s. She grew up under the threat of lynching, white violence and segregation. Looking at the Confederate flag, she needed only one word to define what it means to her: "Hate."
She said the Confederate flag is inextricably linked to slavery, Jim Crow, lynchings and repression of Black Americans, up to today.
"It means he wants you to see him as an American," Delores said of her neighbor, "but he also wants you to see him as being of the Old South, which is against all people of color."
Stephen said the flag is "demoralizing to Black men," and calls for a return to times when Black Americans were treated as property.
"The Old South wasn't anything but slavery — and that's what that flag means," Stephen said. "When white men say they want to be free, and that's their heritage, they mean they want to be able to kill Black men and rape Black women, and then go back to their white families."
While white America struggles to determine how it will view and deal with Confederate monuments and symbols, Stephen said Black Americans don't need any history lessons on the matter.
"Our parents and our grandparents already knew what the Confederate flag means," Stephen said. "When I see that flying next to my yard, it's not like I have to see it on TV to know what it means."
Skaggs said he doesn't see racism and white violence against Black Americans when he looks at the Confederate flag.
"If you look it up on the internet, yeah, there's several deals about racism, but if you look at the real history, it was about the Civil War," Skaggs said. "A lot of people in the South took the flag in the wrong direction, but I can't do anything about that.
"I'm not flying mine because of that — because of race," Skaggs said. "I'm flying mine because of respect for the people of the South. There's no racism here — none whatsoever."
Delores, who remembers the Confederate flag being flown by those enforcing Jim Crow, and those opposing the Civil Rights Movement, said she can't see the flag flying next to her yard without seeing racism. And, growing up in Mississippi in the 1930s, she did not think this would still be a fight to be fought in 2020.
"I had hoped we'd be further along," Delores said. "But, it seems now like we're going backward."
Stephen said he hopes white residents of Enid will realize how prevalent Confederate symbols are in Enid, and the hate and inequality they represent to Black members of the community.
"White America needs to see that's what we're living against — that's what we have to live around," Stephen said. "This is living in America. This is small-town America."