ENID, Okla. — Claudia wasn't sure where everyone else was Saturday afternoon at Government Springs Park.
The Enid Symphony Orchestra was playing Motown hits in the park's pavilion, rehearsing for its tribute show later that night, and Claudia had heard there would be free food.
Claudia was mostly playing games on her phone on a bench near the fishing pier, while the park's regular ducks and geese paraded around the shoreline and the sidewalk.
Others she knew also waiting to see about the free food came and went, including one woman, Peggy, who was walking around with some children who were following the birds. She'd left a cup of pico de gallo and her pipe tobacco cigar on a copy of National Geographic, about which Claudia said, "Sometimes she'll carry books around, but she won't read 'em.
"I'm like, 'That's extra weight woman, I'm trying to get mine lighter!'" Claudia said with a laugh.
Salvation Army was an option for food, but they'd close too soon at 6 p.m., she said. Five80 Coffeehouse now closes at 2 p.m. Saturdays, since the COVID-19 pandemic began. Forgotten Ministries serves food on Tuesdays, as do other church groups, but its shelter isn't open anymore. And Our Daily Bread daily only recently reopened Friday after a two-week quarantine shutdown.
The park was full Friday, Claudia said, after regulars like her coming from Our Daily Bread first went downtown to the Breezeway, only to find its picnic tables gone. They hadn't heard the city had removed them that morning.
"Everyone had big question marks over their heads — like, 'Where'd everything go?'" she said.
Claudia said she would go to the Breezeway, mostly to read and sit under the trees in the back of the walkway, which sits in the middle of the 200 block of West Randolph. She'd heard someone one time had defecated in the back and smeared it all over the walls, among other incidents that have led to the tables being removed.
"That ruined it for the rest of us homeless, somebody messing up," she said.
'A few bad apples'
On Friday, the city of Enid removed the Breezeway's four metal picnic tables with attached chairs, with plans to install more cameras, add more lighting and secure the electrical outlet boxes. The benches in the back remained Saturday, though.
City Manager Jerald Gilbert said the changes were made in order to make downtown customers and business owners feel safe.
All will be permanent changes, he said — the third such renovations in five years — and are the city's first efforts to address what downtown business owners are reporting as growing safety problems in the area stemming from some of those experiencing homelessness.
But Gilbert has emphasized a two-step approach: Along with the amenities removal, the city will work with area agencies and religious groups to find longer-term solutions to meet the ongoing needs of a commonly underserved population in Enid.
James Neal, with Old Catholic Ministries of the Holy Cross, as well as the News & Eagle, said contacts are ongoing, and anyone interested in a roundtable discussion and coalition can reach him at (580) 744-0544 or HolyCrossEnid@gmail.com.
Gilbert said an employee from the Parks and Recreation Department will visit the Breezeway daily, as well as members of the downtown revitalization program Main Street Enid. Parks and Rec workers will also regularly empty the four trash cans, clean any scattered mess and occasionally power wash.
Should the city be involved in discouraging homeless people from frequenting the downtown Breezeway area?
We're talking about this story at https://www.facebook.com/enidnews or comment below.
You voted:
"I realize some or all of these changes will be objectionable to some of you, but I also know that the majority of you support both the immediate actions and the efforts to better meet the holistic needs of the homeless elsewhere," he wrote in an email to commissioners and city officials, including City Attorney Lahman and Assistant City Manager Scott Morris.
Gilbert also said in his email that he could bring back a plan to commissioners as early as Oct. 6's meeting.
He said during a city commission study session meeting Tuesday that he believes the amenities were added to support First Friday events in the Breezeway, not necessarily for individual use.
His announcement Friday of the city's immediate actions drew a sharp rebuke from Ward 3 Commissioner Ben Ezzell, who emailed the News & Eagle on Friday, forwarding Gilbert's public email. In his email, Ezzell called the removal of amenities "callous and needlessly cruel."
"I am thoroughly disappointed in the city manager's actions and appalled that he is doing so without even a vote of the city council," he wrote Friday.
Ezzell said during the study session, too, that he would rather the city of Enid use state-provided CARES Act funding to hire a social worker specifically charged with meeting the needs of Enid's homeless population.
"These folks are downtown users, too, and they have just as much right to be using public space downtown as you do or I do," Ezzell said during the study session.
However, Gilbert said then he'd rather support an agency already experienced with serving the homeless community if CARES (Coronavirus Aid, Relief and Economic Security) Act funding were involved.
Commissioner Rob Stall­ings' Ward 5 includes downtown Enid. He expressed concern for the multiple business owners, several of whom shared their grievances and stories with the commission Tuesday night.
"If you spend time working with these other agencies to come up with a plan, I think that's a grand idea, but that's not helping these people tomorrow, and we need to figure out how we can help them quickly for the short-term, and then work on the big problem," Stallings told Gilbert.
Ward 1 Commissioner Jerry Allen also agreed a short-term solution would give time to deal with the long term.
"It's a few bad apples; it's not a bunch of people," Allen said. "I believe you have a few people taking advantage of a situation we have."
'Not cut-and-dry'
Those who own and operate businesses on the 200 block of West Randolph around the Breezeway say behavioral problems in the area seem to have escalated from the last few months all the way to last year.
These issues, as stated during Tuesday's study session, have included food remnants, trash, cleanliness, safety, disorderly conduct, drug use and inappropriate behavior. Customers have reported being threatened, aggressively approached for money or sexually harassed.
Multiple people, from city officials like Gilbert and Allen to business owners to those congregating downtown themselves, have said newcomers to the area have brought more problems with them.
John Haacke, of Johnson's Jewelry and Rock Shop located next door to the Breezeway at 216 W. Randolph, said the same groups of people didn't have anywhere else to go during the day, so they'd come to the Breezeway to just hang out.
"Last summer, we didn't really have a problem," said Haacke, who's owned the shop since 2011. "Four or five months ago, there'd be a round of problems here or there. But now it's happening every day."
Haacke's landlord, Jake Rathbun, recently decided to fence off the stairs leading from the Breezeway up to the building's roof after people reportedly started sleeping up there at night, for fear of someone drunkenly falling off the top, Haacke said.
"I don't want to see anyone get hurt, but something's gotta give here," he said.
Carmenia Passey, owner of No. 5 Findings Studio, insisted that the problems are not just due to a "homeless situation."
It's been the norm for her and her husband, who opened their shop at 218 W. Randolph a year ago, and Passey said she decided to speak out after hearing other businesses were reporting similar instances.
"I'm concerned about the shoppers getting out and being harassed by the ones over there that are the ones that are causing the problems," she said.
Dawn Muncy, who has operated her photography studio at 220 W. Randolph for 17 years, said catcalling happens now anytime a woman walks by the Breezeway. Muncy also spoke to city commissioners last week sharing her and others' experiences.
In the past, Muncy has brought high school girls taking senior portraits to the area, including once in March that didn't quite go as planned, she said.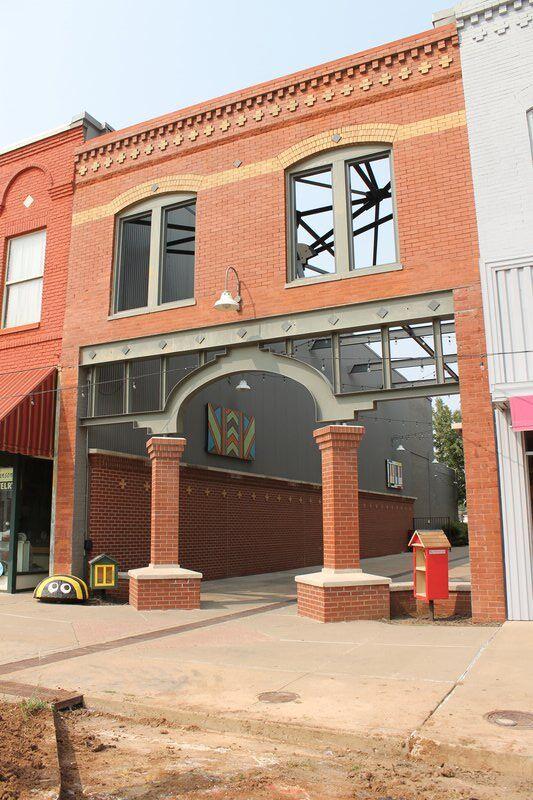 "I had a 17-year-old girl, and we were trying to stay at the far end and use the trees as a background, and it was constant," she said. "It never stopped. It was a constant flow of, 'Oh look at the a-- on her,' 'She's hot s---,' 'Give me some of that.'"
In April, a client who works in the nearby Triangle Building asked if she could stop at Muncy's studio backdoor to pick up an order instead of walking through the Breezeway because she was "scared to death."
Loading up the car for a shoot, She and her husband, Doug, overheard a fight break out between a man and a woman in the Breezeway one morning in June, which then carried over to the man threatening and verbally attacking Muncy and her husband, Doug.
That behavior she said she didn't deserve was what Muncy called "the straw the broke the camel's back."
"It's definitely not cut-and-dry," she said. "But as business owners, we have a right to safety and to not be afraid and to be able to conduct business without worrying about what's going to happen to our clients … on a daily basis."
Several of these situations finally compelled Muncy to start sharing stories with other business owners, then with Main Street Enid's executive director, Natalie Beurlot.
Beurlot said she once cleaned up a mess Muncy told her she'd found left in the walkway during a session: pieces of a rotisserie chicken that had been sitting out in the summer heat and slices of cheese that had been thrown all over the walls and ground. Enid Faith Ways members later came to power wash the area.
Beurlot then started having conversations with city officials such as Gilbert and the Enid Police Department, as well as with people who frequent the Breezeway to hear their side of the stories.
A sample of incident reports provided to the News & Eagle lists 42 dispatch events for 200 W. Randolph, near the Breezeway, since Sept. 11, 2018. (It was unclear when all of these were reported, however.)
Three fights in progress have been reported: one in August 2019, and one in June and one in July of this year. But Muncy and other owners say they've heard and seen (and reported) many more, typically between two people in the Breezeway area.
Thirty-two reports were categorized as a "suspicious person" dispatch, often meant for persons suspected of engaging in a physical altercation that already had occurred.
"Just because a policeman doesn't see it … when they don't see it, they can't do anything about it," Muncy said.
Beurlot, with Main Street, said security cameras were first installed when Main Street Enid renovated the Breezeway in 2015. But she doesn't check footage unless someone reports an incident or EPD calls to request any, adding that the latter doesn't happen often because officers also have body cameras and usually respond to ongoing rather than past incidents.
Police Chief Brian O'Rourke said in an email that Enid officers have increased patrols in the Breezeway because of the recent incidents in the area.
"Our officers strive to treat all segments of our community fairly and equally, including those that congregate at the Breezeway, but they will take the appropriate action for any violation observed if necessary," O'Rourke said.
EPD spokesman Cass Rains said officers no longer enforce vagrancy laws, but businesses can have someone trespassed from a property, and if the person returns, they can be arrested for that.
"For the most part, officers usually go by and give (people in the Breezeway) water and ask them to find somewhere else to go hang out," he said.
"I want people to be able to come downtown and feel safe," Muncy said. "I just want the negative behavior to stop."