ENID, Okla. — Several dozen survivors of cancer once again released purple and white balloons into the Enid sky Friday evening before starting their lap around downtown Enid.
Participants in Garfield County's 24th Relay for Life continued to circle the courthouse lawn though the evening, past paper bags decorated for lost loved ones — all in memory of cancer patients who constantly undergo a marathon of treatments and side effects in their battle against the disease.
The annual Relay for Life walking event, raising money for cancer research and awareness, returned to Enid after taking a year off because of the COVID-19 pandemic.
Cathy Howard took several laps for her sister, who died of cancer just over a month before this year's Relay, her fourth diagnosis of the disease. The two had participated in Garfield County's Relay together since 2018.
Howard's sister, Nora Sturgeon, first was diagnosed with breast cancer in 2010. She was twice diagnosed with lung cancer, first in 2017, then again in 2020. More tests and biopsies from December 2020 to January this year this time detected pancreatic cancer.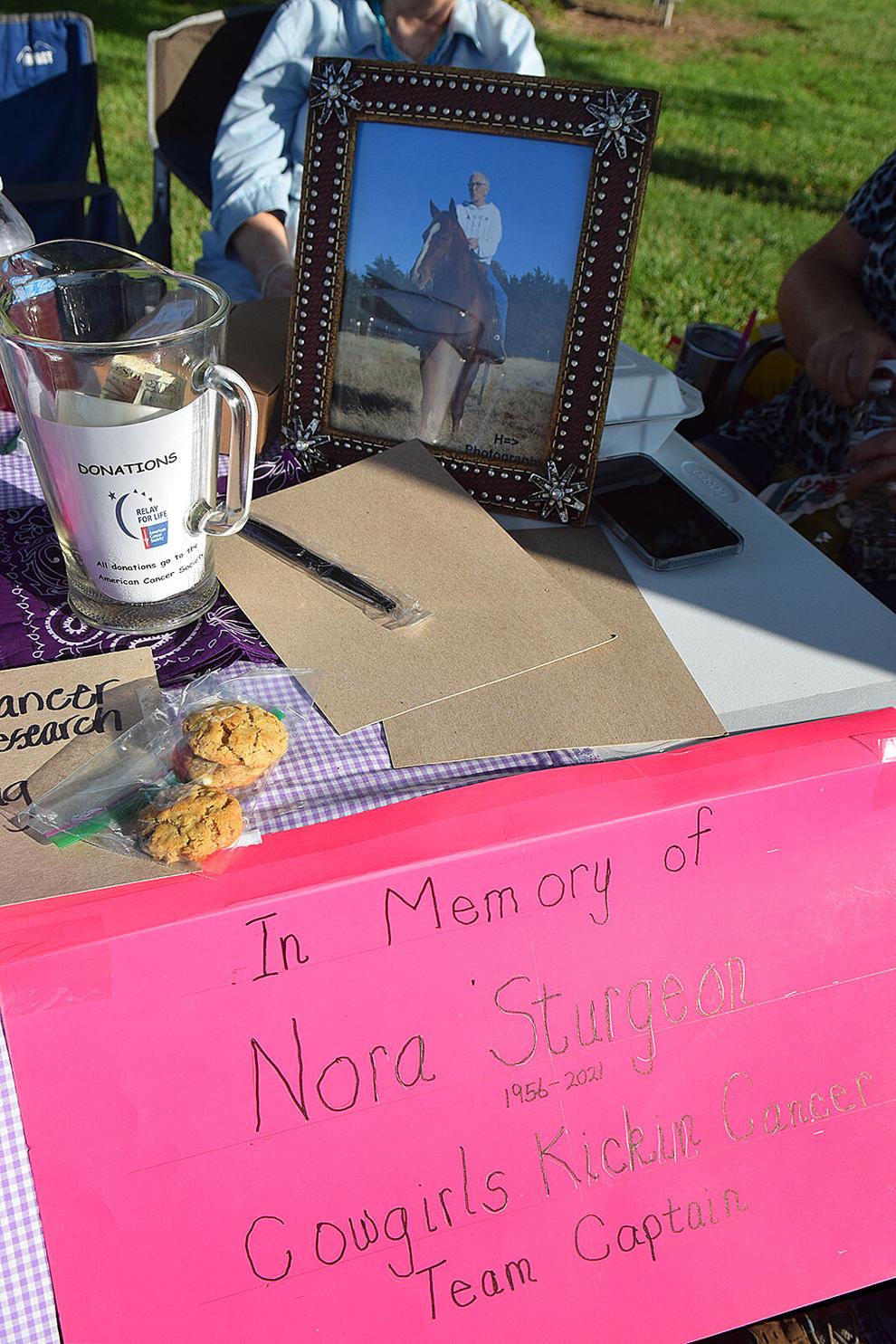 "(Her doctor) always talked about how tough she was," Howard said, but that treatment was her breaking point this time.
In February, Sturgeon also was diagnosed with COVID, and although she recovered, Howard said the illness' longer-term effects on her sister's body didn't help with the cancer treatment.
Sturgeon, 65, died April 30, donating her body for scientific research, and Howard said their family held a celebration of life about two weeks later.
Howard and her team, Cowgirls Kickin' Cancer, raised $4,000 in donations by Friday, the third-highest amount raised and four times their posted team goal — $1,000 of that was raised by Sturgeon, until she was too sick to continue asking companies for donations.
Howard said doing the event for the first time without her sister was hard, but she'd keep doing it in the coming years.
"We sure miss her. This was her deal," she said of relay.
More than $3,000 was raised selling donated chrysanthemums, Howard said at the group's table on the courthouse lawn. She and her teammates were selling cookies, wristbands and bandanas, all on the table near a framed photo of her sister.
Though fewer teams participated in this year's Relay event than in non-COVID times, the nine groups together raised about $20,000 going into Friday, Garfield County event chair Cece Sanchez said.
Those funds will go toward American Cancer Society's attempts to research the long-debilitating disease, as well as Garfield County's Relay for Life group to help patients with meals, rides to chemotherapy appointments and other support services.
Nine items were donated for the event's silent auction fundraiser, and Sanchez said other businesses donated in-kind items like food and supplies.
Even without Relay's annual gala being held this year, "I think people were just ready to give," she said. "And maybe next year's is going to be even better."
Sanchez also helped lead this year's top-fundraising team, St. Mary's Hipsters, mostly made up of staff from the Enid hospital's oncology center that opened in 2017. There, Sanchez works in finance, authorizing treatment and working with copay assistance for patients.
"You get attached to the patients. And you also want them to have a celebration," she said.
The Cancer Center's services director, Weslie White, said cancer treatment for renal cells, breast or lymphomas has largely advanced. Ten to 12 years ago, a patient with a metastasized disease — when cancer cells have developed outside the primary tumor site — might have had six months to live.
White said oncologists including the Cancer Center's now are more often treating the disease more like a chronic illness such as diabetes, with advancements like immunotherapies and bio-similars that are easier to tolerate.
"That just means that people are living longer and healthier, and they're not sick from taking chemotherapy," she said. "We don't have it beat yet, but we're closer than we were in times past ... and that's exciting."