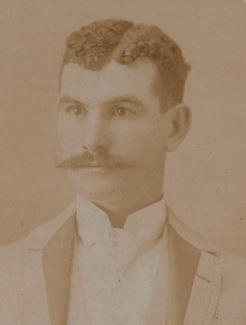 On Sept. 1, 1893, some men were playing cards in the Ransom Saloon in Ingalls, Oklahoma Territory. But not just any men.
There was Bill Doolin, who had been with the Daltons. So had Bitter Creek Newcomb, who now was Doolin's right-hand man. Others included Bill Dalton, who struck out on his own rather than with his outlaw brothers; Tulsa Jack; Dynamite Dick, so-called because he hollowed out his bullets and placed a small amount of dynamite inside them, and Arkansas Tom Jones to make Doolin's Wild Bunch, according to James Reasoner in his book "Draw."
Their hideout was a cave on the Cimarron River, 20 miles south. Arkansas Tom went to rest in a second-story room in the nearby Pierce hotel as he felt ill. President Grover Cleveland had appointed E.D. Nix U.S. marshal for Oklahoma Territory. Nix sent two wagons full of Deputy Marshals to Ingalls on Aug. 31, 1893, to capture "The Wild Bunch."
"This deputy was never known to show the slightest excitement, under any circumstance. He does not know what fear is." He was pursuing three men. Suddenly, they surrounded him ...
Jim Masterson, brother of gunfighter Bat Masterson, came from Stillwater with four deputies, as Deputy Marshal Dick Speed left Guthrie with four men to join the fight, as noted in "Oklahoma Scoundrels." The heavily armed marshals spread out around the saloon.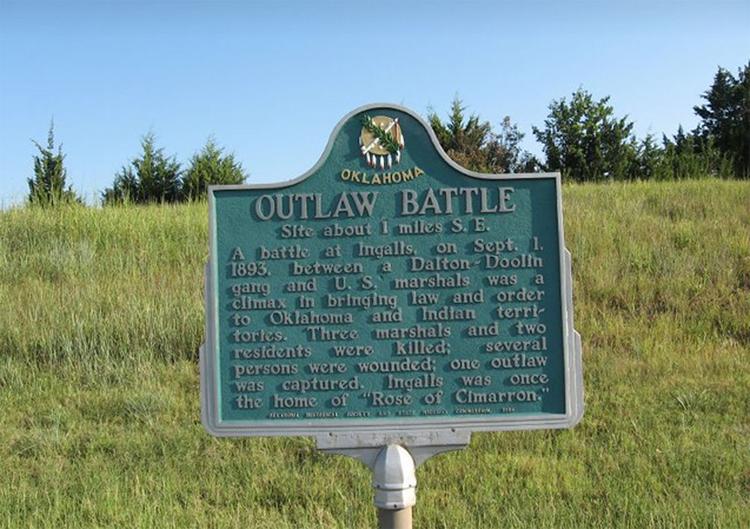 A young man ran across the street. Marshal Speed, thinking he would warn the outlaws, dropped him with one shot. Bitter Creek Newcomb came out of the saloon, raised his Winchester but a marshal's bullet hit it and went into his leg, Reasoner wrote. He jumped on his horse with bullets flying all around him and fled southwest as the saloon was peppered with bullets that crashed through the thin walls and shattered the glass windows. The gang hugged the floor as they returned fire out the windows. The proprietor, George Ransom, was shot in the leg. A citizen, Jerry Simonds, dashed for safety but was fatally shot, Reasoner wrote. Arkansas Tom began firing from his second-story window, hitting a tree as Masterson dove into a ditch.
Amid a hail of bullets, the gang raced out a side door toward the stable. Doolin was dropped by a bullet in the neck, but he tumbled and got up, still running as all made it to the stable. Marshal Tom Houston was fatally shot in the belly by Arkansas Tom as now the gang members had their horses.
Both sides fired volleys of shots. Marshal Dick Speed ran toward the watering trough for cover closer to the outlaws. Standing in the open doorway, a bleeding Doolin raised his Colt and shot the marshal dead, leaving him face-down in the street. Mounted, Doolin and Dynamite Jack charged out the rear of the stable while Dalton and Tulsa Jack went out the front. Marshal Lafe Shadley killed Dalton's horse with a shot. Dalton rolled off, gun in hand and shot and killed the marshal. Dalton was picked up by Tulsa Jack and they all galloped off.
U.S. Marshal Nix, in a July 30, 1895, letter to Attorney General Judson Harmon, wrote that Arkansas Tom was arrested and received 50 years in prison. Nine persons were killed and wounded. Three U.S. deputy marshals were killed as well as 10 horses and three outlaws were wounded, according to History.com. All before noon. Into the Territory.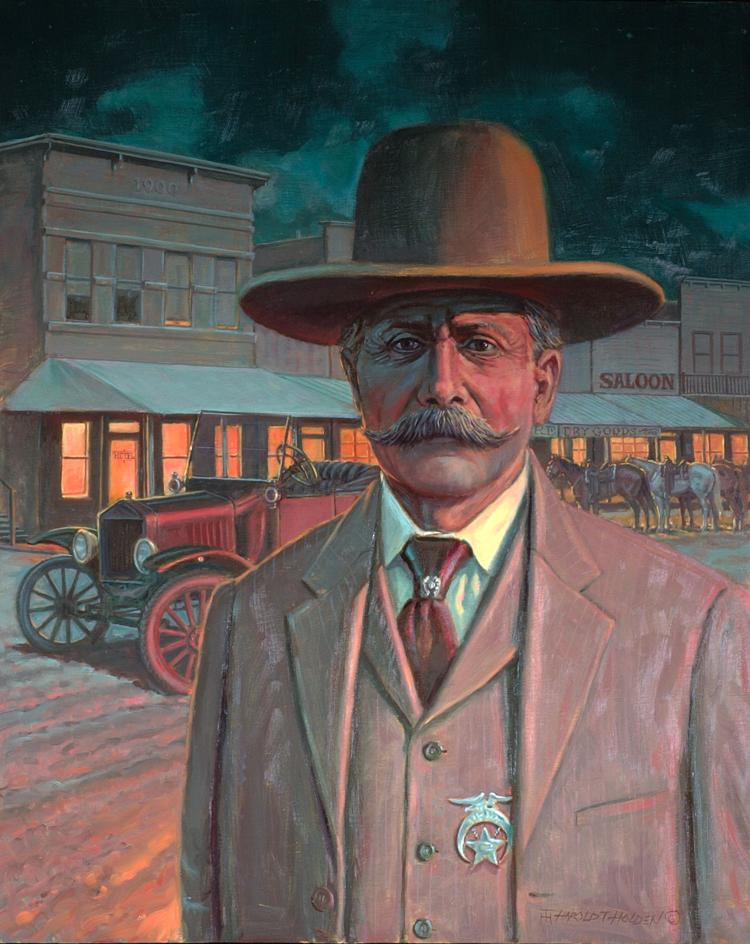 'No Man's Land'
Before 1890, Oklahoma was often called the Twin Territories, which was Oklahoma Territory and Indian Territory. On May 2, 1890, the U.S. Congress approved an act that created the Territory of Oklahoma, which included the western half of the Indian Territory and "No Man's Land." Guthrie was the capital.
The office of U.S. marshal was created in 1789 to enforce federal law with one marshal in each judicial district. Each marshal could hire and create deputy U.S. marshals as allowed by the department under which they were assigned, according to David Kennedy of the U.S. Marshal Museum.
In the territories, it was a tough and dangerous job and thankless. The pay was miserable, between $400 to $800 a year based on fees and expenses, and it often arrived months late. For a dead lawman, his family would receive no pension or insurance nor money for a funeral, according to "Black Gun, Silver Star" by Art Burton. The worst outlaws in the West came to the Territory. The U.S. attorney in 1888 estimated that of 20,000 white people there, 15,000 would be criminals. In addition, 20 or more Indian tribes were forced to leave their homelands by the Indian Removal Act of 1830 signed by President Andrew Jackson and relocate in Indian Territory, which made for an extremely dangerous place.
According to the U.S. Marshal Museum, most years there were two to three dozen U.S. deputies in Oklahoma Territory with many of them remaining on the job for only a year or two. There were 122 line-of-duty U.S. deputy marshal and posse member deaths in what is now Oklahoma. Sixty-four were from Fort Smith, 47 assigned to the various districts which existed in what is now Oklahoma and 11 from three districts in Kansas and Texas.
Into this violent arena rode three U.S. deputy marshals named Bill Tilghman, Chris Madsen and Heck Thomas. Tilghman, an intimate friend of Wyatt Earp and Bat Masterson, was city marshal of Dodge City, Kansas, when it was "the toughest Cowtown in the West" and established the no-guns-in-Dodge rule.
Madsen witnessed close friend "Buffalo Bill" Cody scalp Cheyenne warrior Yellow Hand at Hat Creek. He was put on the detail to bury the dead troopers at Little Big Horn. He possessed keen eyesight, an uncanny ability with guns, an unruffled temperament and was a chief Army scout. He resigned from the Army as a sergeant having been awarded the Silver Star. Madsen was the U.S. deputy marshal in charge of Enid. Thomas served in Stonewall Jackson's brigade in the Civil War and was a former railroad guard before being a detective with the Fort Worth Detective Association and brought in several long-sought fugitives.
In 1893, "Hells Half Acre" was the boom town of Perry with its 110 saloons raging out of control, according to "The Spell of the West" and Jay Robert Nash's "Encyclopedia Of Western Lawmen & Outlaws." The three brought law and order to the town. The outlaws feared them and called them "The Three Guardsmen." Emmett Dalton said the reason the Dalton gang went to rob banks in Kansas was to get away from their constant pursuit. They arrested over 300 of the most ruthless and dangerous criminals and killed several others. They were expert trackers, never quit a pursuit and ignored bad weather.
No outlaw wanted to test their gun skills. They eliminated Doolin's Wild Bunch. Thomas killed Bill Doolin, Madsen killed Dynamite Dick and Little Dick, according to Don Collier's website. Tilghman killed member Little Bill and brought in Kid Donner, John Braya, Jennie "Little Britches" Stevens and "Cattle" Annie McDougal. They were responsible for "cleaning up" the outlaw element in the territory to a great degree.
Tilghman was elected to the state Senate in 1910 and later was chief of police of Oklahoma City. He supervised the motion picture production on "The Passing of the Oklahoma Outlaws," which was exhibited for several years. In 1924, he cleaned up a booming oil town of Cromwell, according to "The Spell of the West" and Jay Robert Nash's "Encyclopedia Of Western Lawmen & Outlaws." At age 70, he was shot and killed by a drunk Wiley Lynn as Tilghman was leading him to jail. Madsen became a sergeant In the Rough Riders at the Battle of San Juan Hill. Upon his return, he was appointed U.S. marshal for Oklahoma. He helped promote Tilghman's picture on outlaws. Then he served as special investigator for Oklahoma Gov. J.B.A. Robertson. He died of natural causes at age 93 at the Masonic Home in Guthrie. Heck Thomas became the police chief of Lawton and died at age 62 of natural causes.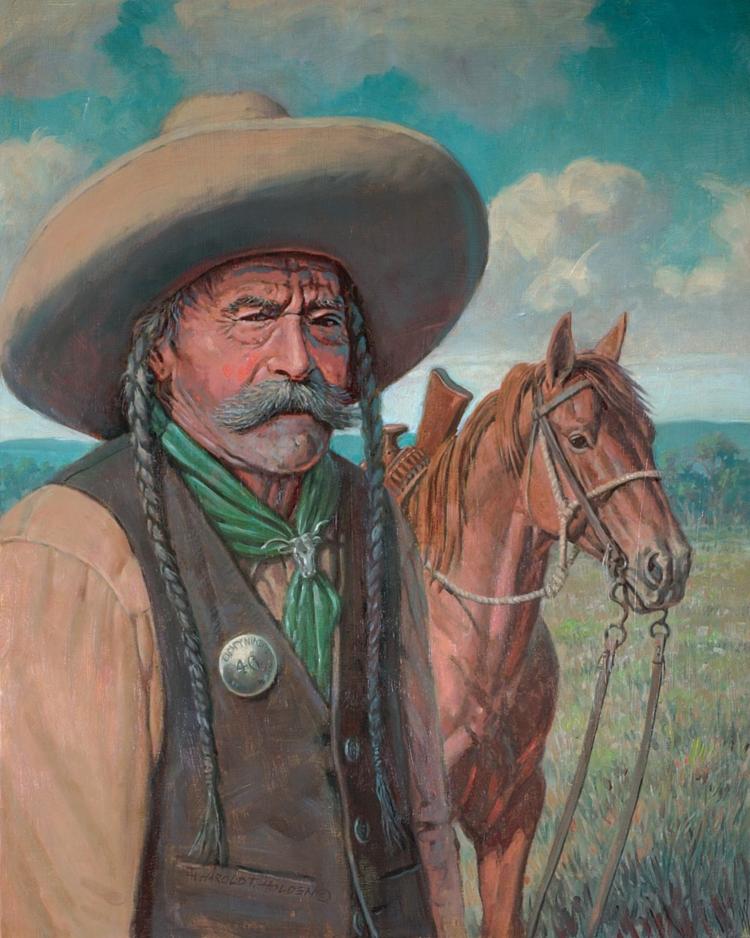 Pistol Pete
The young boy ran to the door as a man yelled for the boy's father. As the door opened, a burst of gunfire erupted and the father fell to the floor. A man kicked the boy and hit him with his riding whip, then emptied his gun into the father's body. The boy saw their faces. They were some of the former Confederate Quantrill Raiders, the four Campseys and the two Ferbers.
The little boy vowed to avenge his father's death. A neighbor, Mose Beaman, began the daily practice of tutoring him in gun skills. Eaton visited Fort Gibson and so impressed the soldiers with his shooting that Col. Copinger pinned a marksmanship badge on him and said: "I am giving you a new name. You are now to be Pistol Pete," as Frank Eaton relates in his book "Veteran of The Old West." He became a trouble-shooter for the Cattlemen's Association. At age 17 in 1877, Judge Charles Bailey swore him in as a U.S. deputy marshal at the urging of U.S. Deputy Marshal Chris Adams. Over the years, he tracked down his father's killers. He killed five of them while the sixth was killed in a card game. All had lived a life of crime.
Pistol Pete reportedly killed 15 bad men in his career. The fastest draw in the Territory, he became part of the fabric of Oklahoma, settling in Perkins, where he welcomed visitors. He died on April 8, 1958, at the age of 97. It was said he continued to carry loaded pistols until his death. In 1997, he posthumously received the prestigious Director's Award at the National Cowboy Hall of Fame.
However, one U.S. deputy marshal in Oklahoma Territory became the stuff of legend. The outlaws said he was so tough that "he could spit on a brick and bust it," according to Lt. Dan Marcou at PoliceOne.com. He rarely mentioned his name yet it would soon prove to be part of western folklore.
---
A tip of the hat to the Three River's Museum in Muskogee, the U.S. Marshals' Museum, Fort Smith, Arkansas, especially Curator David Kennedy whose patience and assistance were invaluable, and the very special help of H. and Edna Mae Holden. Joe's podcast "Tall Tales Uncovered" is available on most platforms including Apple Podcast.