ENID, Okla. — Hope rose in Enid on Thursday.
More than 300 people filled Stride Bank Center's Grand Ballroom throughout the day for the state's first Hope Summit, part of the Hope Rising Oklahoma initiative, co-founded by first lady Sarah Stitt and Chan Hellman, a professor at the University of Oklahoma-Tulsa and founding director of the Hope Research Center.
Of the 930 Enid residents who responded to the Hope Assessment Survey, about 88% had moderate or high hope. The average hope score is 51.65%, which equates to moderate hope.
Broken up into four sessions, the Hope Summit explored the science of hope and discussed how hopeful Enid is and how to build hope in the community and across Oklahoma.
Session I introduced Dan Schiedel, executive director of United Way of Enid and Northwest Oklahoma, Gov. Kevin Stitt, Sarah Stitt, Hellman and Mart Green, of Hobby Lobby.
"I have not always had hope in my life," Schiedel said. "It's taken a journey in order to embrace hope and understand what hope really is."
The first lady said she didn't grow up in a home that taught her how to be hopeful, but she said she married a hopeful person and slowly began to learn about hope. When she came across "Hope Rising: How the Science of Hope Can Change Your Life," which was co-written by Hellman, she knew hope was something she wanted to bring to Oklahomans.
Green, quoting Hellman's book, said hope is the single best predictor of physical, spiritual and mental well-being and asked himself, "Why wouldn't I pursue that as part of my life?"
Hope, according to Hellman, is the belief that the future will be better than it is today, and hope is not a wish. Hope allows people to identify goals, set pathways to achieve those goals and exert the willpower to make them possible.
He added that hope is simple, only needing three concepts: goals, pathways and willpower.
"Goals are the cornerstone of our ability to hope," Hellman said. "Pathways ... are the way in which we think about identifying the roadmap of how to pursue those goals. ... Willpower is the mental energy piece — the motivation aspect of hope."
Hellman said the language of hope is important, adding that hope-centered communities need to be "very intentional" in its language and conversation.
"When we have a wish, we have that desire for the outcome, but we don't have the pathways" Hellman said. "Hope is about taking action to pursue those goals. ... When we say the word 'hope, we need to make sure that everybody around us understands goals, pathways and willpower."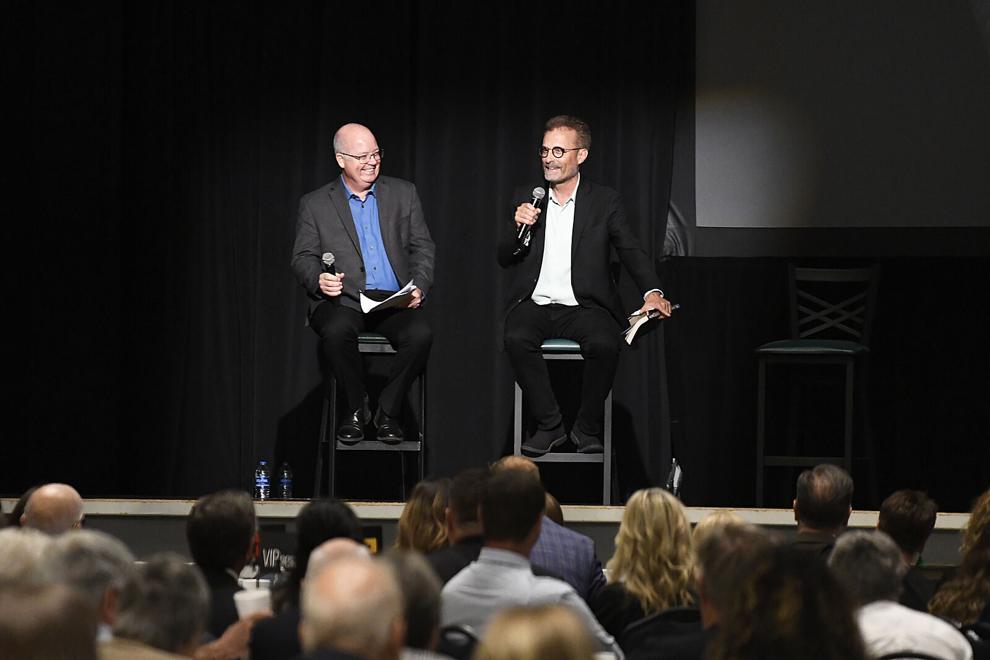 More than 2,000 published research studies on hope exist, Hellman said, saying that aspects including social wellbeing and education are impacted by hope. The higher levels of hope a person has, the longer they live, and higher hope scores in children are significant predictors of things such as school attendance, grades and graduation rates.
Trauma and adversity can influence the way people think about their goals in that they set "avoidant" goals — things people do not want to occur, but achievement-oriented goals can be met by nurturing and restoring hope.
"If I'm stepping out on the court as a basketball player, and my mindset is, 'I want the ball so that I can shoot the winning shot and win the game for my team,' that's an achievement mindset," Hellman said. "Now I can be that same basketball player and step out on the court, and my mindset is, 'I hope they don't throw me the ball because if they do, I'm going to lose it and disappoint my team' — that's an avoidant mindset."
The more desire a person has in achieving their set goals and outcomes, the more likely that person is to overcome adversity, Hellman said, and have a better outlook on their futures.
"Hope is the mindset that drives resilient behaviors," Hellman said. "We have to create a framework so that the future is possible before we can engage in those strategies that help us endure the adversities that we're experiencing."
At Enid's Hope Summit, which Sarah Stitt dedicated to her late mother who inspired her pursuit in the science of hope, she urged everyone present to spread hope to people in their lives, adding that Enid could become a place "where every single person has a bright hope and future, no matter their background."
Stitt said she was "thrilled" with the turnout Thursday and said Enid was meant to be the birthplace of Hope Rising Oklahoma.
She said hope is not an instant gratification, but the opposite, and she can't wait to see the impact that the science of hope will have on the next generation.
"(Hope) is teaching us how to set goals and pick our head up out of our current situation — whatever it may be and wherever we may be — and look toward the future," Stitt said. "This work that is starting today here in your community in Enid is going to impact the next generation of Oklahomans so greatly, and I can't wait to look back and see this through our children's eyes and see how much their lives and their futures have changed."
Giving people hope can make a difference in people's lives, Green said.
"You can change their spiritual world. You can change their physical world. You can change their mental world. You can change their relational world," he said. "That's why I'm honored to be a part of Hope Rising."