ENID, Okla — With two left turns, Christmas came two months early to Enid on Wednesday evening.
Hundreds gathered around the pocket prairie area on Park Avenue to watch the 140-foot-tall fir tree round the corner of Garriott and Independence, then Park, arriving at its final destination after traveling thousands of miles over the last week.
Once it has been raised and filled in with more branches, the newly arrived Tannenbaum, called the Christ Tree, will be decorated with thousands of Christmas ornaments and lights and will serve as the centerpiece for The One event series that starts next month.
Beginning with Enid Lights Up the Plains on Nov. 26, The One event series will host dozens of free Christmas events in the public forum area around the tree until Jan. 6, 2022.
Event organizers expect 100,000 people to attend the religious and secular holiday events planned for the 100 block of Park between Grand and Independence, where the tree will stand.
The tree is being touted as the tallest Christmas tree in the world, nearly twice as large as the famous one that stands each holiday season in New York City's Rockefeller Center.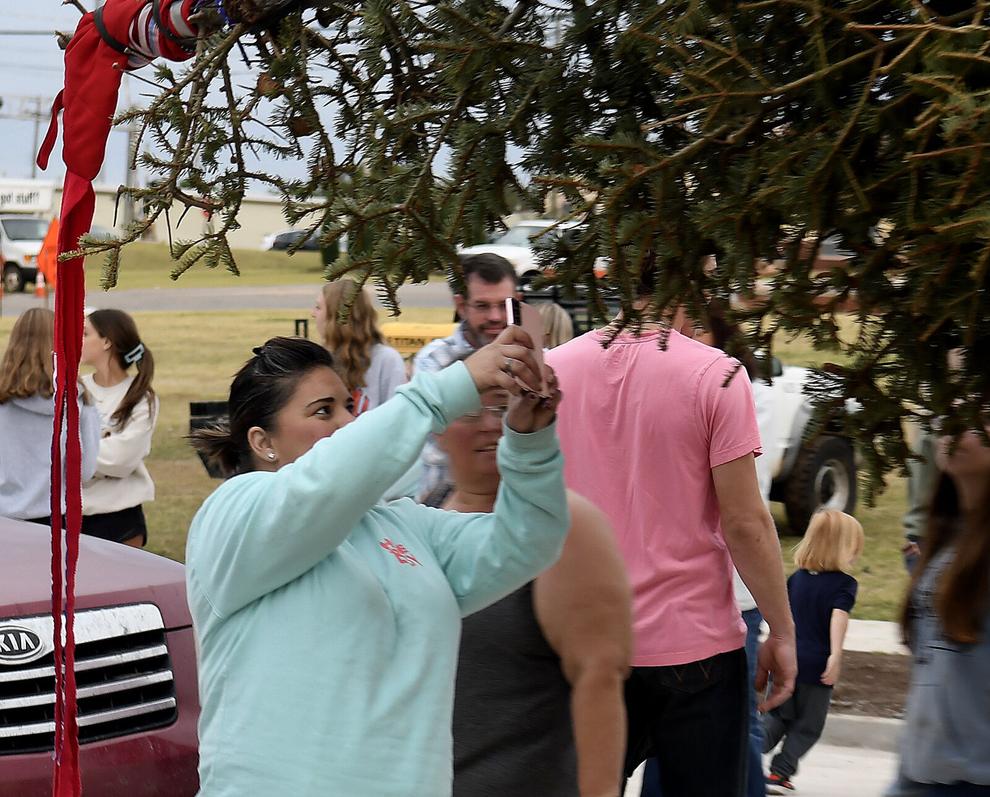 People stood up close to the tree taking selfies or group photos Wednesday as it still sat sideways on the truck overnight.
"I've never been close to something that's like that before," The One sponsor Kyle Williams said while standing with his wife, Carol, several feet away from the tree. "I've seen tall trees, but never to something that magnitude when you see that."
The freshly cut tree braved all the elements on its westward trek from Shasta National Forest in California.
After leaving California with it on Friday, transporters from Texas-based logistics company Takkion said they got held up in Nevada, then went through a terrible snowstorm in Wyoming.
The tree then took a stop in Cleo Springs to be covered in a green tarp reading, "The One — The World's Tallest Christmas Tree — Enid, OK" before again traveling west down U.S. 412 and Garriott.
"And here we are after fighting literally everything you could fight getting here as far as Mother Nature could throw at you," said Mike Orr, with Takkion's GSS, who met the tree in Casper, Wyo.
Steerman Bob Cook, an independent pilot car operator from Waukomis, said he normally transports windmill propellers on the truck, which was only halfway extended about 120 feet in the middle to hold the tree.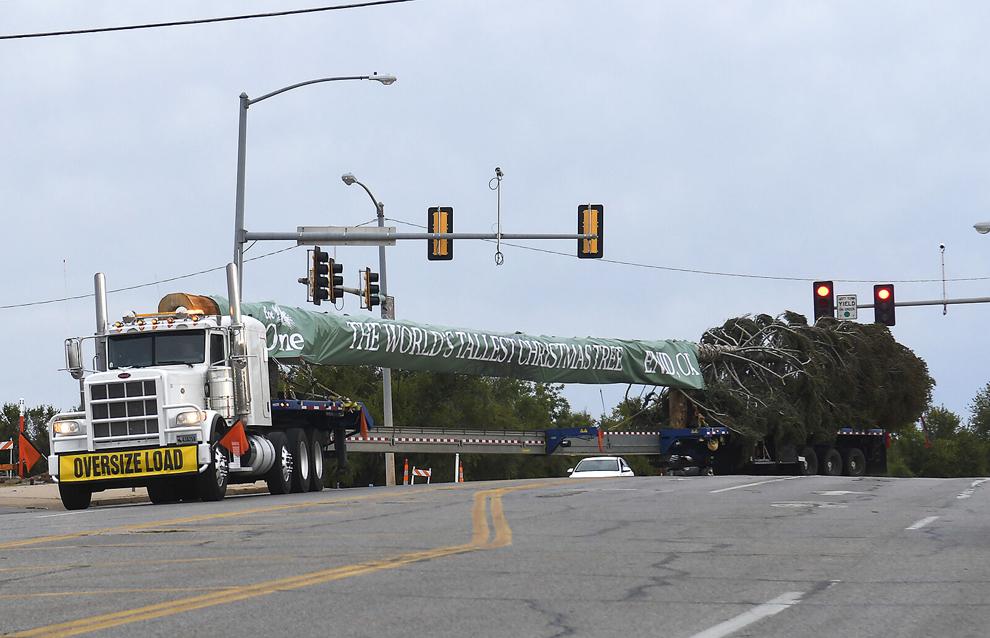 "This was an honor," though, Cook said, to bring the Christmas tree.
"There's a lot more to this than just money," Orr added. "It's for a good cause and it's for the community of Enid and for the country."
"This hits, right here." Cook said, patting his chest. "I watched it get cut out the ground, so I'm gonna be here to watch it get put back in."
On Thursday morning, after a hole has been put in the bottom of the tree to center it, a truck with a hook on a crane will lift the tree and place it into a structure 36 inches around with a spike in the bottom, which sits in an 8-foot hole reinforced with concrete, organizers for The One said.
The tree, with only its top third holding actual branches, then will be filled in with limbs loaded on three semis already sitting in the parking lot nearby, to resemble the Christmas trees everyone knows and has in their living rooms, said Don Rose, who's organizing the engineering for The One.
Those limbs and the rest of the tree will be sprayed with protective fire retardant that's been mixed with green dye and an adhesive substance to catch needles.
"It's a Charlie Brown tree, right?" Rose said. "When we're done, it'll look like a filled-out tree."
The tree already had been marked for lumber in a privately owned forest before it was picked as the Christ Tree for The One. Rose said once the tree is removed in January — to be cut down in sections — most of it will be repurposed at a sawmill. The event team also will replant seedlings to replace the main tree.
"When you get them this tall, they just don't have branches on them, so you give that up to get the height," he said.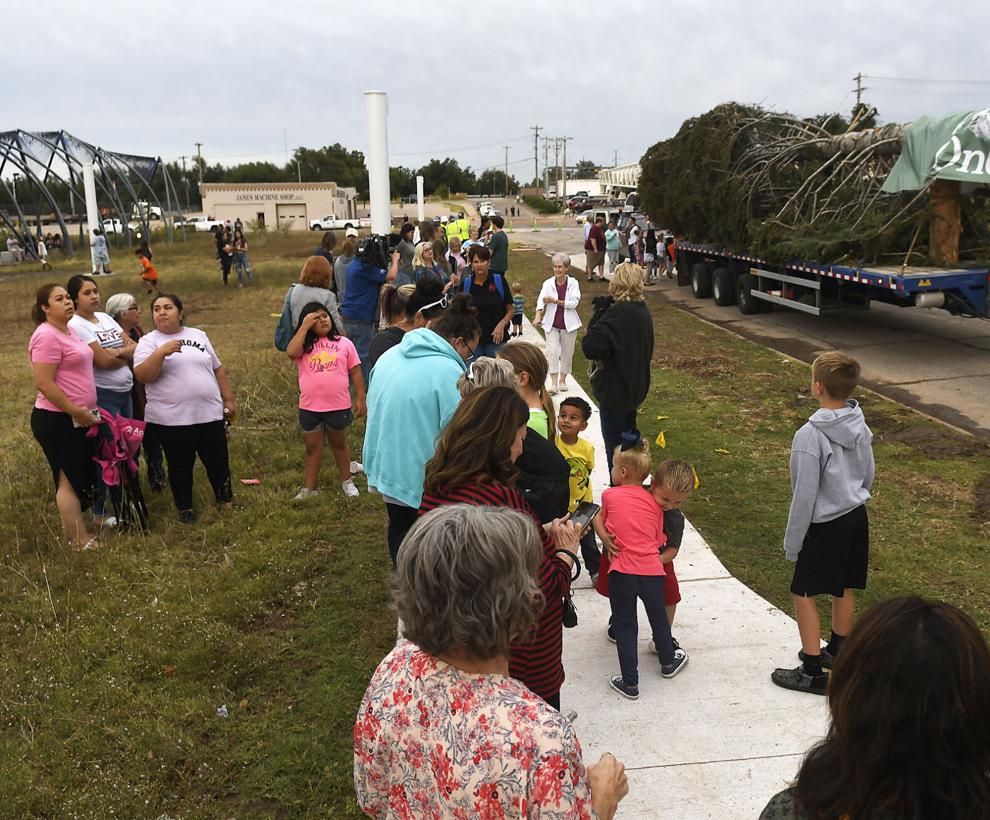 Rose and the project manager for The One, Nicole Winfield, both celebrated their birthdays with the tree's arrival Wednesday.
"I have to say, nothing really beats a giant, 140-foot Christmas tree," Winfield said.
Once it's been set up, the tree will stand for about a month — with hired security and fencing around it — until it's decorated from Nov. 19-24, shortly before Enid Lights Up the Plains, Winfield said.
The returning downtown ice rink, Holidays on Ice, will open Nov. 20 in the parking lot south of Stride Bank Center north of the tree.
"So if people want to skate, they can watch the tree be decorated," Winfield said.
She had nothing but thanks for the community for its support, including those who have been following the tree on social media and the crowds who gathered Wednesday to watch it pull into downtown for the evening's welcoming event.
More than 30 private individual donors and small and large businesses are backing The One and the tree, including sponsoring its hospitality tent, stage and events. Those will begin Nov. 26.
"It's been through snow, it's been through rain, and so we are incredibly thankful it made it here safely," Winfield said.