Enid News & Eagle
ENID, Okla. — The musical "Green Day's American Idiot" was awarded the best play of Gaslight Theatre's 2020-21 season Saturday during the theater's annual awards ceremony.
Dozens of Enid area performers, directors and volunteers were recognized for their theatrical achievements at Gaslight's Charlie Awards banquet held at Stride Bank Center.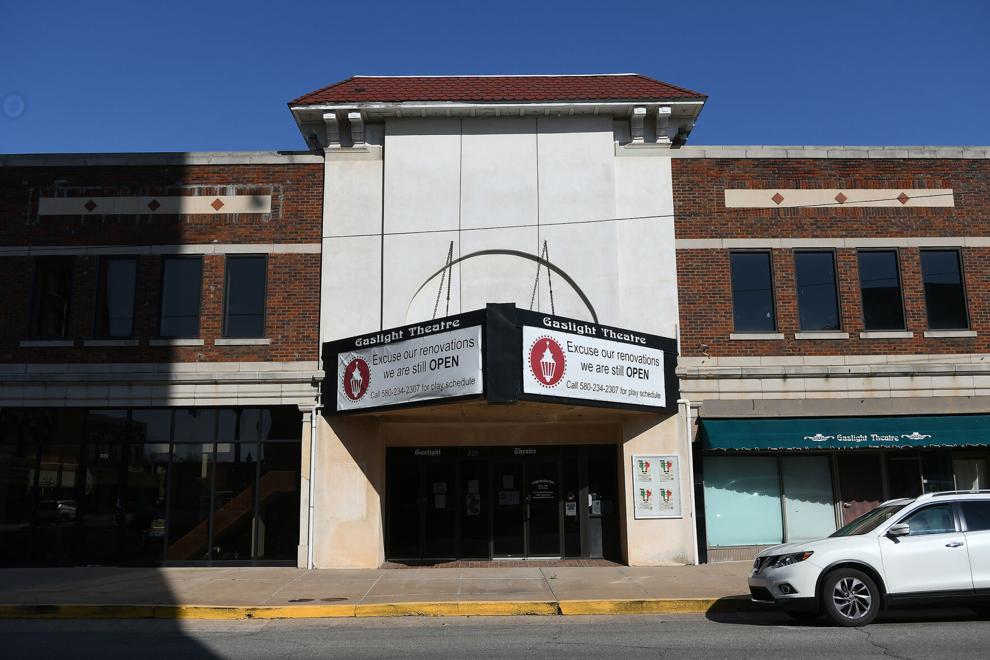 "Gaslight has and will always be a safe place to explore the arts, touch the soul and bring our community together with an art form that has existed for thousands of years," said Gaslight board president Charlet Ringwald. "As we move forward into our 2021-2022 season, I ask our members never forget the importance of the arts and theater because art is what makes us uniquely human and what makes our community unique."
Awards also included genres for comedy, drama and musical, as well as special awards for standout performers and volunteers.
Best Play: "Green Day's American Idiot"
Featured Actor: Venson Fields as Favorite Son in "Green Day's American Idiot"
Best Ensemble: "Green Day's American Idiot," Emily Nelson, Charlet Ringwald, Chelsea Davis, Katie Pearce, Ryan Carlson, Matt Palmer, Venson Fields, Teegin Hacker, Hannah McDaniel, Chad Swanson
Comedy
Best Comedy: "Excalibur! The Story of Young King Arthur," directed by Charlet Ringwald
Best Actor in a Comedy: Mike Weatherford as Ken in "Rumors"
Best Actress in a Comedy: Angela Gallagher as Angie Graziano in "Breaking Legs"
Best Supporting Actor in a Comedy: Christopher McDaniel as Mike Francisco in "Breaking Legs"
Best Supporting Actress in a Comedy: Lily Loughman as Elaine in "Excalibur! The Story of Young King Arthur"
Best Cameo Actor in a Comedy: Jeramie Tipton as Frankie Salvucci in "Breaking Legs"
Best Cameo Actress in a Comedy: Mazee Bookout as Dragonfly and Savannah Hamblin as Katydidd in "Excalibur! The Story of Young King Arthur"
Drama
Best Drama: "Julius Caesar" directed by Alex Johnson
Best Actor in a Drama: Christopher McDaniel as Brutus in "Julius Caesar"
Best Actress in a Drama: Bailey Wilson as Jo in "Little Women"
Best Supporting Actor in a Drama: Chad Swanson as Antony in "Julius Caesar"
Best Supporting Actress in a Drama: Catina Sundvall as Casca/Plebian/Mesalla in "Julius Caesar"
Best Cameo Actor in a Drama: Alex Johnson as Professor Bhaer in "Little Women"
Best Cameo Actress in a Drama: Rebecca Griffith as Hannah in "Little Women"
Musical
Best Musical: "Green Day's American Idiot," directed by Jason Maly
Best Actor in a Musical: Mitch Lyon as Johnny in "Green Day's American Idiot"
Best Actress in a Musical: Maddy Billings as Whatsername in "Green Day's American Idiot"
Best Supporting Actor in a Musical: Chad Swanson as St. Jimmy in "Green Day's American Idiot"
Best Supporting Actress in a Musical: Baylee Fitzgerald as Heather in "Green Day's American Idiot"
Best Male Cameo in a Musical: Teegin Hacker as Rock and Roll Boyfriend in "Green Day's American Idiot"
Best Female Cameo in a Musical: Katie Pearce as Heather's angry friend in "Green Day's American Idiot"
Teen Awards
Best Teen Performers: Adi Betz, "Excalibur! The Story of Young King Arthur" and "Julius Caesar"; and Teegin Hacker, "Little Women" and "Green Day's American Idiot"
Outstanding Service Award: Jacob Hassler
Special Awards
"TODDY" Award Winner: Angela Gallagher as Angie Graziano in "Breaking Legs"; and Ginny Shipley for a Lifetime "Toddy" Award
Gene Riggs Technical Award: Jason Maly and Catina Sundvall
Ron O'Neal Friend of Theatre Award: Wendi Betz
Gene Nash Memorial Scholarship: Baylee Fitzgerald