ENID, Okla. — Oklahoma's medical marijuana industry continues to grow as workers leave other industries for the booming cannabis business.
In Garfield County, there are 29 dispensaries, 65 grow operations and 14 processors, while nearby Kay County has 38 grow operations, 135 grows and 15 processors, according to the Oklahoma Medical Marijuana Authority.
However, Oklahoma counties east of I-35 have many more licensed facilities than the western part of the state, with Tulsa County holding 772 total operations.
In an October Rotary meeting in Enid, Oklahoma Labor Commissioner Leslie Osborn said the medical marijuana industry has caused a "seismic shift" in the workplace.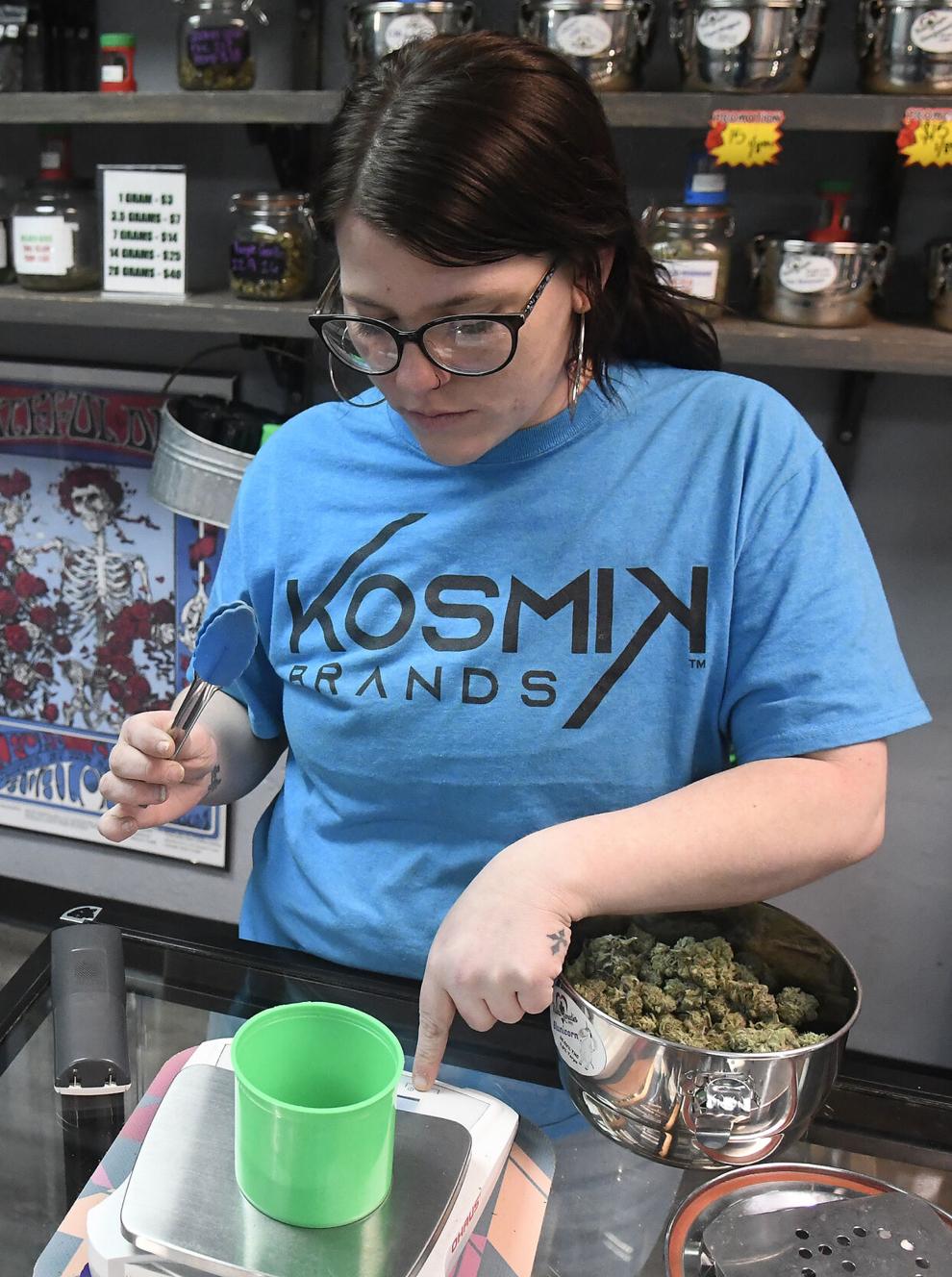 Osborn cited three possible reasons affecting some industries' abilities to find workers: low minimum wage, difficulty finding child care in some parts of Oklahoma and the medical marijuana industry.
State Question 788 legalized medical marijuana in Oklahoma in 2018. Once it got rolling two years later, the COVID-19 pandemic hit, and Osborn said hundreds of thousands of people are now working in the medical marijuana industry.
"Where did they come from? Probably our service industry," Osborn said. "People went to (the medical marijuana industry) because they can make more than seven-something an hour. The average starting wage at dispensaries, grow houses and facilities ... is somewhere between $12 and $15."
The size of the community the MMJ facility is in does affect the wage rates by a few dollars, but in Enid, the wage rate of corporate-owned retail and restaurant businesses is comparable to dispensary pay rates.
Two Enid medical marijuana dispensaries pay $10 per hour, while other Enid dispensaries declined to disclose pay rate.
By comparison, local area service and retail businesses' starting wages range from $9 to $13 per hour, with most starting at $10. The median wage in Oklahoma for food prep and serving was $9.80 in May, according to the U.S. Bureau of Labor Statistics.
Enid businesses weigh in
Brandy Ratzlaff, manager at Natural Remedies MMJ, said all of their employees came from the retail and service industries.
Employees from Natural Remedies and Mother Joy's Dispensary, who previously worked in the service industries, emphasized the relaxed but challenging environment.
"Lately, the dispensaries in town have been trying to build unity and camaraderie," said Kimberly Kelly, employee at Mother Joy's. "We have the best people. They are so polite, it's a very relaxed environment. I love it. It is home for me."
Natural Remedies shift leader Paige Chance, who has worked in other dispensaries and in retail, said she sees all kinds of people from different backgrounds.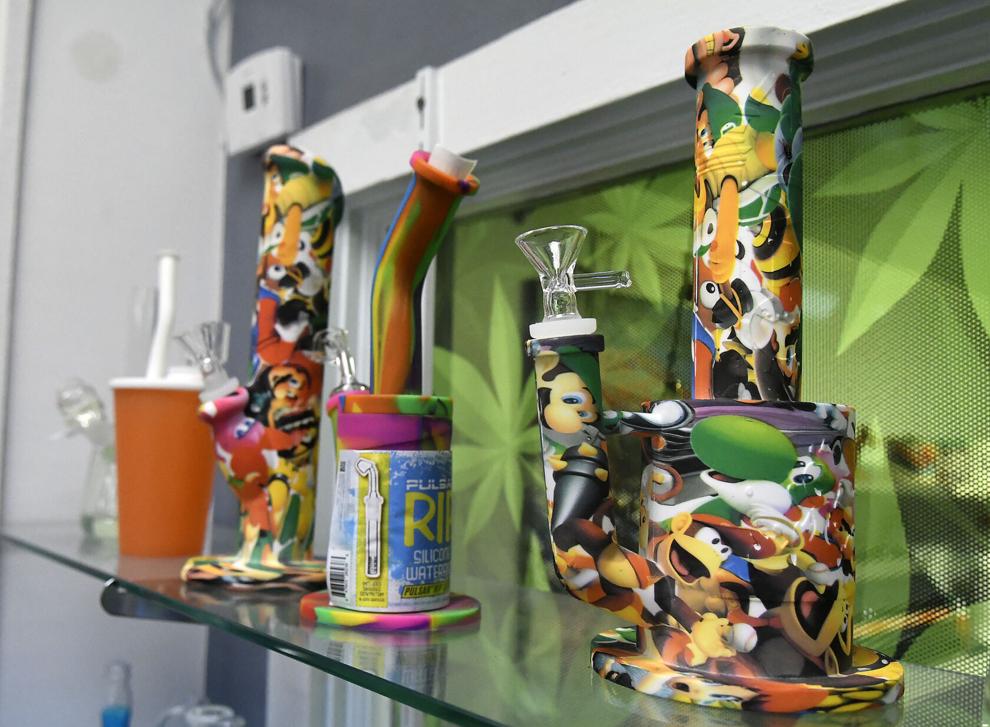 "I hear a lot of stories from different people and why they come in and smoke weed, why they medicate the way they do, what cannabis has helped them get off of — like medications they have been able to stop taking after they started using cannabis," Chance said.
With similar pay and benefits, Chance said the dispensary is similar to a lot of jobs she has had, but she called it a more upbeat environment compared to a lot of retail jobs.
"Everybody wants to be a part of it, or they know somebody that is affected by it," she said.
While a dispensary job seems fun and cool, Chance said, it is challenging in a way that other jobs aren't because laws are always changing and they always have to make sure regulations are being followed.
Stakeholders raise concerns
Beyond dispensaries and grow operations, OMMA requires licenses for processors, education facilities, waste disposal, laboratories and research facilities all in conjunction with cannabis.
Since medical marijuana was legalized in 2018, more than $11 million has been generated in Oklahoma commercial license fees, according to the OMMA. In Fiscal Year 2020-2021 (which began Oct. 1, 2020, and ended Sept. 31, 2021) total MMJ revenue was reported at $36,664,315 for commercial licenses.
According to the state, 2020 Oklahoma medical marijuana tax revenue was reported $71,593,772. As of October 2021, tax revenue sits at $70,293,265 (reporting will end in December). These reports put Oklahoma on track to outpace 2020's revenues.
Not only are brick-and-mortar businesses in the industry increasing but so are farmland sales.
Enough so, that concerns were raised in August about cannabis grow operations by several agricultural groups, including the Oklahoma Agricultural Aviation Association, Oklahoma Cattlemen's Association, Oklahoma Dairy Producers Association and Oklahoma Soybean Association.
The Oklahoma Sheriffs' Association also joined in signing the letter, which called on OMMA leadership to adopt a temporary moratorium issuing permits to new grows in the state.
The number of cannabis grows permitted by Sept. 3 — 8,630 statewide — had exceeded the number of Oklahoma wheat farms (6,510), pork farms (1,906), soybean farms (1,750), cotton farms (808) and dairy farms (471), according to the letter.
"The numbers are simply overwhelming," Kelsey said in a statement. "In the upcoming legislative session, OCA policy calls for reasonable and practical proposals to modify state law regarding growing marijuana. In the meantime, a temporary pause in grower permits, would be appropriate and rational."
In a September 2021 response to those groups, the new head of the OMMA addressed these worries and concerns.
"It is a matter of public health and patient safety to ensure every business licensed by OMMA, including grows, is fully inspected," OMMA Executive Director Adria Berry said. "It is true that rural Oklahoma has seen an unprecedented uptick in the purchase and lease of land for cannabis farming, as pointed out by the signatories to the letter."
Berry said the OMMA does not have the authority to issue a moratorium on grower licenses, but added the organization would be working with legislators for a solution.
This story is the first part of a series about the growing medical marijuana industry in Northwest Oklahoma and the rest of the state.